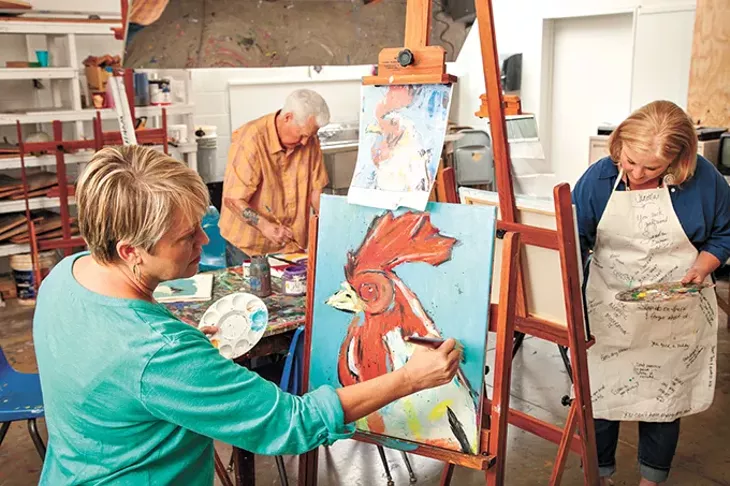 Allied Arts / provided
Allied Arts supports education programs at organizations like Oklahoma Contemporary Art Center and Firehouse Art Center.
Oklahoma Gazette's
OKC Restaurant Week returns next week, and every $1 spent at lunch or dinner with a participating restaurant benefits Allied Arts.
Founded in 1971, Allied Arts provides financial and hands-on support for 40 arts and cultural organizations in Oklahoma in addition to providing grants for non-member groups. Allied Arts announced its community-wide campaign to raise $3.125 million in 2018.
"One of our greatest challenges is for the general public to know who we are and what we're doing. Restaurant Week opens up opportunities for us," Allied Arts president and CEO Deborah McAuliffe Senner said. "This isn't just a campaign for five or six thousand donors, and the Gazette helps us in a tremendous way by reaching people we may not reach otherwise. We're challenged because public funding for the arts continues to be cut every year. [Allied Arts represents] the private side, and we have to help raise more dollars. The only way to do that is to get more people involved."
Chairs Aimee and David Harlow are spearheading the $3.125 million fundraising campaign that will honor Polly and Larry Nichols of Devon Energy for their work with Allied Arts in addition to cultural nonprofits like Myriad Botanical Gardens, Arts Council Oklahoma City, Oklahoma City Ballet, National Cowboy & Western Heritage Museum and Science Museum Oklahoma.
"They were worthy of the honor long before this," McAuliffe Senner said. "Polly Nichols has led the campaign before, so she knows us on a personal level. … She has learned how much Allied Arts has truly grown and how we're doing so much more than funding organizations."
Allied Arts expanded its member organizations in 2013 with the addition of deadCenter Film Festival, Firehouse Art Center in Norman, National Cowboy & Western Heritage Museum, Opry Heritage Foundation of Oklahoma, Sooner Theatre in Norman and Red Earth, Inc.
Member organizations range from having as large as a $10 million budget to as small as a $45,000 budget. McAuliffe Senner said Allied Arts prides itself on doing more than just giving money to its members.
One of McAuliffe Senner's main duties is to speak at corporate presentations to highlight the importance of art and art education while explaining some of the challenges faced by its smaller organizations.
She relies on its board of 109 members to help facilitate needs of his member organizations — everything from information technology support to bookkeeping.
Photo provided
Deborah McAuliffe Senner is president and CEO of Allied Arts.
"We essentially try to do speed dating for board members for some of the smaller groups," McAuliffe Senner said. "They don't really have the relationship with corporations, and that's one of the main things we do: Go into companies for workplace presentations to educate more and more people about the transformative power of the arts."
According to an Arts & Economic Prosperity 5 study published in 2017, the arts supported 20,571 full-time jobs in the Oklahoma City metro area and generated over $67 million to local and state government in fiscal year 2015.
McAuliffe Senner pointed to the neighborhood in which the Allied Arts office is located, Automobile Alley, as an example of the transformative power of the arts.
"The street where our office is located used to be completely vacant," McAuliffe Senner said. "Arts groups move in and suddenly we're surrounded by restaurants and retail. The same thing happened in [16th Street] Plaza District with Lyric Theatre and also [The] Paseo [Arts] District."
In addition to working with its member intuitions, Allied Arts has a grant program open to any nonprofit in the state. McAuliffe Senner said she is excited to work with new groups El Sistema Oklahoma, KidsAlive!, Edmond Fine Arts Institute and Oklahoma City Girls Art School in 2018.
"Sometimes people only know about the performances or exhibits, but our groups are active 365 days a year," she said. "We are serving all 77 counties in the state with four or more of our groups."
Allied Arts will host its 15th annual ARTini fundraiser hosted by its young professionals group Catalyst April 13 at OKC Farmers Public Market, 311 S. Klein Ave. Guests vote on their favorite cocktail from a local restaurant while bidding in a silent auction featuring works by Oklahoma artists.
McAuliffe Senner said that Allied Arts is already in the planning stages of its 2021 fundraising campaign. In honor of its 50th anniversary, she said that the goal is to raise $5 million.
"The arts help revitalize and help change cities, but they also change individuals," she said. "There are people that may never have had ability to dance or hold instrument in their hand. We want to make sure that everyone has a chance."
Visit
alliedartsokc.com
.
OKC Restaurant Week
There are a total of 18 restaurants participating in OKC Restaurant Week April 6-15 this year that will each serve unique prix fixe lunch and dinner menus ranging from $10 per person for lunch to $40 per person for dinner. Pricing does not include taxes, gratuity or beverages.
For an entire list of participating restaurants and their prix fixe menu options, visit
okcrestaurantweek.com
and click on the "Restaurants" tab.