As the 2015 legislative season draws to a close — the deadline to end this session is Friday — here are 10 bills that you might not have heard about that were passed into law.
Mark Hancock / File
An inmate waits, cuffed to the railing at the OKC County Jail, 4-1-10. mh
1. Mandatory minimums
Oklahoma judges now have more flexibility in how they decide prison term lengths for some drug offenders. House bills 1574 and 1518 eliminate "mandatory minimum" sentences for some nonviolent crimes. More specifically, HB 1574 removes the required life sentence for some drug-related convictions, and in some cases, HB 1518 allows judges more flexibility regarding other drug-related compulsory sentencing guidelines.
"I think they are both substantive and political victories," said Ryan Kiesel, executive director of American Civil Liberties Union of Oklahoma.
Under current "three strikes" law, a person with two felony convictions who is then convicted of a third felony that involved drug trafficking would automatically be sentenced to life without parole.
"You die behind bars because there is no discretion from the jury, no discretion from the judge or the prosecutor," Kiesel said. "There are upwards of 50 individuals [in Oklahoma] who will die behind bars for committing nonviolent drug offenses."
Kiesel said both bills represent bipartisan efforts that could spur further prison reform.
"You have to take some of these incremental steps and destroy the conventional [thought] that the sky is going to fall if you remove some of these minimums," Kiesel said.
2. Online registration
In an effort to increase voter participation, especially among younger citizens, Senate Bill 313 allows a person with a valid driver's license to register to vote online. Sen. David Holt, R-Oklahoma City, authored this bill and several others designed to create an easier path to the ballot box. He said SB 313 "represents a landmark for election reform in this state."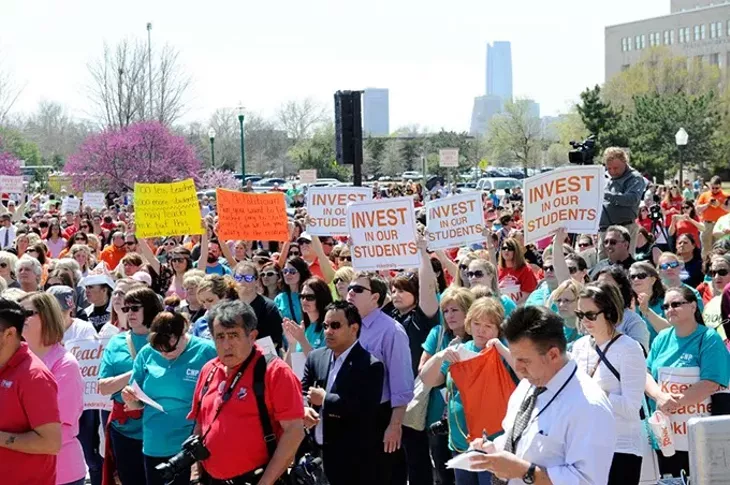 Garett Fisbeck / File
Thousands gather on at the Oklahoma State Capitol for a Teacher's Rally, Monday, March 30, 2015. (Garett Fisbeck)
3. Teacher aid
During a time when many complain of teacher shortages, two new laws will help school districts entice more out-of-state recruits. House Bill 1521 allows districts to offer incentive pay as a recruitment bonus. Also, it allows districts to help pay moving costs of out-of-state hires. Senate Bill 20 honors out-of-state instructor certification if the new hire has taught for at least five years.
"Obviously, it's not a solution [to the educator shortage], but it's one piece of the puzzle," said Sean Hime, executive director of Oklahoma State School Boards Association.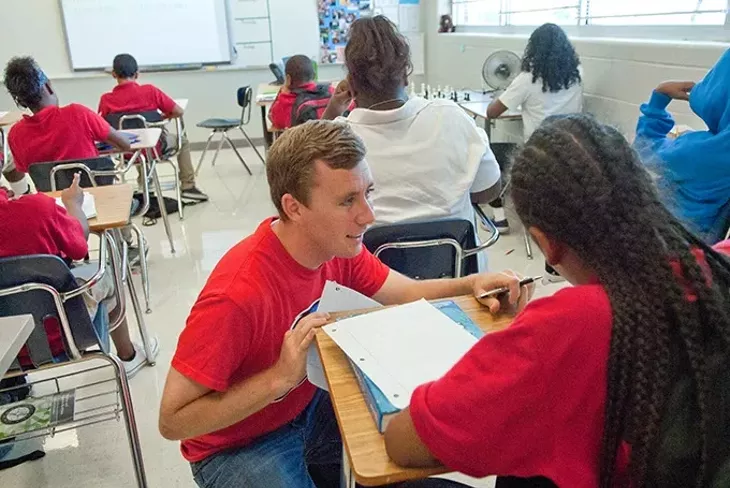 Mark Hancock / File
Jake Steel teaching 7th Grade Academic Achievment at John Marshall High School. mh
4. Child homelessness
Senate Bill 511 requires the Office of Planning and Coordination for Services to Children and Youth Steering Committee to review data on child homelessness and reevaluate the state's role in providing services to those youth. SB 511 also directs the agency to submit policy recommendations by year's end.
"According to the Oklahoma Interagency Council on Homelessness, 22 percent of Oklahoma's homeless population is under the age of 18," Kay Floyd, D-OKC, author of SB 511, said in a statement. "I want to know how we can help prevent this in the future. Our children deserve better."
5. Tobacco-free schools
Most schools already are tobacco-free, but this new law makes it official.
House Bill 1685 requires all schools, their vehicles and sanctioned events to be tobacco-free.
"This is a common-sense measure that will reduce tobacco's influence on our children," Gov. Mary Fallin said in a statement after signing the bill into law. "It is encouraging that 83 percent of Oklahoma's students already attend schools where tobacco is banned 24 hours a day, seven days a week. This bill will protect the remaining 17 percent."
6. Incentive reviews
Senate Bill 806 and House Bill 2182 require an evaluation of all business tax incentives at least once every four years. When Fallin signed the bills into law, she dedicated the legislation to Rep. David Dank, a longtime advocate for tax credit reform in the Legislature, who died last month.
"These are the tools Oklahoma has needed to sort out effective incentives from ineffective ones so our state can continue to support economic growth in a fiscally responsible manner," Fallin said.
7. Petition process
In the past, initiatives and referendum petitions have caused confusion, but House Bill 1484 brings some clarity to those processes.
Authored by state Rep. Randy Grau, R-Edmond, it gives the Secretary of State clearer language on deadlines and appeals.
"This measure will ensure that citizens get a fair shot at enacting reforms through the petition process," Grau said.
The bill also repeals the penalty for circulation of an initiative or referendum petition by an unqualified elector.
8. Wiretap expansion
Human trafficking is now added to the narrow list of offenses included in the state's wiretapping statute.
"Human trafficking is a challenge for law enforcement and prosecutors," said HB 1006 author Sally Kern, R-OKC. "Victims are afraid of their trafficker and fear for their life if they testify against their pimp. Having the ability to wiretap conversations ... will reveal the true nature of the relationship, the threats the victim is subjected to and who other traffickers are and what they are planning."
9. Volunteer firefighters
The age limit was removed for Oklahoma's new volunteer firefighters thanks to House Bill 2005.
"Current law bars willing volunteer firefighters above the age of 45 because the pension system could not afford them," said HB 2005 author Mike Sanders, R-Kingfisher. "I asked a few of my constituents who were above the age of 45 and interested in volunteering about whether or not they needed a pension. They were looking to serve and didn't need to be part of the pension system."
10. Proton therapy
An Oklahoma Gazette article last year highlighted the benefits proton therapy offers for many cancer patients who might need a safer alternative to traditional radiation. However, some insurance plans refused to cover the treatment.
"I have two different insurance plans between me and my wife, and after I went through cancer treatment, neither would pay [for proton therapy]," said Ricky Conley, 59, who was hit with a $190,000 bill for the proton therapy needed to treat his cheek cancer.
House Bill 1515 prohibits insurance providers from holding certain cancer therapy to a higher standard of clinical evidence than other therapies when determining benefit coverage.
"Proton therapy is commonly understood as a better treatment option with FDA approval, but some insurance companies have stopped providing coverage for this particular radiation treatment," said Marian Cooksey, R-Edmond, author of HB 1515. "They justify this decision by citing the lack of long-term studies, but it's a very weak argument."
Print headline: Your rights, A lot of laws were passed during this legislative season. Here are 10 you should know about.