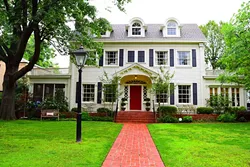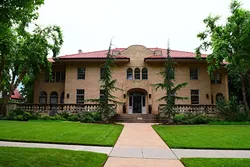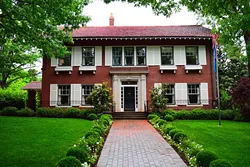 "A big part of the fun is touring these 100-year-old homes and seeing how the owners have made them work for a more modern lifestyle," said Allison Bailey, publicity chairperson for the 50th annual Heritage Hills Historic Homes Tour.
It runs noon-5 p.m. Saturday and Sunday.
Six homeowners open their doors to the public, including Todd and Tiffany Davis at 420 NW 14th St., Ben and Robbie White at 700 NW 15th St., the Clayton-Hunzicker home at 425 NW 16th St., Ross and Brenna See at 424 NW 16th St., Fred and Carter Fellers at 1703 N. Hudson Ave. and Chris and Lisa Lawson at 400 NW 20th St.
"We are lucky in this neighborhood that, while younger people and families with children are moving in, we still have many neighbors who were some of the founders of the neighborhood association and the tour," Bailey said.
The hub of all of the weekend's activity is Overholser Mansion, 405 NW 15th St.
There, guests will find refreshments including food trucks, a wine garden, ticket sales and live music. Tour participants can also find the gathering spot for guided walking tours at 1 p.m. and 3 p.m. both days.
"Before I lived here, I loved to drive through and watch the homes change with the seasons," Bailey said. "These old homes become a member of the family. You develop a relationship with the house. … It's a long-term relationship."
Bailey and her husband moved into the neighborhood in 2013.
"We're close to everything. … This weekend, my husband and I biked to the farmers market," she said. "I love that the people who have lived here for generations had such an undying faith that they could create this beautiful little safe place to live. I want to retire here and do my part to help keep it this way."
Limited tickets for a three-hour driving tour of Heritage Hills, featuring the history of the majority of the neighborhood's homes, including the tour homes, also are available. Contact homestour@heritagehills.org or visit heritagehills.org for pricing and more information.
"Print Headline"; 'Hood happening, Heritage Hills Historic Homes Tour celebrates its 50th year.