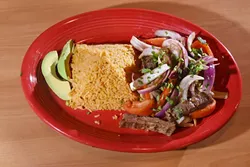 Mark Hancock
Lomo saltado, at Hidalgo's Cocina & Cantina in Edmond, Oklahoma, 1-19-16.
My brother is not the pickiest eater, but he is a connoisseur of Mexican food. So when he told me he'd "never had a bad meal" at Hidalgo's Cocina & Cantina, 200 S. Santa Fe Ave., in Edmond, I listened.
There were some tough years for him, living in Iowa and Maryland, where Mexican food is outlawed. Only criminals can eat tacos in those states. And god only help you if they catch you with a chalupa in Maine.
Whenever he returned from those far-off gulags, he would stop for Mexican food before dropping off his bags. That's dedication.
Some people around here get all high-horse about our Okla-Mex cuisine: heavy on sour cream sauce and fajita chicken, but can you imagine life without it? I love street tacos, but that doesn't mean I'm ready to give up cheese enchiladas slathered in chili.
You can like two things. It's OK. Just breathe.
Frankly, I don't know how anyone could like less than two things at Hidalgo's. Much like my brother, I haven't had a bad meal there yet.
Perhaps it has something to do with the garishly painted walls inside or the almost impossibly fast service from the wait staff, but it's hard to be anything but happy inside the restaurant. The chips and salsa are plentiful, and the tortillas are fresh, warm and fluffy.
Did you just smile thinking about tortillas? Of course you did. They're the Zoloft of food.
It is generally unnecessary to order appetizers at a Mexican restaurant, what with the aforementioned baskets of chips, et al. But if you're feeling froggy, Hidalgo's Sampler ($11.99) has my absolute favorite appetizer — a bit of everything.
You can choose chicken, ground beef or shredded beef nachos (or a mix), flautas and a quesadilla with guacamole and sour cream. The nachos are those old-school kind where it looks like the chefs are doing some kind of test on the tensile strength of the chips. They are loaded — like, Nick Nolte-loaded.
The flautas are a dream. The tortilla is fried golden crisp, but the meat inside is still tender and moist. So often, flautas are filled with the equivalent of jerky. These were wonderful. I could have eaten a dozen.
But I didn't because there's so much more food to try. Lomo saltado ($13.99) is a Peruvian dish of steak, onions, peppers, tomatoes and french fries almost cooked like a stir-fry. The beef is quite tender and very flavorful.
The chicken burrito ($13.99) was a chicken burrito. It wasn't bad at all, but it wasn't nearly as exciting as some of the other offerings.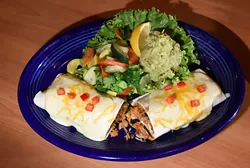 Mark Hancock
Chicken Burrito with quacamole and veggies, at Hidalgo's Cocina & Cantina in Edmond, Oklahoma, 1-19-16.
At this point, I almost feel like "Put an egg on it" is my catch phrase in some sort of Foodlandia sketch show, but when you can get an egg on something, it's almost always better. And that's true of Hidalgo's guiso especial ($14.99), which is chunks of sirloin cooked with onions, tomatoes and jalapeños until meltingly tender and topped with a fried egg.
Good gravy, that sirloin was so good. Usually, I think of guiso as more stew-like, but this was more sautéed. Still, the texture was incredible. I barely had to chew.
Now, let's get serious. Deadly serious. Parrilla serious.
I looked up the meaning of parrilla and ended up with "grill" and "torture." I guess they used to torture people on a grill, like meat on a barbecue. That ... makes me so hungry.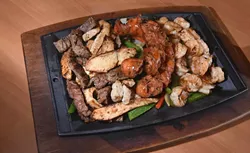 Mark Hancock
Parrilla, at Hidalgo's Cocina & Cantina in Edmond, Oklahoma, 1-19-16.
Because now I think of a parrilla ($19.99) at Hidalgo's and the only torture is figuring how much food from that searing-hot plate I can fit in my stomach. It's like fajitas if fajitas went to prison and joined a meat gang and got super ripped on weights. There's beef and chicken, sure, but then it has shrimp and pork and some kind of Guatemalan sausage, plus tons of grilled potatoes and onions and tomatoes and bell peppers and — woo; I'm getting a little sweaty. That's a lot of food.
And that is probably as equally important in my brother's assessment of Hidalgo's, because in my family, the only thing better than good food is a lot of good food. This restaurant does not skimp on portions. It's not the cheapest Mexican food around, but when there's this much and it's this good, I will gladly spend a few extra dollars.
It is also great to see a restaurant overcome a "cursed" location. Hidalgo's is in the corner of a big shopping center at Second Street and Santa Fe Avenue where, in my youth, I saw a lot of restaurants come and go.
I get the feeling that once you try it and find that you never have a bad meal there, Hidalgo's will stick around much longer than those other joints.
Print headline: Sweet torture, Big portions cooked well make Hidalgo's a must-try.