Provided
"The Flood Will Not Suppress Me" by Ebony Iman Dallas
Artist Ebony Iman Dallas has made it her life's mission to learn as much about her birth father and his story as possible. She never had the chance to meet him in person, as he was killed by police before she was even born.
There are many bits of information she has been able to collect from family and friends — why he came to the United States from his native Somalia, who his friends were, how he met her American mother. But there are certain parts about her father's identity — things like his face — which she likely will never know for sure.
Dallas' newest exhibition
Through Abahay's Eyes
— translated into full English as "through my father's eyes" — opens April 6 at The Paseo Plunge, 3010 Paseo St., and runs through April 29. The opening reception comes just two days after the 38th anniversary of her father's death.
Through Abahay's Eyes
includes 20-25 paintings and drawings that span 15 years, from Dallas' time in college to the present day.
Dallas spent more than half of her life with no connection to her father, whose name was Said Osman, or his family in Somalia, but a chance meeting with a family acquaintance during her college years led her to reconnect with family members still in the North African country. Her popular 2016 exhibit
Women in
War Zones
, which was housed in The Project Box, now-defunct, touched on elements of her family's story, but Dallas said
Through Abahay's Eyes
is by far her most personal exhibition to date.
Oklahoma Gazette
wrote about Dallas' improbable reconnection with her lost family in its Feb. 17, 2016, cover story.
Growing up, Dallas never saw a clear picture of her father's face. Even today, she has seen photographs of him, but his face is usually partly secluded by large-framed 1970s glasses and the photos were taken from a distance. The mystery has forced Dallas to take a forensic approach.
"Family and friends have told me lots of times that I have his eyes and his nose," she said in a recent
Gazette
interview. "I have one particular piece in the show where I tried to figure out what his face looks like."
To create the exhibit's title piece, Dallas used an old photo of her father as the basis for a drawing of his face, inserting her own eyes and nose in an attempt to reconstruct his appearance.
"It's me searching for him," she said, "trying to get to know him."
Father's warning
Dallas' father was in the United States for university study. Before that, he was going to school at Savitribai Phule Pune University, then known as the University of Pune, in India.
Her father's younger brother was also attending a boarding school in India. Dallas' uncle told her a story about a conversation her grandfather had with her father after he had dropped him off at school and Said had told him of his plan to study in America.
"My grandfather said, 'I forbid you from going there,'" she said. "He immediately told him that they would kill him because of his attitude; he was headstrong, stubborn."
Dallas' grandfather had worked in the Somali government and was part of a delegation that traveled to the United States during President John F. Kennedy's administration. He had seen firsthand how blacks were treated in the United States.
"But, of course, my dad was headstrong and stubborn — just like he said — so he came anyway," Dallas said.
Having heeded his father's advice could have saved his life. But without his arrival in the United States, Dallas would have never been born. This is one of many aspects to Dallas' story where improbable circumstance has yielded life-changing results.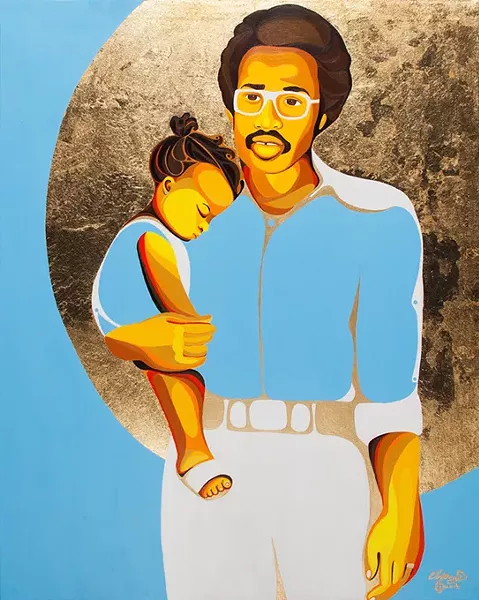 Provided
"Kernel of Eternity" by Ebony Iman Dallas
Tied together
The main piece in
Through Abahay's Eyes
features Dallas in the center, emerging through a large teardrop. The upper left corner shows her father looking at his daughter with a rope around her neck. Around her mouth is a gag that reads "forgive." The right corner shows Dallas looking at burning homes in Somalia, emblematic of the Somali Civil War. Another gag reads "forget."
"Those two things at the top represent really painful experiences in my family and things that also prevented me from knowing him," Dallas said.
The center image is symbolic of Dallas' decision to move forward with resiliency and learn more about her father. Creating the pieces featured in
Through Abahay's Eyes
was emotionally difficult for the artist, but she found it therapeutic at the same time.
"It hurts; it's an extremely painful process to go through," she said. "But at the same time, I have to do it."
Dallas' father actually had an indirect but significant role in his daughter's art interest. The only object of her father's that Dallas grew up seeing was a Somali mask that he most likely collected from a museum in Hargeisa that was destroyed in the war. She grew up fascinated with the mask, which inspired her to create for herself. The mask will be on display during the opening of
Through Abahay's Eyes
, along with several other cultural items.
Without art, Dallas would have never connected with her father's side of the family. She met her mutual acquaintance in Oakland, California, while interning as a graphic designer.
Art has been more than a coping device for Dallas. It was the key to understanding a lost side of herself.
"It all started with art," she said, "and that's what's held it all together."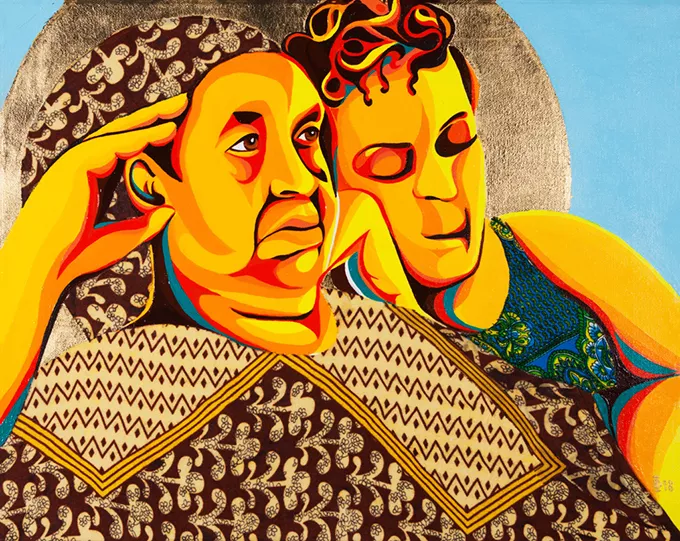 Provided
"London. Hargeisa. Cairo. Redefining Time" by Ebony Iman Dallas
Finding hope
After
Through Abahay's Eyes
completes its run at Paseo Plunge, it is scheduled for a June exhibition in Oakland with a hopeful tour to Somalia later. The art in this show will likely be paired with a book Dallas is writing about her story. There is no target publication date for the book yet.
There are a lot of elements to the story of Dallas and her father that have relevance in today's news climate: immigration, police violence, war, race relations.
The exhibit is being curated by Paseo Plunge manager and Literati Press founder Charles Martin. Dallas said initial talks between the two about the show began about a year ago, around the time the government was considering imposing travel bans on certain countries, including Somalia.
"I feel like there's not enough information about these countries that they say they're going to ban," she said. "They're labeled in a certain way, but there are normal human beings that live there and are trying to live a normal life just like everyone else. No one deserves to have to reside in a war zone. The average person doesn't want to live having to dodge bullets and bombs."
Dallas hopes
Through Abahay's Eyes
will help shift the way people see Somalia from the way it is often presented in the media. She would also like it if people took some message of hope from her story.
"If you're missing a family member, there is hope that you can still find them," she said. "My journey took 23 years before I was able to find my family and reconnect. It's been a beautiful experience."