It only took Hideaway Pizza 59 years to go 343 miles.
The pizza chain that started in Stillwater way back in 1957 as The Hideaway opened its first out-of-state store Oct. 10 at 5103 N. Warden Road in North Little Rock, Arkansas.
"Great pizza is an emotional thing," said Hideaway Pizza co-owner Darren Lister.
That leads to a passionate outcry from fans, who ask when the company will bring a restaurant to their town.
The owners listened and responded by visiting areas where they see significant spikes in public interest to find out if they might be a good fit.
"There has been a lot of fan activity in Arkansas in recent years, and through our visits to the North Little Rock and Conway areas, we just felt a connection to the area and thought our pizza and style might resonate with people here," said marketing and public relations director Rob Crissinger.
The 6,700-square-foot North Little Rock location is the company's 17th. Another restaurant will open in Conway in the spring.
That's a long, strange delivery for the restaurant created by Richard "The Big Kahuna" Dermer and his wife Marti near Oklahoma State University in 1957. The now-bustling chain remained a solo restaurant for more than 30 years until 1993, when a group of trusted employees got permission from Dermer to form a company and expand to new cities.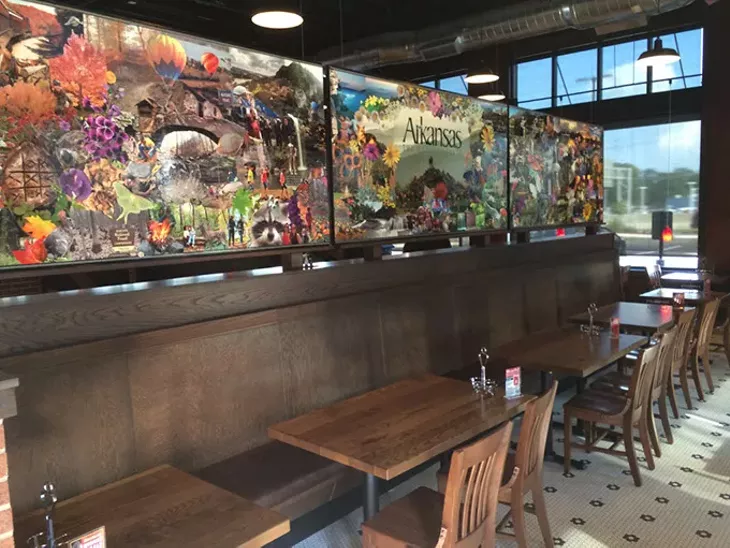 The Dermers still own the Stillwater restaurant, 230 S. Knoblock St., and Marti was at the Oct. 10 opening to see the restaurant's introduction to Arkansas.
While the company plans to focus on North Little Rock and Conway in the short term, it's keeping open the option to expand to other cities in Arkansas and other states.
He said the values are still at the core of Hideaway Pizza as the company grows.
"We feel like if we get those things right, our customers will be happy," he said.
Crissinger said the restaurants added hand-tossed and gluten-free crusts.
"Hideaway Pizza has used the same original pizza recipes developed almost 60 years ago as the foundation for what we define as our perfect pizza," Lister said. "Both [thin and hand-tossed] styles are balanced to fit the unique spice of our sauce, never obscuring the flavors or textures. The dough and sauce are made fresh from scratch every day in each of our restaurants, and our cheese is hand-shredded daily."
The restaurant has also gotten bolder with more creative topping combinations, including the honey-drizzled Pollinator pizza, with pepperoni, spicy capicola, salami and banana peppers and the German cuisine-inspired Bratza, which is a garlic-glazed crust covered in Bavarian mustard, mozzarella, cheddar, sauerkraut, bratwurst, red onions and jalapeños.
That might sound like a great departure from the original, but Hideaway has always had a wild streak.
In the 1960s and '70s, the Stillwater restaurant delivered pizzas with one of the largest fleets of Volkswagen Beetles in the U.S. Painted by the employees in wild colors and patterns, the delivery vehicles became part of the eatery's identity.
Inside each restaurant are giant art collages and vintage kites inspired by Dermer's stint as president of the American Kitefliers Association.
The North Little Rock location reflects that history, with images of the old VW Beetles on the walls, kites hanging from the ceilings and large-scale collages created with photos submitted by local residents.
Murphy said making pizza isn't rocket science, but recreating their ideal pizzas every time for every customer is an art form they take seriously.
"It's our passion," he said. "That's the real secret ... to our success and longevity."
Print headline: Pizza pioneers, Hideaway Pizza busts out of the Sooner State to open its first restaurant in Arkansas.