Armstrong International Cultural Foundation / provided
Armstrong Auditorium opened in 2010, but the Armstrong Performing Art series began in 1998.
Nearly 20 years ago, the Philadelphia Church of God started its Performing Arts Series in an attempt to elevate the cultural landscape of Edmond without preaching or proselytizing.
"The church wanted to sponsor it as basically just a way to reach out to the community in a nonreligious way," said Armstrong Auditorium concert manager Ryan Malone, who's been in charge of booking the series since it began in 1998, "just to hear beautiful concerts, great classical music and jazz and that type of thing, and so we sponsored concerts that they were just concerts."
Though the concerts were secular in nature, the first performances, scheduled wherever suitable space was available, largely featured church members on and offstage.
"The church's music program had some professional musicians there, and we were presenting the first concerts ourselves," Malone said. "We would rent out the UCO ballroom or something, and mostly it was our church members who came. It was a very humble beginning."
In the series' second season, the Armstrong International Cultural Foundation, named for Worldwide Church of God founder Herbert W. Armstrong, presented a concert featuring Oklahoma Youth Orchestra, the first time the series showcased artists outside the church. The following year, the series included a concert from its first internationally renowned artists, the Vienna Boys Choir.
The Philadelphia Church of God, headquartered in Edmond, began as an offshoot of Armstrong's Worldwide Church of God, which formerly owned the Ambassador Auditorium in Pasadena, California, once called "the Carnegie Hall of the West Coast" for the high standard it set as a performance venue for symphonies and other classical concerts.
"The idea was to eventually rebuild that kind of legacy where you had, not just a church per se, but you had an organization in the community that was giving to the public through cultural experiences," Malone said. "The opening page of our program book has a message from our founder and chairman [Gerald Flurry]. He's the pastor general of the church, but he's speaking as the foundation, saying, 'We believe that this fulfills a mission to show man his potential.' In just a very inspiring way, to show the best of human potential, the best of the human spirit, because we believe that is something that is godly. We believe that by showcasing these fine performances, we're fulfilling a spiritual objective as well. We believe in God's way of sharing and giving, in a way where you don't talk about doctrine or belief. Everyone can agree on the idea of giving and sharing."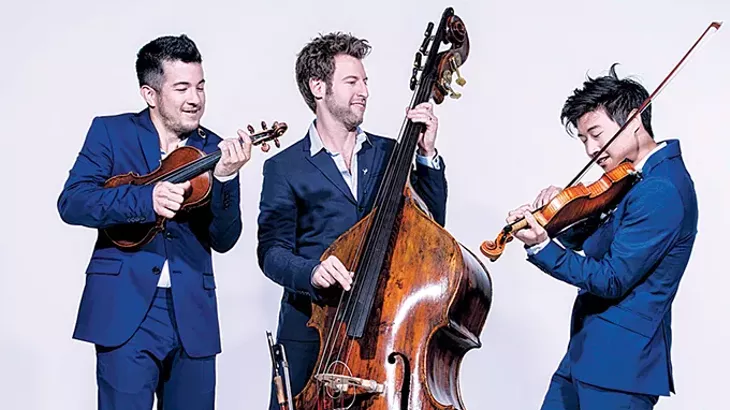 Armstrong International Cultural Foundation / provided
The 20th season of the Armstrong Performing Arts Series begins with a performance by string trio Time For Three Oct. 18.
Performance space
When Philadelphia Church of God opened Herbert W. Armstrong College in 2001, the Performing Arts Series had a permanent home, but it wasn't until Armstrong Auditorium finished construction in 2010 that the church's mission of replicating the success of Ambassador Auditorium seemed possible.
"That had been something on our radar for awhile, to have a worthy venue of the kind of events we were bringing in," Malone said. "We'd been wanting to do that, and finally we had the wherewithal to do it."
Performers in the series have included Tonight Show bandleaders Branford Marsalis and Doc Severinsen, Broadway stars Brian Stokes Mitchell and Kelli O'Hara, vocalists Nathan Gunn and Frederica von Stade, pianist André Watts and piano quintet The 5 Browns, Berlin Philharmonic Wind Quintet, Canadian Brass, Vienna Boys Choir, and annual performances by the Russian National Ballet.
Malone — who also composed the musical Undefeated: The Story of Isaiah and Hezekiah, scheduled for a 2 p.m. Aug. 12 performance at Armstrong Auditorium — said some of his personal highlights from scheduling two decades of performances include seeing the world-renowned chamber orchestra Academy of St. Martin in the Fields, Israeli mandolinist Avi Avital, a "transformative performance" by Australian violinist Ray Chen, and watching the Venice Baroque Orchestra perform 17th and 18th century works on instruments from that time period.
"It was historically intriguing but yet it seemed really relevant," Malone said. "It was a really cool night."
Other acts from around the world who have made stops in Edmond to perform in the series include the Bayanihan Philippine National Folk Dance Company, Hungarian State Folk Ensemble, and Spain's Romero Guitar Quartet.
"International is a great way to describe it," he said. "We've had a wide variety of styles and nationalities represented. … There's just a cornucopia of things to pick from."
In 1998 when the series began with local concerts, many people wouldn't have expected it to grow to an internationally relevant cultural touchstone for Edmond, Malone said, but he had always hoped it might.
"You wouldn't just assume we would've had grand expectations, but deep inside, we did, or I did," he said. "I felt like I knew what the potential was. The metropolitan area here is different from, say, Southern California, but we knew there was a lot to offer."
At the moment, the goal for the series is not to grow or expand but to "sustain the excellence."
"I think what we've learned is, based on our resources here with the staff and based on the population and market, we think we've kind of hit a really good balance or a sweet spot if you will, on the right number of events to have, the kind of events to have, and how to space them out through the season," Malone said. "So I would just say that we would try to maintain that balance. We wouldn't try to overextend ourselves or overextend the audience."
The series' 20th season, beginning Oct. 18, features Celtic Nights Dance Company, Shanghai Opera Symphony Orchestra, Anne Akiko Meyers with Mozart Orchestra of New York, and many returning favorites from its first two decades including a one-night only performance of Swan Lake by the Russian National Ballet, a closing concert from Canadian Brass, and a performance by Vienna Boys Choir, which Malone described as "one of the first big, internationally recognized artists that we had on the series back when it was nothing."
International acts are often surprised to find a venue like the Armstrong Auditorium in Oklahoma, Malone said, but they're always impressed.
"They come here, and they are used to the more metropolitan areas," he said. "They're driving out in North Edmond, and it's acre lots and a lot more spread out, a big sky, all that. And then they see the building sort of pop up on the horizon, and they're stunned, you know, 'What a jewel. I can't believe this is right here in the middle of the prairie.'"
Visit armstrongauditorium.org.