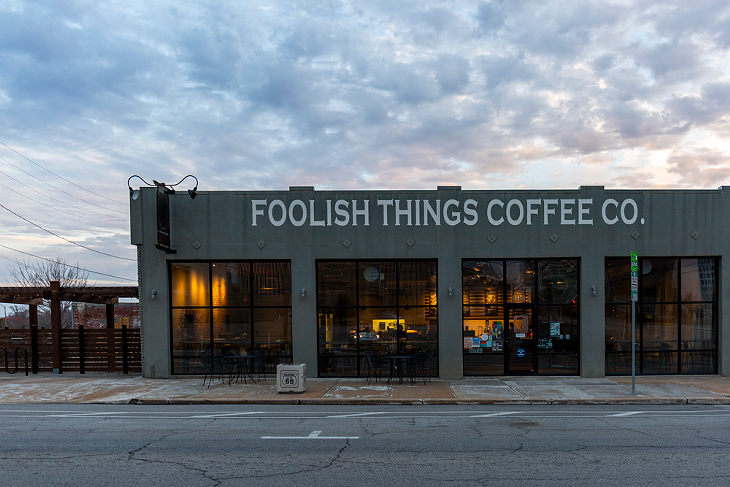 Berlin Green
Foolish Things Coffee Company.
Once upon a time, Justin Carpenter had the foolish idea of bringing people closer together over a shared space and a good cup of coffee.
"Ten years ago, I'd noticed people were drifting further and further apart due to technology and now due to worldwide pandemics and politics and everything else. And I have always believed it's a lot harder to be shitty to somebody who's sitting right across the table from you than it is to do it from behind the screen. We wanted to invest in humanity through the foolish means of a cup of coffee. And I think we have this very high aspirational motivator, but we also use it to keep ourselves grounded," he said.
And thus Foolish Things Coffee Co. was born. Justin Carpenter and his wife, Katie, are the sole owners. They have no investors.
"From the time I was a kid, I wanted to open a coffee shop and I think it's probably because at the time, I was too young to get into any bars and hang out with friends. And so me and my middle school and high school friends would meet up on a regular basis at coffee shops around town and just hang out. There was something so attractive about building spaces where community can happen. Because it's what I was familiar with, and when I had an opportunity with the building, we started with a coffee shop," co-owner Justin Carpenter said.
Berlin Green
Foolish Things Bar & Biscuit
Foolish Things Coffee Co. opened in 2012. In 2018, they opened Bar & Biscuit, a posh cocktail bar and brunch spot, in Brookside followed by High Dive, a low-key fusion barbecue joint in The Pearl District.
High Dive features a stage made of some of the original flooring across the street at Leon Russell's The Church Studio when he owned it.
"We thought, 'Man, we've got to do live music in here as often as we can. We need to have it be more divey, more neighborhood bar type of feel. A lot more casual.' And then for the food, we just said, 'Nick, you have total autonomy to do whatever you want. Make it make money, but have fun.' And I think, for him, having the creative freedom to go in whatever direction that he wanted to go was very attractive to him," Carpenter said.
Chef Nick Corcoran used Oklahoma barbecue as the cornerstone but uses Korean and Asian flavors to accent it.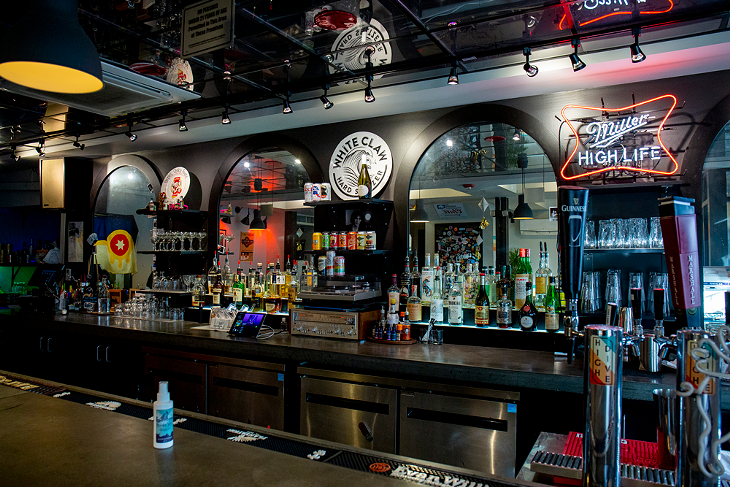 Berlin Green
Foolish Things High Dive
"There's nowhere else in the country that you can get the type of food that he's doing, which is very traditional barbecue but with very non-traditional barbecue flavors. That's where the romance comes in, for me is when you can work alongside guys like Nick that are masters of their craft that can create something that is totally unique … The guy's a fucking wizard and Jake [Jezek], our bar manager, those guys work so well together. Jake is so good at creating an environment where people want to be in that room," Carpenter said.
With three distinct concepts up and running, the dream that is Foolish Things now seems a lot less foolish.
"My mom is one of six kids in a big Mexican family and so it was always ingrained in me that if you want to show people that you care for them, you feed them," Carpenter said. "And so, as somebody who worked construction every summer and could never imagine myself in an office job, I wanted to do something that combine that hospitality aspect and community aspect with that fast pace, and restaurants, I think, are the perfect, the perfect intersection of idealism and pragmatism when it comes to, to craft. There are plenty of artists out there that are novelists or musicians that put out one painting or one novel or one or one album and that is their creative expression. And for us, we wanted to create something that was day-in, day-out, high volume. How can we share the best craft with the people that choose to grace our threshold?"
While Carpenter won't rule more out at the moment, he's not ready to announce plans for a fourth spot just yet.
"We've always got plates spinning. The biggest thing is trying to get to the other side of this pandemic. Once we have a little bit of breathing room, then we'll be able to talk a little bit more openly about some of our projects," he said.
"I wanted to do my part to make Tulsa a great city and I think that feeding and serving people well is one of the best ways that you can," Carpenter said.