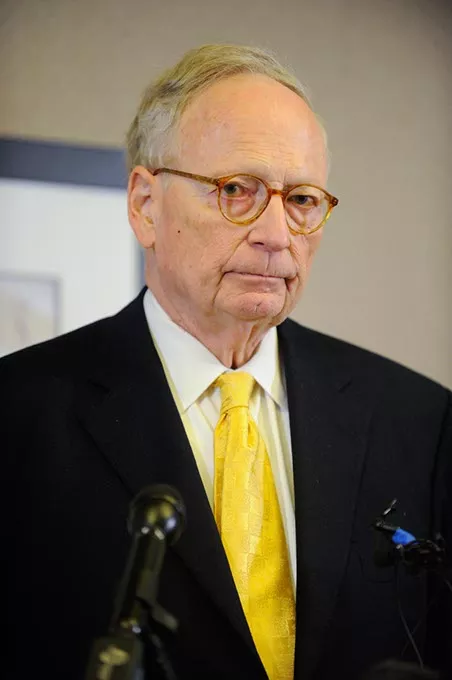 Garett Fisbeck
Stephen Jones, who was hired to represent OU fraternity SAE, speaks at a press conference in Oklahoma City, Friday.
In the wake of this week's video leak showing members making racist chants during a weekend bus trip, prominent attorney Stephen Jones announced Friday that he has been hired by alumni of the University of Oklahoma's ousted Sigma Alpha Epsilon (SAE) fraternity to advise members of its board of directors.
"I have not been retained to initiate litigation against any person, party or the University of Oklahoma," he said.
He is, however, interested in protecting the rights of his clients and opening a dialogue with OU President David Boren and his staff, as well as with local representatives of the American Civil Liberties Union and the National Association for the Advancement of Colored People (NAACP).
"Let me be clear; there was no justification for what was done on the bus. Zero," he said. "But these young adults have rights, and we must protect those rights."
He said his first priority, though, is to protect the well-being of ousted fraternity members, saying they've encountered verbal and physical assaults and "altercations" on the school's campus.
Last weekend, video emerged from the frat's off-campus trip on Saturday that showed members shouting racist slurs. Men chanted, "There will never be a nigger in SAE," among other things. The clip quickly went viral. SAE's national office closed the OU chapter and condemned its members' actions.
Soon after, Boren also publicly decried the behavior, gave members notice to move out of the frat house and expelled two students.
Boren tweeted a press release that stated he had expelled two SAE members "identified as playing a leadership role in the singing of a racist chant in connection with an SAE fraternity event."
He also sent an email to students, faculty and staff.
"To those who have misused their free speech in such a reprehensible way, I have a message for you. You are disgraceful," he wrote in the email. "Effective immediately, all ties and affiliations between this university and the local SAE chapter are hereby severed … There must be zero tolerance for racism everywhere in our nation."
On Friday, Jones explained the chant occurred on one bus of five that were chartered to carry the men to an off-campus event. He said about 25-27 frat members and their dates were on each bus.
He also said his goals are to help ensure that due process is given to former chapter members, both with the school and SAE's national leadership and to protect their constitutional rights, which include the protection of free speech.
Jones said he does not represent Parker Rice or Levi Pettit, the two students Boren said he expelled after the incident. Jones did say, though, that there is confusion about whether or not the men withdrew from the school before being expelled.
Jones isn't seeking an apology from anyone, including Boren.
"I don't have a beef with anyone," he said. "I have an expectation that everyone will be fair."
He hopes this incident can become a "teachable moment" and "believe[s] that, working together in a positive manner, [they] can find a solution for everyone."
Jones has practiced Oklahoma law 50 years and is widely known as a lead defense attorney for Timothy McVeigh at his trial for the bombing of the Alfred P. Murrah Federal Building in the '90s.