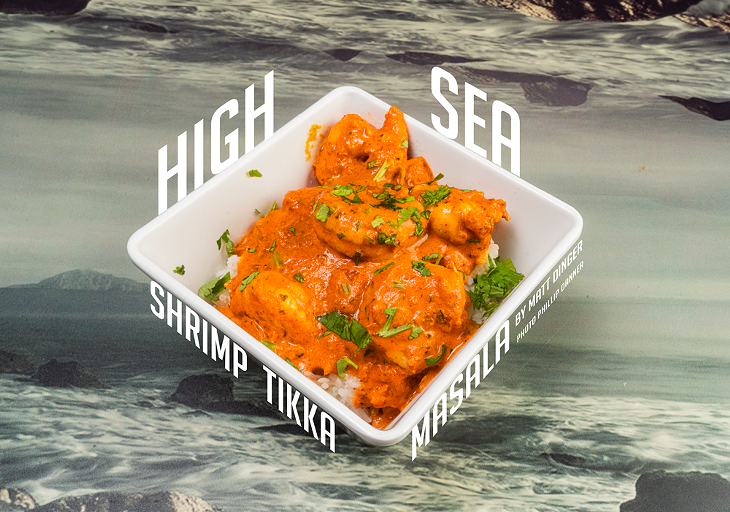 While vacationing in Panama, Jarrod Friedel was directed to a restaurant that served a traditional Indian meal, tikka masala, with seafood.
The meal there was terrible, Friedel said, but it gave him an idea. Each month, Guyutes chefs Friedel and Matt Pryor team up with Oklahoma Gazette to offer cannabis-infused dishes that go beyond brownies and gummies. This month, they go far out to sea, offering a nontraditional take on the traditional dish.
"I've done it the traditional way and it's such a long all-day process with me adding different stuff at different times and stirring. I was like, 'There's got to be an easier way.' And there is. It's a crockpot," Friedel said.
But make sure to follow instructions carefully here, as the process has been tested multiple times.
"Normally, it's chicken, so my chicken would marinate in here and then my chicken fat renders down everything. I can't do that with the shrimp. I don't know what a four-hour cook on shrimp would do but it probably wouldn't be very good," he said.
Dosage calculation:
28g x 20 percent THC
28g x 200 milligrams (percentage converted to decimal)
5600 x .088 (decarbing loss)
4928 x .80 (loss in infusion process)
3942.4 milligrams divided by 4 cups
985.6 milligrams per cup
738.4 milligrams per 3/4cup
123 milligrams per serving
Note: You can cut the infused cream down to 1/2 cup and use a 1/4 cup of regular heavy cream to lower the milligrams of THC
Shrimp Tikka Masala
2 yellow onions diced
3 tablespoon whole milk yogurt
1.5 teaspoons garam masala
1 tablespoon smoked paprika
1/2 teaspoon turmeric
1/4 teaspoon cayenne
1/4 teaspoon garlic powder
1/4 teaspoon ginger powder
2 teaspoons kosher salt
1 lemon juiced
12 ounces tomato sauce
2 tablespoons fenugreek leaves
2 tablespoons tomato paste
1 pound raw shrimp
3/4 cup of infused heavy cream
Jasmine rice
naan bread
cilantro
Sauté onions in olive oil until translucent. Set aside.
In a bowl, add lemon juice and salt. Mix until dissolved.
Then add: yogurt, garam masala, paprika, turmeric, cayenne, garlic and ginger. Mix well! (If you want to use chicken cut up into 1-inch chunks add to curry slurry and layer the same, except cook on high for four hours.
Add onions to a crockpot, then add tomato sauce layered over onions, then layer your curry slurry on top of the tomato sauce. Place the lid on the crockpot and set on high for three hours.
After three hours, add heavy cream and mash-up fenugreek leaves. Add them first, mix well, then add tomato paste and mix until paste is dissolved.
Take three tablespoons of masala and add to raw shrimp, toss to coat, then aauté shrimp for two to four minutes. Lastly, add the shrimp to the masala.
Let sit for 5 minutes before serving over jasmine rice naan. Top with cilantro and serve with naan bread.