Left to Right, Jabee, John Devere Revive, Robert Levering, Miillie Mesh, Candace Liger, Nymasis, Gregory Jerome the Hip-Hip Festival organizer, Jeremiah Lavender, Angel Little, and Kris Kanaly. All are artists participating in the Hip-Hop Festival, photographed in front of the mural in the parking area on Northest 9th Street in OKC, 8-26-2015. Mark Hancock
Local emcee and hip-hop activist Gregory Jerome, along with his band of fellow visionaries, hopes Oklahoma Hip Hop Festival can unite a segmented local rap scene and contribute to a push in the state for truly organic art.
"This is a new age; this is a new time; these are new innovators, new creators; and these people are pressing forward," Jerome said. "To have people of this magnitude on the team, it speaks volumes."
Oklahoma Hip Hop Festival is Sept. 18-19 at The Paramount OKC, 701 W. Sheridan Ave. It showcases dozens of artists in vital areas of hip-hop culture: emcee, DJ, breakdance, rap battle, poetry, producer, graffiti and other media.
"This is not like the typical other festivals that people have pushed for years," Jerome said.
The concept of a multiday festival is a much larger extension of an afterschool program Jerome developed that's dedicated to exposing youth to arts via hip-hop.
Jerome said Elemental Hip Hop Program launched in 2011 as a way to reach kids using a language they could relate to. It introduces youth to the elements of hip-hop and culture, as well as its history and significance.
"That's the real reason for the festival," Jerome said, "to actually ignite and illuminate this program for these kids and for them to have the opportunity to fall into the arts, no matter what medium it is, through hip-hop."
He said the festival also strives to emulate a model used for events like Norman Music Festival by nurturing its roots in a well-established district and creating an annual, mutually beneficial relationship between cultural communities and businesses.
To do all this, Jerome relies on a team of like-minded locals and major local players. In addition to their close work with The Paramount, bonds have also been formed with the Academy of Contemporary Music at the University of Central Oklahoma, Syn3rgy Creative Group and others.
Steven Newlon, Syn3rgy CEO, said the partnerships help form a "festival culture" that stays focused on those goals.
"This is really an organic expression of the demand in the marketplace," Newlon said. "Most of the music festivals here have been organized by politicians. Rehashing big '80s names, you know. That's not necessarily an organic expression of the youth culture here."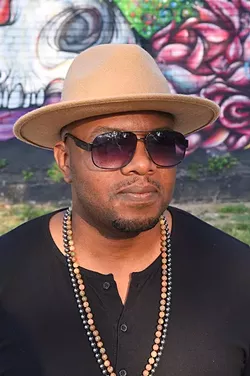 Mark Hancock
Gregory Jerome
Workin' it
Earning project support was challenging, Jerome said. Even so, Paramount venue management was intrigued with his new, untested concept and asked for a festival launch date. They decided on September.
"There's no time to waste because we can't wait, man," Jerome said. "If we wait another year, the vibe is gone, so I wanted to make sure we took the opportunity when it came."
Since then, Jerome and his peers have worked to develop the festival.
Kelsey Karper, an artist, independent curator and associate director at Oklahoma Visual Arts Coalition who has worked with Jerome previously, watched with the rest of the team as the project took shape.
"It's bigger than probably any of us ever imagined it to be," she said.
Dozens of local, regional, national and international artists will perform, lead education sessions, rap, create interactive art projects, participate in showcases and challenge each other in friendly skill battles, said Charles Martin, event creative director.
However, Martin said he's most excited about merging the state's many individual hip-hop niches.
"You have a very rich and vital Native American rap scene, which you don't really see," he said. "They don't hit my radar very often, but they're successful."
He also mentioned expanding the popular Hispanic, African-American and college hip-hop communities.
Karper agreed and said one of the greatest benefits of the festival will be the proverbial "merging of tribes," as it brings together people from all walks of life.
"If you don't know anything about hip-hop, this is going to be educational for you because you're … [showcasing] all the musical influences that made hip-hop," she said.
Similarly, Martin's enthusiasm is fueled by Jerome's greater mission of advocating for and educating youth about culture and arts through his Elemental Hip Hop Program.
"That's really the thing that had me sold whenever Gregory was talking about this," he said. "This is really an outgrowth of his elementary school program."
Elemental has seen success, but Jerome said he has greater goals for it, including converting it into a nonprofit and, eventually, developing academies and schools in communities across the globe.
To achieve these goals, Elemental needs a level of support and funding that an event like Oklahoma Hip Hop Festival could potentially provide.
"It's much larger than just this little festival," he said.
Martin said the city is at a point in its development where it should no longer surprise anyone that a grassroots event like this festival is encouraged and supported here.
"[The festival] is going to be a nice slice of what the city has to offer, because this is the future of Oklahoma City," he said. "This is a looking glass to see where we're going to be at in another five to 10 years."
Jerome said just the fact that they have come this far together is cause for celebration.
"This [festival] is already a success because it's never been done before," Jerome said. "So, just the attempt or the approach or to even have a thought of doing it is a success to me."
Print headline: Cultural confluence, Oklahoma Hip Hop Festival brings together art, music, education and community while breaking down stereotypes.