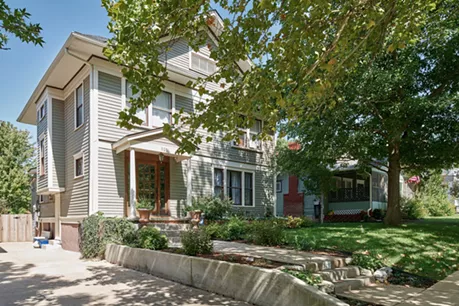 provided
521 NW 16th St. is one of the homes on Mesta Park's Holiday Homes Tour.
Mesta Park's Holiday Home Tour returns for its 41st anniversary Saturday and Sunday. An ideal outing of the holiday season, the tour offers a seasonal stroll through one of Oklahoma City's historic neighborhoods. The event promises porch side refreshments, spontaneous caroling and unique journeys through some of the community's most interesting homes.
Established a century ago, Mesta Park has become a constant against the backdrop of the surrounding city's change and growth. Furthermore, the close-knit neighborhood, as well as its continual improvements and upkeep, are attributed to its residents. Finding something a bit less chaotic than the life within an apartment, Katie Huskerson and her spouse, Tyler, have resided in Mesta Park for a little over five years.
"I first lived in a little apartment in the neighborhood where my husband and I got engaged," Huskerson said. "We loved Mesta so much we eventually bought a house here, and our daughter attends Wilson [Arts Integration School]. It sounds kind of hokey, but there's a sense of community here, a sense that people truly care about each other."
Over its lifetime, the neighborhood has endured a fair share of challenges. Almost 50 years ago, the area nearly fell into irreversible disrepair. However, the efforts of a few passionate individuals revitalized what is now Mesta Park, dubbing it the Comeback Neighborhood as the city awarded it a historical designation. Even with such an anchor of preservation firmly planted, the upkeep of Mesta Park came from within in the form of several fundraisers, including the Holiday Home Tour.
The raised funds are attributed to inherent improvements like new foliage and consistent landscaping as well as civic fixtures. Mesta Park's neighborhood association has garnered renown as one of the primary donors to Wilson and has brought numerous upgrades to medians and other commonly used routes running through the community. However, improvements have not become a reason to lose sight of Mesta Park's distinct charm.
"We all appreciate the old style of homes, and we're fortunate to not have a lot of things to tear down, rebuild and expand," Huskerson said. "There's a respect for what was built over a century ago, and with each house comes a sense of pride and preservation that spills out across the neighborhood. People move to this neighborhood because they want to be involved."
The notion of a home and, by extension, community has grown strained in the 21st century. Several factors, not all deliberate, can sabotage a home's sense of comfort and, in turn, pollute a community. Additionally, as we grow more disconnected from the notion of a neighborhood as something worth cultivating, we gradually become pariahs only associated by proximity.
"Being a community means interacting and actually growing to know the people around you," Huskerson said. "It's about caring for what's going on in each other's lives and being there if some needs help. A close friend of mine was sick last year, and there was a team of eight families checking in on her and helping care for her daughter until she got well. You need a willingness to look out for one another in a neighborhood, not just a place to pull into your driveway, shut your garage and never go back outside."
However, the process of revitalizing a community cannot without everyone coming together. Just as Mesta Park was resurrected by the Comeback committee, the prosperity of a neighborhood is dependent upon the residents who live there. For Huskerson, diligence and cooperation will always be more meaningful than the dues of a neighborhood association elsewhere. Likewise, upkeep is not a passive affair.
Though a few modern updates have allowed for more comfortable living spaces, the vintage architecture in the community has remained intact. In many ways, Mesta Park and the homes on its holiday tour are an allegory for the city's past and present.
"Things that are built to be shiny and beautiful and, of course, new are great," Huskerson said. "But it's important to reflect on the ideas of the past, like architectural styles and materials. For example, the stained glass you see in a lot of these houses is almost nonexistent in today's homes. Our homes are certainly not the most energy-efficient, but there's this spirit here of seeing what's ahead for OKC while also being respectful of what has come before."
Through curating homes many would consider antiquated, Mesta Park presents a canvas for imagination. Each of the five homes on the holiday tour includes a guided story, digging deep into the structures' significance, restoration and past residents. A shuttle provided by Mercedes of OKC will ferry any in need, and refreshments include Elemental Coffee Roasters.
Homes in the tour are 800 NW 17th St., 517 NW 17th St., 917 NW 19th St., 927 NW 16th St. and 521 NW 16th St. Refreshments are located at 604 NW 18th St.
Ultimately, the holiday tour is an opportunity to reflect on the possibilities of preservation. Homes might not be fully modernized, but the beauty of Mesta Park is undeniable.
"The holiday tour is a great celebration of making certain these houses are preserved," Huskerson said. "Still, it also celebrates the people who are willing to build upon what was proposed 40 years ago when the Comeback group opted to sincerely revitalize the neighborhood. Now, the people moving in like Tyler and I get to reap the rewards of their work. We are really appreciative of what they've done for us."
Visit mestapark.org.