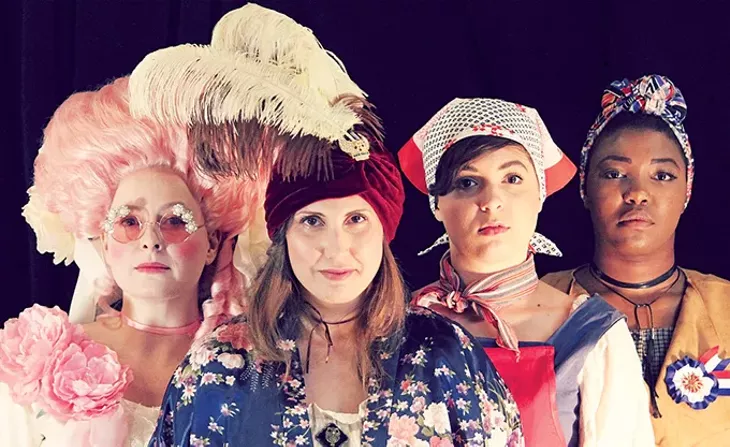 April Porterfield / Oklahoma Shakespeare in the Park / provided
Amanda Lee (Marie Antoinette), Erin Woods (Olympe de Gouges), Madison Hill (Charlotte Corday), and Alexis Ward (Marianne Angelle) play activists in Oklahoma Shakespeare in the Park's production of The Revolutionists.
Three long-since headless women from history, one rabble rouser and one bohemian visage of an ideal woman shouting over the frenzied voices of the masses during the French Revolution — these are the characters brought to life in The Revolutionists, a play that explores four female activists in France's patriarchal society in rich, comedic color with a full presence of the shadowy underworld of the time.
"Lauren Gunderson, who is the play's author, wrote about a period in history in 1793 during the French Revolution, which was when their reign of terror was really heating up and going south and [Maximilien] Robespierre was sort of running rampant," said Tyler Woods, managing director of Oklahoma Shakespeare in the Park (OSP).
The Revolutionists takes the stage at OSP, 2920 Paseo St., Thursday through July 21.
OSP's website describes the play as a "grand and dream-tweaked comedy … about violence and legacy, feminism and terrorism, art and how we actually go about changing the world."
With actresses Amanda Lee as Queen Marie Antoinette, Erin Woods as playwright Olympe de Gouges, Alexis Ward as Haitian rebel Marianne Angelle and Madison Hill as murderous Charlotte Corday, the play addresses a brutal fight for freedom among these strong women that ends with the only woman who doesn't literally lose her head: Angelle.
The play occurs in the mind of de Gouges during the moments before and while she's walking the scaffold to the guillotine.
"It's a very meta-theatrical play," Tyler Woods said. "In other words, it sort of all happens in [de Gouge's] mind in the blink of an eye. It's the idea of your life flashing before your eyes."
Revolutionary feminism
In many ways, The Revolutionists echoes today's resurrection of feminism through the #MeToo movement.
"There's a lot of parallel," Tyler Woods said. "There's a line in our play where one of the characters, Charlotte, after killing Marat, says, 'I don't think I finished the job.' Marianne's response is, 'I don't think we'll ever be finished.'"
Erin Woods' character de Gouges was a playwright and activist in French history.
"Right now is a very interesting time in our history when it comes to equality," Erin Woods said. "It mirrors the time of revolution in the play. We are on the brink of something … and tensions are high. The #MeToo movement seems to be about being heard. That is what this play is about … but it is first and foremost a comedy, something we never forget in rehearsal."
Lee, who plays Marie Antoinette, said she finds less of a connection between the play and the current feminism movement. Instead, she said, she sees more of a connection "about humanity itself and finding what connects us all as humans and not just men and women."
Feminism as we know it wasn't a thing in 1793, Lee points out, and playwright Gunderson takes great care to write around that fact while still pushing for change.
The Revolutionists' version of Antoinette contains many aspects of Lee's own personality, she said, but amped up to an 11.
"She is the comic relief of a play that is about something not at all comic," Lee said. "She's very childlike in her observations, but she can also be this prescient, wise force as well."
Antoinette, Lee said, is an example of how all are capable of a wide breadth of personality and are not limited to any stereotype.
"To paraphrase my favorite moment in the play, 'When we catch a glimpse of our own hypocrisy and begin to laugh, that's when change can crack us right down the center,'" Lee said.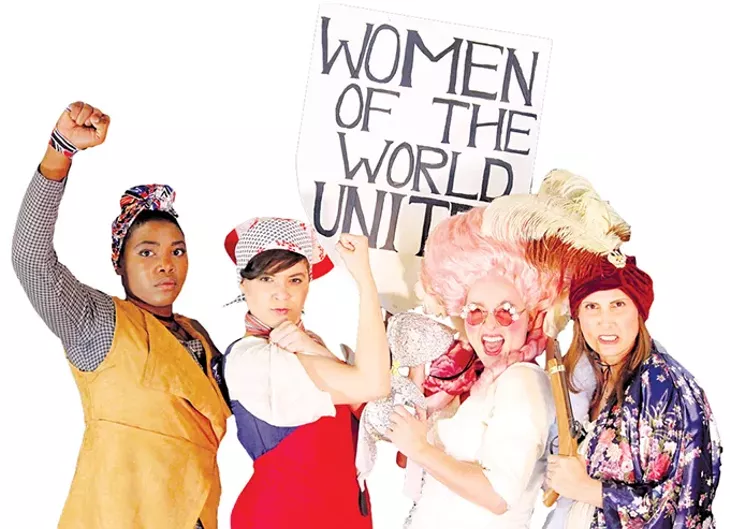 April Porterfield / Oklahoma Shakespeare in the Park / provided
Alexis Ward (Marianne Angelle), Madison Hill (Charlotte Corday), Amanda Lee (Marie Antoinette) and Erin Woods (Olympe de Gouges) play activists in Oklahoma Shakespeare in the Park's production of The Revolutionists.
Freedom embodied
Alexis Ward, who plays Angelle, a Haitian woman set against French occupiers, said her character holds the other women together while encouraging them to do the right thing because their stories are important to tell. Angelle never existed in history; she is derived from the symbol of the French Republic and personification of liberty and reason. She is a synthesis between piety, sensuality, motherhood and womanhood and is portrayed as a symbol of French freedom. She wears boxing wraps on her hands to represent the fighter in her and a sash that reads "Revolution for all!"
"When revolutions and movements have happened in history, people of color, especially black women, have always been the last ones on the list to be recognized," Ward said. "You can't call yourself a revolutionist or an activist if you don't actually put in the work, always stand up for what's right, no matter the consequences. Women are more powerful than they get credit for. … We can't be free until everyone is free."
The moral of the story, Tyler Woods said, is that throughout time, groups of people have persecuted one another as the "other."
"Whether it's the other being a minority race or minority gender or it is a conquered people or it is the Greeks and the Romans — you name it," he said. "We find the capital Other, and we go against it. … It's the struggle of the voice to be heard amongst the din of confusion, and it's a desire to be better amongst so many things that are going wrong. It's the desire that we can do better as a people, that we always need to be mindful of excluding the other to the detriment of our own lives and our own souls.
"We need to be careful that we don't shut each other down so much that we stop listening, that we don't hold everyone else at arm's length and that we don't shout so loudly that we can't hear anyone above our own voice."
The Revolutionists runs 8 p.m. Thursday-Saturday, July 12-14 and July 19-21 and 2 p.m. July 15 at 2920 Paseo St. Tickets are $20-$30. Visit oklahomashakespeare.com.