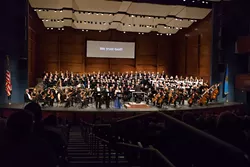 Canterbury Voices performs Handel's Messiah Dec. 3. | Photo Canterbury Voices / provided
You might have heard of the Ghosts of Christmas Past, Present and Yet to Come, but there's more than one way to experience the passage of time this holiday season. At 7 p.m. Dec. 3 at Civic Center Music Hall, 201 N. Walker Ave., Canterbury Voices performs Handel's Messiah. Tickets are $15-$60 and are available at canterburyokc.com.
Composed over a few weeks in 1741 and premiered the following April in Dublin, Ireland, George Frideric Handel's piece has long inspired differing interpretations since its inaugural performance. A talented musician and savvy businessperson, Handel made the switch from writing operas to the more commercially successful oratorio form, said Dr. Randi Von Ellefson, artistic director at Canterbury Voices and professor of music at Oklahoma City University.
"The oratorio then just simply developed as a piece for chorus orchestras and soloists — like an opera but without staging," Von Ellefson said. "Generally, there's a larger reliance on the chorus in oratorio."
Informed by the sweeping, dramatic stories of the Old Testament, oratorios were often performed in English and Italian, Von Ellefson said. Musical themes from La resurrezione ("The resurrection"), an early Handel oratorio, would eventually find their way into Messiah, a piece that encompasses the entire scope of Christian theology.
Divided into three sections — Prophecy and Birth, Death and Resurrection and The Second Coming — Messiah was considered an Easter piece by its creator, but it has also become associated with the Christmas season.
"Messiah remained pretty much in the same form it did at Handel's time for quite a while," Von Ellefson said. "He did rewrite different arias. There are different versions."
After Handel's death in 1759, other composers (among them Wolfgang Amadeus Mozart) began to pay homage to the popular piece. According to Von Ellefson, Mozart added clarinets and other instruments to his orchestration of the oratorio. Influences from the piece also popped up elsewhere in Mozart's work, a form of "tribute" that wasn't seen as a copyright violation, Von Ellefson said.
"There's a reason why it's famous," Von Ellefson said.
Instrumental evolution
One of the most transformative elements in Messiah's performance history is the development of modern instrumentation and the subsequent changes in sound.
"We're going now from Baroque instruments into the more modern 19th-century instruments, where the strings go from gut strings to steel strings on the violin, the violin neck is extended to get more volume, the bow is changed, we have the development of the clarinet," Von Ellefson said. "The instruments are now becoming what we would say is 'modern.'"
The new instruments were bigger, more reliable, made more sound and were played more in tune than earlier versions, Von Ellefson said. In addition to these changes in sound, chorus sizes continued to grow. These conditions are what Von Ellefson said Canterbury Voices hopes to recreate in its performance.
"This edition that we're doing is not authentic to Handel's time," Handel said. "We're going back into time, into the late 1950s in London."
Taking as a model the famous orchestration produced by Eugene Goossens and Sir Thomas Beecham, Canterbury Voices' production will take a more legato approach to the music, featuring slower tempos and less Baroque ornamentation, Von Ellefson said.
Canterbury Voices' performance counters a past trend to perform Messiah authentically, how it would have been heard during its composer's time.
"What you're hearing is a completely 19th-century Romantic version in the orchestra," Von Ellefson said. "There are added cymbal crashes on some big chords in the dramatic choral movements. There were no cymbal crashes in Handel's original, but it's really fun."
Von Ellefson said Canterbury Voices has previously performed Messiah, always keeping it light and buoyant, with faster tempos, energetic playing and modern ornamentation. The upcoming performance will be an opportunity to hear Handel's oratorio in a different context.
"It's really fun to listen to if you approach it from the idea that we're going back to 1958 London. This is how the people would go to Messiah when they would go to concerts in the season of Christmas," Von Ellefson said.
Canterbury's orchestration of the oratorio will include its standard 130 singers, among them guest artists Autumn West, soprano; April Golliver-Mohiuddin, alto; Steven Sanders, tenor; and Jordan Andrews, bass. In addition to its vocal elements, this orchestration features 45-50 players from Oklahoma City Philharmonic.
At the end of Messiah, Von Ellefson said the audience would be invited to join in a sing-along of the famous "Hallelujah chorus."
Von Ellefson said that the concert is well-suited for children, as its length will be trimmed to make it reasonable for modern audiences. In addition to the performance, attendees can enjoy punch and cookies (made by Canterbury Voices choral members) as well as photo opportunities with Santa and Mrs. Claus.
"Messiah can certainly withstand any amount of change and experimentation," Von Ellefson said. "It would be the perfect way to get in the Christmas spirit — by hearing one of the greatest works of all time."
Visit canterburyokc.com.
Print headline: Midcentury Messiah; Canterbury Voices' production of Messiah puts a midcentury, seasonal spin on Handel's classic.