The Depot Gallery / provided
"Chana Cliffs" by Brad Price
Small Works VIII, an exhibit featuring new works from prominent Oklahoma artists and a perennial holiday favorite, makes art available to those in search of a heartfelt gift for the holidays.
"We love that show; it's our favorite of the year," said Shari Jackson, executive director of The Depot Gallery.
Small Works was introduced in 2010 as an outlet for prospective customers to purchase artwork they might otherwise be unable to afford.
With two rooms filled with over 60 pieces by 10 different artists, those interested in taking home a gift will have plenty of options to choose from.
"We absolutely know that people are buying gifts and they are looking for interesting things to purchase this time of year," Jackson said. "We wanted to give them an option outside your normal gift-giving, something really unique, something that's one of a kind. Something you can't get anywhere else."
According to Brad Price, expressionist painter and member of The Depot Gallery committee, this is the best time for Small Works to be open to the public.
"It's one of the reasons that we do it this time of year," he said, "so that the art is less expensive and more people can afford it."
Price will have six 8-by-10-inch pastels available for purchase.
Though the works on display will be smaller than you might be used to seeing at a standard exhibition, they won't be any less appealing. They will, however, come with a significantly reduced price tag.
The largest piece available for sale measures 14 inches by 18 inches — not too small when considering other paintings and photographs hanging on the walls of other galleries. What's more, the artists behind these masterpieces put the same amount of care into these works as they do their larger ones.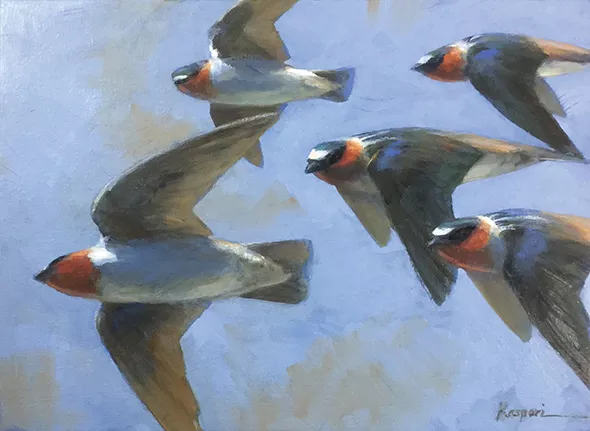 The Depot Gallery / provided
"Cliff Swallows" by Debby Kaspari
When recruiting artists for the show, The Depot committee maintains its own set of qualifications.
"We're looking for somebody that does have a good distinctive style," Jackson said. "We really want to focus on artists with strong Oklahoma ties, a strong Oklahoma background or a presence, and obviously, really good skills. [We look for] highly skilled artists with unique perspectives."
Preference is also given to artists who have showcased their work at The Depot in the past.
Fortunately for staff and audience members alike, this year's show will be yet another display blending the work of talented artists with a special knack for their craft.
The artists — Carol Beesley, Carolyn J. Faseler, Steve Hicks, Debby Kaspari, Tim Kenney, Brad Price, Bert Seabourn, Connie Seabourn, Cletus Smith and Betty Wood — each have their own style, giving viewers a vast array of options.
Plein narratives
In a press release, Beesley said the paintings on display in the Small Works gallery "represent a 'pause' from the big behemoths [she] usually produce[s]."
But that doesn't mean they are any less intricate. The same goes for the works of the other artists.
Like Beesley, who taught at University of Oklahoma and eventually became professor emeritus of art, Hicks is a veteran artist and educator in his own right, having only recently retired from Oklahoma Baptist University. Both Beesley and Hicks present their own takes on landscape paintings, creating works with a style easily distinguished from one another.
The ability to create a piece of art with an identifiable style and assemblage of features is perhaps one of the greatest accomplishments available in the profession.
"Burt does such interesting work, and he's got such a strong personality in the way that he puts images together," Jackson said of Seabourn's work. "You can't help but know it's a Bert Seabourn when you're looking at it."
The same could be said of his wife, Connie, who has the unique ability to express a number of themes through her watercolors and serigraphs.
"Connie Seabourn's watercolors — the way that she blends colors — is just spectacular," Jackson said.
Often, her works appear to be telling a narrative of their own. To these artists, communication is key.
"What I try to do is I try to take something that's been meaningful to me and present it to the viewer in a way where they can appreciate it in a fresh way," Price said, referencing his own paintings. "I just try to present things that mean a lot to me in a fresh and bright way. My favorite part is really just seeing how people respond to the painting. The best is seeing the reaction that people have when they see one of my paintings and they want to spend money, their hard-earned money on something that I do. That just tells me that I really touched them with my work, and that's one of the greatest parts."
The Depot Gallery / provided
"Watercolor" by Cletus Smith
His pieces have been described as joyful and reminiscent of the work of Vincent Van Gogh.
He uses a common method of taking photographs to use for his paintings, not unlike other artists trying to capture a certain setting. However, the way in which they utilize their photos varies.
"I don't generally paint from photos," Kaspari said regarding her use of photographs in her paintings. "I take photos to refer to later, to help kind of remind me. But really the best color and the best light I get from being right there outside and seeing what the sunlight's doing. I suppose some people can do this from photography, but I never could capture what I could see in a photo. So for me, it's really important to be actually outside with the paint and looking to see for real what's happening."
This style of painting known as en plein air (French for painting outdoors) is also practiced by Norman artist Tim Kenney. Like Kenney, Smith also likes to capture landscapes from Oklahoma and New Mexico using watercolor to illustrate the scenery. Though the settings reflected in the work of both artists are similar, the differences in style and approach are clear at first glance.
Those interested in the works of these artists are encouraged to make a purchase. Usually, the piece may not be taken down until the exhibit is over, but in true holiday spirit, The Depot is willing to make an exception. The staff made a special request that artists provide backup works to fill the spaces in the event one of their pieces is sold, allowing the buyer to carry it straight home.
The only hope is that viewers will enjoy their time and take a moment to appreciate the art and ambiance offered only at a gallery with a setting as unique as The Depot.
"It's a great atmosphere for the arts," Price said. "I think the depot is a beautiful building. … It's a historical and very aesthetically pleasing building, and being centrally located, it's a great place to show art."
Small Works VIII is on display through Dec. 23. There is an artist demonstration 2-4 p.m. Sunday and a reception 6-9 p.m. Dec. 14 during 2nd Friday Art Walk. Admission is free.
Visit pasnorman.org.