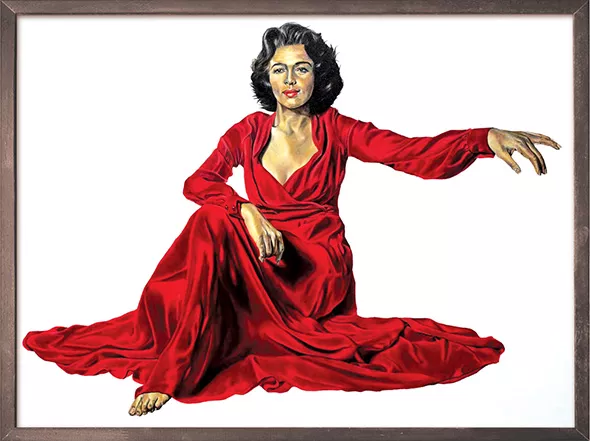 JRB Art at The Elms / provided
"The Red Dress (Dorothy Dandridge)" by Robert Peterson
This December, JRB Art at The Elms commemorates the 15th year of one of Oklahoma City's most illustrious holiday traditions, Christmas at The Elms. Opening during The Paseo Arts District's First Friday Gallery Walk, the outing continues its trend of showcasing beautiful, local work across a myriad of mediums. Additionally, Christmas at The Elms features two solo shows by Sohail Shehada and Stella Thomas within the adjacent galleries of JRB.
Conjured out of the principles of camaraderie and the power of art, gallery founder Joy Reed Belt found the event offers a unique opportunity to celebrate one of the most rewarding gifts. A confluence of large, small, stationary and wearable art, the exhibit and sale strikes an aesthetic chord for everyone. From the previously unseen work of Michi Susan to the rustic and lifelike illustration of Jeff Dodd, Christmas at The Elms alludes to nearly every artistic movement.
"It's very eclectic," Belt said with little hesitation. "Christmas in an inclusive time of the year in every sense of the word, and we seek to feature something that both everyone can relate to and highlights a number of our artists."
For this year's event, Belt chose to focus on artist with a connection to Oklahoma either through theme, proximity or education. For instance, the work of Bert Seabourn combines echoes of Salvador Dalí with Native American figures to posit something surreal and unquestionably familiar. On the other hand, Robert Peterson frames contemporary icons in a fashion that is raw, harrowing and beautiful.
Stella Thomas, one of the artists featured, brings many visually stunning pieces to the gallery with her collection of jewelry and accessories. An inventive designer from Kuantan, Malaysia, Thomas derives her craft from raw materials ranging from natural stones to the horn bones of water buffalo. Her art has been commissioned by celebrities, royalty and diplomats alike.
"Our mission is to exhibit all forms of contemporary art," Belt said. "We seek to begin a dialogue with the public with and about art. I think that's what this work does. Her work is stunning and very unusual. It's popular with our customers; you can buy a pair of earrings and a bracelet at a modest price point. Jewelry is a traditional Christmas gift, and this work makes such a statement about it."
The alternate solo show exhibits the imagery of Sohail Shehada, an assistant professor of figurative sculpture and drawing at University of Oklahoma. Spending much of his early life in Australia, Shehada channels the Aboriginal appreciation of art and culture throughout his work. Pieces upwards of six feet high emphasize grandeur and have become a trademark of Shehada throughout his career.
It proves difficult to attach a unifying theme or idea to the work collectively. However, despite a thorough medley of different concepts and subjects, Belt's consideration for an artist to be featured in Christmas at The Elms is straightforward.
JRB Art at The Elms / provided
"Pour" by Don Narcomey
"I have to like their work," Belt said. "Christmas at The Elms is about putting forth a good representation of art. It's about establishing contrasts. I often ask myself who would show well with what and who's really different. How do you craft a puzzle that will make the best exhibit possible? You do it with a heightened amount of variety, perhaps more so than any other time of the year."
JRB Art is a beacon against an often-tired shopping season. In the era of big box stores and bombastic Black Friday ventures, Christmas at The Elms cultivates something a bit more personal and nostalgic.
"Our space takes you back in almost a noncommercial world," Belt said. "The architecture of our building brings you into this very warm environment with huge fireplaces and a lot of wood. A lot of the general trappings of commerce are not here, no charge to enter and refreshments readily available. I think of our environment as more akin to an old, gracious home."
In many ways, the final show of JRB's year often proves to be the most definitive. Christmas at The Elms is an opportunity to purchase and preserve the work of the most intriguing artists Belt herself has curated. Each year, Christmas at The Elms is a culminating glimpse of JRB's legacy in retrospect and moving forward. With it comes what Belt described as "another dimension" of gifting.
For Belt, there are few objects that parallel the gift of art. No television evokes a sense of wonder like a fine piece of art, and very few gourmet pies resonate longer than a few moments. Art provides something consistent and returning. It is an aspect of the individual who places it within their home and a manifestation of the ideas that empower them.
"I would like to encourage people to think about gifting art," Belt said. "My reason for that is that it's a perfect gift. In fact, it brings you a gift every time you look at it. Every time you look at a painting or drawing or poster in your house, it's evidence of something you love and cherish. You don't have to change the oil, you never have to defrost it; it's just there, and it communicates with you unquestionably. I think that kind of spiritual exchange art provides is important at this time of the year."
Visit jrbartgallery.com.