There are a lot of reasons not to eat at home during Thanksgiving, and there is certainly no judgment from us if you don't want to debate the merits of estate taxes just to get some green bean casserole. Luckily, these seven restaurants are open to serve on Turkey Day. Be sure to call ahead to get reservations.
By Jacob Threadgill | Photos Gazette / file and provided
McClintock Saloon & Chop House
2227 Exchange Ave.
mcclintocksaloon.com | 405-232-0151
Stockyard City's newest addition is flexing its muscles this Turkey Day with what it is describing as a fabulous feast. Enjoy a four-course meal underneath red velvet curtains or near its opulent wood bar 11 a.m.-7 p.m. The meal includes appetizer, salad, choice of four entrees and dessert and costs $45 per adult and $20 per child.
The R&J Lounge and Supper Club
320 NW 10th St.
rjsupperclub.com | 405-602-5066
Instead of a smoked turkey breast, why not try a smoked fried chicken sandwich at R&J Lounge? It tastes great when paired with the restaurant's excellent bar. R&J serves its normal menu starting at 5 p.m. on Thanksgiving with classics like shrimp and grits, but it will include a turkey burger special with sweet potato fries.
Nic's Place Diner and Lounge
1116 N. Robinson Ave.
nicsokc.com | 405-601-9234
Whether you're looking for a lunch to get out of the house or dinner to finish your day, Nic's Place has you covered. It features a Thanksgiving menu that includes ham, turkey, dressing, green beans, mashed potatoes and cranberries. Be sure to save room for a choice of four desserts.
The Pump Bar
2425 N. Walker Ave.
facebook.com/thepumpbar | 405-702-8898
The plate pictured above is from last year's Thanksgiving meal at The Pump. The 2018 version features a pork roast cooked in pumpkin or a turkey breast option. The two entrees will be served with potatoes, carrots, fried Brussels sprouts, butternut squash, beer macaroni and cheese and homemade potato bread.
Ingrid's Kitchen
6501 N. May Ave.
ingridsok.com | 405-842-4799
Reservations are required to enjoy Ingrid's Thanksgiving buffet that has five seatings between 10 a.m. and 4 p.m. The buffet is centered on the offerings of herb-roasted turkey, brown sugar and citrus ham, beef roast and oven-fried chicken. There is a bevy of side dishes, and of course there is unlimited access to Ingrid's decadent dessert list. It's a steal of a deal at $22.95 for adults and $10.95 for kids age 6-12 and $6.95 for those age 5 and under.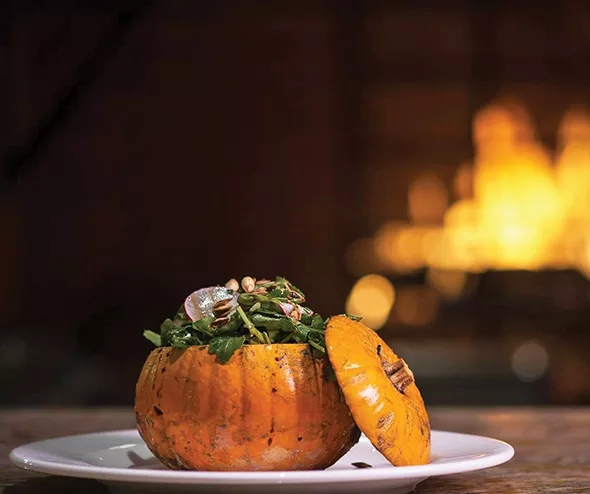 Mary Eddy's Kitchen x Lounge
900 W. Main St.
maryeddysokc.com | 405-982-6960
Executive chef Jason Campbell has put together an a la carte menu that features items like seared scallops, prime rib and roasted acorn squash, but there's also his take on the traditional turkey dinner with mashed potatoes, green beans, stuffing and cranberry sauce ($29). It is open 11 a.m.-7 p.m., and the full menu is posted online.
Vast
333 W. Sheridan Ave.
vastokc.com | 405-702-7262
Get a nice view from the 49th floor of Devon Energy Center Tower during Vast's Thanksgiving dinner that runs 10:30 a.m.-2:30 p.m. The three-course meal features a selection of seafood, steaks and turkey. The meal costs $49.50 for adults and $24.50 for children under 12 years old.