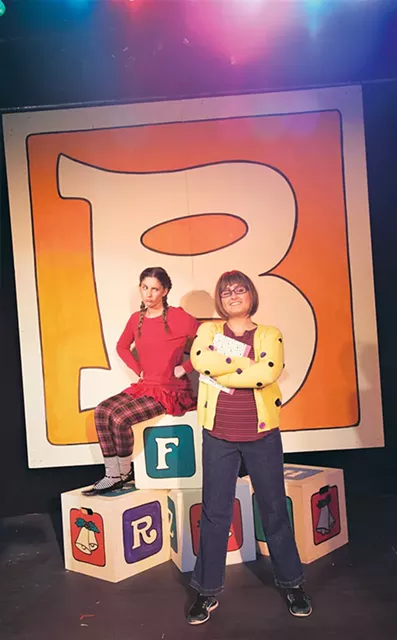 Oklahoma Children's Theatre / provided
from left Katy Yates plays Tattletale May and Dani Pike plays Junie B. in Junie B in Jingle Bells Batman Smells.
Friday, Junie B. in Jingle Bells Batman Smells returns to Oklahoma Children's Theatre just in time for the holiday season. Based on the children's book of the same name, the show tells the story of Juniper Beatrice Jones, a first-grade schoolgirl enjoying the spirit of Christmas around her; that is, until she discovers she's the Secret Santa for her arch nemesis Tattletale May.
The script, originally adapted by Allison Gregory from the series written by Barbara Park, centers on the complex relationship between May and Junie B., two classmates struggling to find common ground.
"They don't get along, but neither of them want to be bad students who get in trouble," said Dani Pike, who plays Junie B. "As Junie B. puts it, friendly just does not come natural to them."
Pike's fellow performer, Katy Yates, plays the role of May, who she describes as "a bit of a teacher's pet," struggling to make friends but still "a very sweet girl."
As the show goes on, the two find themselves at odds with one another in a number of scenarios highlighting the strained relationship that exists between them, one of them being the moment that inspired the production's namesake.
During the Christmas play, Junie B. sings, "Jingle bells, Batman smells, Robin laid an egg. The Batmobile lost its wheel, and the Joker got away."
Upset by the changes, May cries out, commanding her to stop. Accommodating as ever, Junie B. decides to honor May's wishes, this time using an alternate lyrical composition.
"Jingle bells, Batman smells, P.S. so does May. I'd throw May right off a sleigh, and then I'd drive away," she sings, much to May's disapproval.
What happens next is a treat for the audience. Will Junie B. get her the lump of coal she feels she deserves, or will they put their differences aside and learn to get along? However the plot unfolds, there's sure to be a lesson parents and children alike can take home for the holidays.
Pike explained the show's message as a sort of theme dealing with personal redemption among peers.
"Even if you mess up, it's never too late to be the bigger person and to make somebody smile," she said.
Training ground
"There's always time to do the right thing," Elin Bhaird said. "You know, there's not a lot of love in this world right now, not a lot of giving to other people."
Bhaird serves as the theater's artistic director, working alongside only three other staff members to deliver around 10 or 11 productions annually. Fortunately, the team gets a lot of help from the university and its students at its current residence.
Met with success shortly after its founding, what was originally a Stage Center program soon became an independent nonprofit organization. Following the change, Lyn Adams, founder and executive director, ran a resident theater program located at Oklahoma City Community College.
Over the course of the next three years, the troupe focused on outreach, incorporating a few programs oriented toward children and intended to supplement the regular performances. By 1989, its audience had more than doubled and it was subsequently invited to the fairgrounds as a City Arts Center resident.
After expanding its programs and productions, Oklahoma City Children's Theatre moved to Oklahoma City University (OCU) in 2005, opening the door for regular collaborations between them.
The acting crew is comprised primarily of OCU students who also handle other aspects that go into producing a quality show, a mutually beneficial feature that comes with the location.
"It's a training ground for them when they're out in the real world to know how to actually handle themselves in that situation," Bhaird said, referencing the learning experience it provides those aspiring to enter the theater profession.
Fine tuning
Though Bhaird is an experienced artistic director, she still finds ways to improve the shows when they're in need of a little fine-tuning.
During each play, she and the team conduct what they've dubbed the Potty Poll as a way to gauge the success of the current showing.
"If three or four kids or more than one child has to get up in the middle of the show during a certain section and go to the bathroom, then there's something wrong with that section of the play," Bhaird explained.
Afterward, they can go back and refine it, working out any kinks that might have resulted in disinterest.
Like Bhaird, the actors also have to tune their delivery when working with an audience comprised mostly of children.
"It can be hard to remember how to play a kid but not in an insulting way," Yates said. "Kids are really smart and we forget that, and it's easy to fall into a trap of trying to play little."
"I think it's important to remember that children don't necessarily fight because they have hate or anger; they think that their way of doing things is right or maybe better and they want to show the other person," Pike said. "They don't assume the worst in people, and they aren't jaded; they're kids. So I think maintaining that sense of light-heartedness can be difficult sometimes."
That's not to say adults won't enjoy the shows, especially when it comes to Junie B.
"I think we all have Junie B. in our hearts," Pike said, alluding to the play's relatability.
"It's funny enough for the adults too," Bhaird said. "I was actually still laughing after six years."
Aside from the show itself, Bhaird believes there are certain aspects of the venue that make each production an experience unmatched by other children's theaters in the area.
"It's a real casual atmosphere here," she said. "And there are a lot of people around now that do theatrical productions for kids, but ours are, I think, a little more intimate than everybody else."
Visit oklahomachildrenstheatre.org.