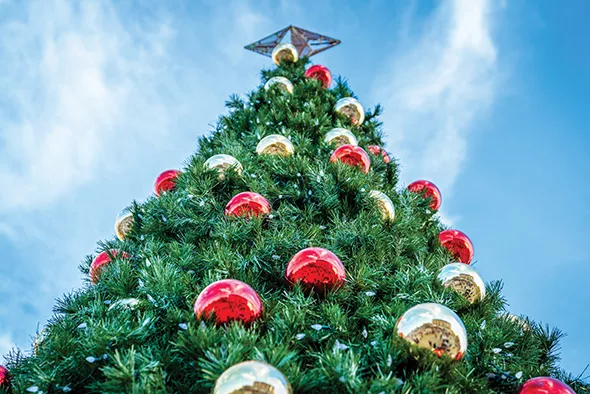 Downtown Oklahoma City Partnership / provided
The holidays are upon us, and it's never too early to get into the Christmas spirit. Many of Oklahoma City's shops and organizations have events planned so you can pick up gifts for friends and loved ones, revel in the season and make memories to last you throughout the next year, and we've compiled a list of a few of our favorites. Visit downtownindecember.com for a complete list of events.
Film Row Lights Display
Nov. 23-Jan. 1, 2019
Film Row
Sheridan Avenue, from S. Classen Blvd. to S. Lee Avenue
filmrowokc.com
Come one, come all to witness Film Row bedazzled with sparkling lights, just like old Hollywood! The historic district was once home to major motion picture offices such as Paramount Pictures, Warner Bros. and Metro-Goldwyn-Mayer (MGM) Studios that distributed feature films and tested out new technology in the heart of OKC. Today, design firms, architects, restaurants, bars, theaters and retail shops have reclaimed and revitalized the area. A walk or drive through the district's holiday light display is sure to put you in the holiday spirit!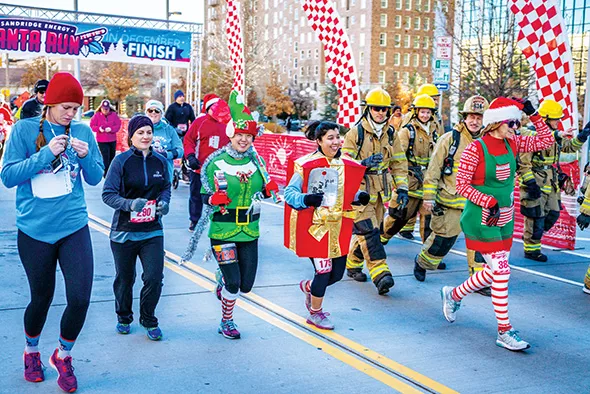 Downtown Oklahoma City Partnership / provided
SandRidge Santa Run
9 a.m. Dec. 8
SandRidge Energy
123 Robert S. Kerr Ave.
raceentry.com
Free-$35
Find your elf ears and strap on your Santa suspenders! SandRidge Santa Run is back! This 5K and 1-mile fun run snakes around the streets of downtown OKC, and participants are encouraged to dress for the occasion. After the race, runners (and walkers) can join the costume contest. First place wins $150, second place gets $100 and third place receives $50. During the race, spectators can pull silly faces in a photo booth, color, make their own trail mix and get their faces painted like Rudolph and his reindeer friends. We already have our Buddy the Elf and Jovie costumes ready. We'll race ya! 5-7 p.m. Nov. 23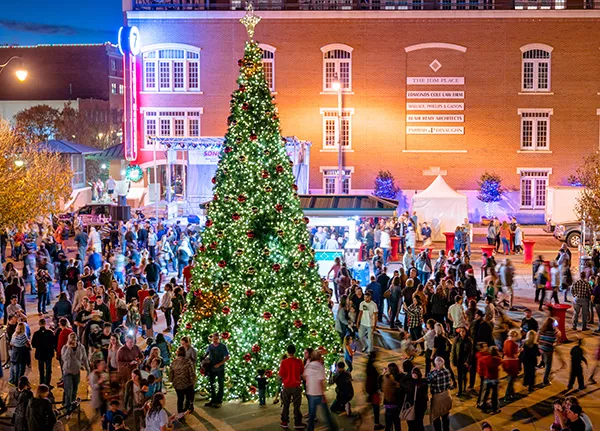 Downtown Oklahoma City Partnership / provided
Bricktown Tree Lighting Festival
Third Base Plaza
Chickasaw Bricktown Ballpark
2 S. Mickey Mantle Drive
Free
Nothing gets revelers more into the Christmas spirit than an enormous tree decorated with festive baubles and covered with twinkling lights. And while Oklahoma City doesn't have a Rockefeller Center or Trafalgar Square, our tree at Third Base Plaza just outside Chickasaw Bricktown Ballpark knocks Charlie Brown's sad little sapling out of the park. OKC mayor David Holt lights the tree at this celebration featuring food, live music, face-painting and Santa.
Downtown Oklahoma City Partnership / provided
Holiday Pop-Up Shops
10 a.m.-9 p.m. Thursdays-Saturdays and 10 a.m.-6 p.m. Sundays Nov. 23-Dec. 23
NW 10th Street and Hudson Avenue
okcpopups.com
While spending quality time with friends and family is the reason for the season, nobody can deny that gifts are one of the best parts. More than 50 Oklahoma-owned shops including DNA Galleries, Gathered Home, Oh Honey Paper Co., The Okay See, Salt & Water, Trade Men's Wares, The Social Club and Woody Candy Company set up in geodesic domes on a rotating schedule up to Dec. 23. Don't forget your tree! Holiday Pop-Up Shops even features a Christmas tree lot, a beer bus, and Katiebug's Sips & Sweets.
OKC Philharmonic's The Christmas Show
7:30 p.m. Nov. 29, 8 p.m. Nov. 30, 2 and 8 p.m. Dec. 1
Civic Center Music Hall
201 N. Walker Ave.
okcphil.org | 405-842-5387
$19-$73
OKC Phil's The Christmas Show started in 1991 and is so spectacular it takes all year to plan. This year, Broadway star Nikki Renée Daniels joins the Philharmonic's chorale (The Mistletoes) and Santa to perform holiday hits and put you in the holiday spirit. Daniels has starred in musicals including Porgy and Bess, Les Misérables and Anything Goes, appeared on TV and movies and even released an album, Home. Last year, OKC Phil brought back its popular Letter to Santa segment, so do not forget to bring copies of your letters! (Obviously, you already sent the originals to the North Pole.)
Downtown Oklahoma City Partnership / provided
Devon's Saturdays with Santa
8 a.m.-5 p.m. Dec. 1 and 8
Devon Energy Center
333 W. Sheridan Ave.
facebook.com/saturdayswithsanta
Devon Energy Center turns into a winter wonderland in December. Don't believe us? Go see it for yourself. The Devon Tower lobby is filled with live music, craft-making stations and other activities — the parts that aren't filled with giant holiday ornaments, candy canes and Christmas trees anyway. You might even see a real, live reindeer on your way to ride the train and visit Santa!
Canterbury Christmas
7 p.m. Dec. 2
Civic Center Music Hall
201 N. Walker Ave.
canterburyokc.com | 405-232-7564
$15-$62
One of the most beautiful and fun parts of Christmas is the music. That's how even small children know that Santa Claus is coming to town, guided by Rudolph the Red-Nosed Reindeer, with lots of toys and goodies on his sleigh. Canterbury Christmas definitely includes yuletide carols being sung by a choir — that's basically the whole point. The show also features performances by Oklahoma City University Faculty Brass Quintet and Canterbury Youth Voices. Don't leave your singing voice at home; Canterbury Christmas includes a sing-along! Let it snow! Let it snow! Let it snow!
Oklahoma City Museum of Art Holiday Events
Third Thursday: Victorian Yuletide
5-9 p.m. Dec. 20
Oklahoma City Museum of Art
415 Couch Drive
okcmoa.com | 405-236-3100
Free-$12
Studio Sunday: Radical Tile Designs
1-4 p.m. Dec. 30
Free-$12.50
Oklahoma City Museum of Art offers many activities throughout the holiday season — Victorian Radicals and Off the Wall exhibits, Sonic Free Family Day, etc. — but two particular events caught our discerning eyes. Dec. 20, the museum holds a special version of its Third Thursday event: Victorian Yuletide. The museum's monthly event gets a Victorian holiday makeover, complete with Victorian Radicals art projects and holiday drinks 5-9 p.m. On Dec. 30, Studio Sunday gets the Victorian treatment with Radical Tile Designs. Participants of all ages will receive a 4- by 4-inch ceramic tile to decorate with stamps, markers and paint.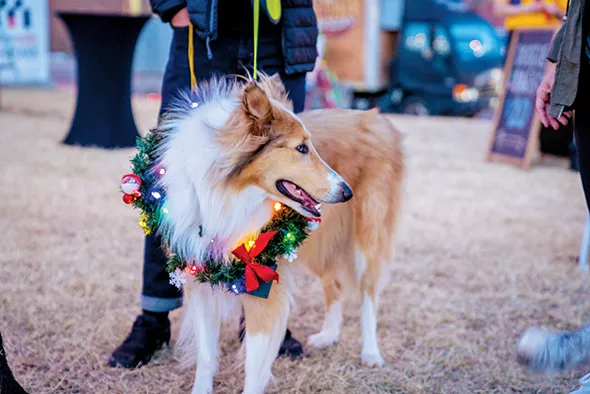 Downtown Oklahoma City Partnership / provided
A Dog Day in December
5:30-8 p.m. Dec. 1
Midtown Mutts Dog Park
407 W. Park Place
Free
Don't leave your four-legged friends out in the cold! They deserve to have a happy, happy Christmas too! At A Dog Day in December, they can take photos with Santa, enjoy puppuccinos, rifle through goodie bags filled with treats and toys and participate in a silent auction to raise money for Midtown Association. Auction items are provided by Midtown businesses. Goodie bags are $20 and include a ticket to the After Party at the Holiday Pop-Up Shops. Fido, grab your special holiday sweater; we're going to meet Santa!
Downtown Oklahoma City Partnership / provided
Devon Ice Rink
Nov. 9-Jan. 27, 2019
Myriad Botanical Gardens
113 S. Robinson Ave. | 405-708-6499
$7-$13
We don't get many opportunities to lace up our ice skates in the great outdoors in Oklahoma, but for nearly three months of the year, Devon Ice Rink makes your ice-loving dreams come true. The rink, located in Myriad Botanical Gardens' seasonal plaza (next to Park House and Ice House), is open every day through Jan. 27, 2019. Public skate times and hours vary, so make sure you check the calendar at downtownindecember.com. It's even open on Thanksgiving and Christmas!