It's never too early to start planning your meals for the holiday season. A few local chefs provide some of their favorite recipes for
Oklahoma Gazette
's Guide to the Holidays.
---
Duck Confit

Bigstock.com
An example of duck confit
Chef Ryan Parrott of Humankind Hospitality Services (Picasso Cafe, Frida Southwest, The Other Room, Oso on Paseo) is the reigning winner of
Gazette
's Best of OKC readers' poll for the city's best chef, and he helped launch ambitious Frida Southwest in The Paseo Arts District this year that is reclaiming Southwestern cuisine that honors the region's roots in a stunning space.
Ingredients
For the duck:
6 duck leg quarters
5 cups rendered duck fat (or high-quality animal or vegetable fat)
For the curing salt:

1⁄2 cup kosher salt
2 bay leaves
2 tablespoons chopped fresh thyme
1⁄2 cup chopped fresh parsley
1 teaspoon cracked black peppercorns (lightly toasted before cracking)
Directions
Mix all ingredients for the curing salt in a food processor until well-blended and bright green. Transfer the mixture to a bowl.
Place the duck legs in a shallow baking dish and rub each leg with 1 tablespoon of the curing salt.
Wrap the container and place it in the refrigerator for 24 hours.
Warm the duck fat just enough so it is not solid and pour it over the duck legs. Vacuum-seal the duck legs and cook them in a sous vide at 155 degrees Fahrenheit for 36 hours or wrap them with foil and place them in an oven at 225 degrees Fahrenheit for 2 and 1/2 hours.
Cranberry-Spiced Rum Mole
Ingredients
2 cups fresh cranberries
1 can chipotle chiles in
adobo
1 tablespoon Chinese five-spice
1 tablespoon Mexican oregano
1 cup spiced rum
1⁄2 cup brown sugar
6 corn tortillas (torn)
1 cup toasted almonds
4 cups chicken or duck stock
Directions
Place all of the ingredients in a heavy-bottomed stockpot and place it on the stove over medium heat. Stir the mixture often until it reaches a low boil, reduce the heat to low and allow to simmer for 2 hours. Remove the mixture from the heat and carefully puree, working in small batches in either a blender or food processor.
Return the pureed mole to the stove to simmer for an additional hour. Remove it from the heat and place it in a container in the refrigerator.
Note: This sauce is best made a day or two in advance and cooled and then reheated to serve. This allows the flavors to develop, creating a more complex and robust mole.
—Ryan Parrott
---
Butternut Squash Soup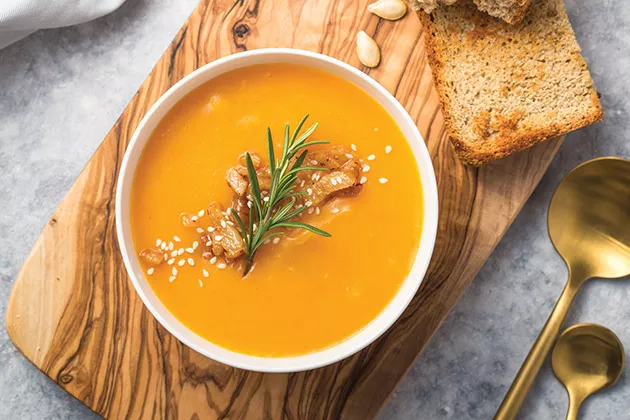 Bigstock.com
Butternut squash soup
Over the course of her culinary career, Alicia Gomez-Grayson has worked from seed to table. She has been a farmer, an instructor and a chef. Her newest venture is owner of Café 110, 110 N. Robinson Ave., in downtown Oklahoma City. She's providing her own take on her grandmother's butternut squash soup recipe.
Ingredients
2 tablespoons butter
1 medium onion, chopped
1 stalk celery, chopped
1 medium carrot, chopped
2 tablespoons minced garlic
2 teaspoons red pepper flakes (optional)
1 medium butternut squash, peeled, seeded and cubed (I prefer to cut it in half and bake it in the oven until soft, which will make it easier to peel and cut.)
1 (32 fluid ounce) container chicken stock or vegetable stock if you would like to keep it vegan
salt and freshly ground black pepper to taste
Directions
Melt the butter in a large pot and cook the onion, celery, carrot, garlic and squash (if raw) 5 minutes or until lightly browned, but if you cook squash in the oven first, add it right before the stock.
Pour in enough of the chicken or veggie stock and add red pepper to cover the vegetables. Bring the soup to a boil. Reduce the heat to low, cover the pot and simmer 40 minutes or until all vegetables are tender.
Transfer the soup to a blender and blend until smooth. Return it to the pot, and mix in any remaining stock to attain desired consistency. Season with salt and pepper.
—Alicia Gomez-Grayson
---
Cornbread Dressing with Chorizo
Isabel Orozco-Moore / provided
Chorizo cornbread dressing from Isabel Eats
Isabel Orozco-Moore puts a spin on family recipes for modern and fresh takes on Mexican-inspired recipes for her blog Isabel Eats, which is one of the most popular Mexican food blogs on the internet, and it's based in Oklahoma City. Orozco-Moore provides her take on cornbread dressing. For more recipes, visit isabeleats.com.
Ingredients
1 tablespoon unsalted butter, for greasing
14 ounces Mexican
chorizo
1 medium onion, finely chopped
2 stalks celery, finely chopped
3 cloves garlic, minced
1 tablespoon fresh chopped sage leaves (about 8-10 leaves)
1 tablespoon fresh chopped rosemary
2 teaspoons fresh thyme leaves, chopped
11⁄2 cups chicken stock (or vegetable stock)
1 large egg
81⁄2 cups roughly chopped cornbread (the amount made from a 15-oz box of cornbread mix)
Directions
Preheat the oven to 350 degrees Fahrenheit. Grease the inside of a large casserole dish with butter and set it aside.
Heat a large nonstick skillet over medium-high heat. Add the chorizo and crumble it up with a spatula. Cook the chorizo until browned, about 5 minutes.
Add onion, celery, garlic, sage, rosemary and thyme and cook, stirring occasionally, for 10 minutes until vegetables begin to soften. Remove from the heat.
In a medium bowl, add the chicken stock and egg. Whisk until fully combined.
Add the cornbread and cooked chorizo mixture to the greased casserole dish. Gently toss them together to combine.
Pour the chicken stock mixture evenly over the cornbread stuffing.
Bake the stuffing for 25 minutes. Garnish it with fresh herbs if desired and serve immediately.
—Isabel Orozco-Moore
---
No-pumpkin pie

Emma Ryan / provided
Emma Ryan's no-pumpkin pie
Emma Ryan is a chef, nutritionist and all-around dietary coach. After years of working as a personal consultant, she opened her own restaurant Plant, 1120 N. Walker Ave., in Midtown this year. Ryan credits going to a plant-based diet for finding relief from autoimmune disorders and wants people to know that making the switch is more about what your body gains from eating plant-based rather than what it's missing.
Ingredients
For the crust:

1 cup toasted coconut flakes
3 cups cashews
1⁄4 cup pure maple syrup
1 teaspoon vanilla extract
1 teaspoon salt
For the filling:

1 cup cashews
3⁄4 cup pure maple syrup
1⁄3 cup carrot juice
1⁄3 cup melted coconut oil
1 tablespoon lemon juice
1 teaspoon vanilla extract
11⁄2 teaspoon cinnamon
1 teaspoon nutmeg
1⁄2 teaspoon ginger powder
pinch ground cloves
pinch sea salt
Directions
Pour all of the cashews and coconut flakes into a food processor and process until the consistency is like sand/flour.
Add in all of the other crust ingredients and process until the mixture turns into a thick, sandy dough. It should stick together if you press it with your fingers. If not, add more maple. You want it to be dry, but not too dry.
Once done, press it firmly into a pie dish of your choice. You will have to use your hands to really press it in and get it to stick. (I personally use cheesecake pans so it is easy to pop out, but any dish will work.) Place the prepared crust in the freezer while you make the filling.
Using a high-speed blender (or food processor), add in all of the filling ingredients except the coconut oil. Blend the mixture on high until smooth and then add in the coconut oil. Blend again until smooth and then pour the filling into the dish over the crust. Place it in the refrigerator or freezer until it is firm, typically 2-4 hours.
Once firm, keep it in the refrigerator until you are ready to serve. If you're making it days in advance, feel free to cover it with plastic wrap and freeze it until the day you plan to eat it.
—Emma Ryan
---
Metro Diner Meatloaf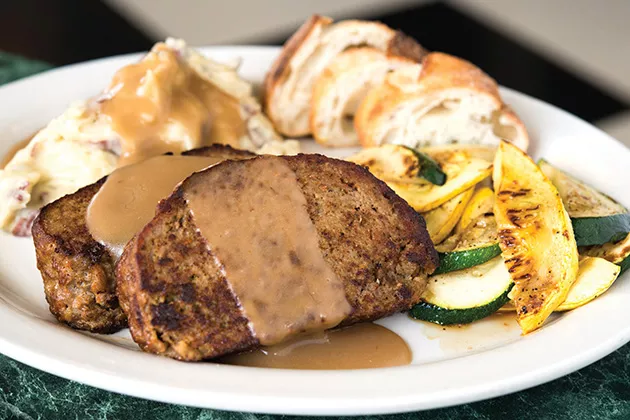 Provided
Meatloaf from Metro Diner
Jacksonville's Metro Diner parlayed an appearance on Food Network's
Diners, Drive-Ins and Dives
into a national expansion. One of the dishes featured on the appearance is the restaurant's meatloaf, which blends three types of meat with mushrooms for a tender take on the dish. Metro Diner is located at 3000 W. Memorial Road, Suite 109 in Oklahoma City.
Ingredients
1⁄2 onion, chopped
1 carrot, chopped
2 ribs celery, chopped
6 medium mushrooms, sliced
1 egg
1 tablespoon Worcestershire sauce
pinch salt
pinch pepper
1 cup breadcrumbs
1 pound ground beef
1⁄2 pound ground turkey
1⁄2 pound ground pork
Directions
Preheat the oven to 350 degrees Fahrenheit.
Pulse the onion, carrot, celery and mushrooms in a food processor.
Combine all remaining ingredients and place them in a meatloaf pan (or two depending on size).
Bake the meatloaf for 1 hour or until completely cooked.
Remove it from the pan and slice it into 1-inch-thick pieces.
In a very hot sauté pan, add a bit of oil and sear each side of the meatloaf slices before serving.
Serve with mashed potatoes and gravy, vegetables and some hot, crusty bread.