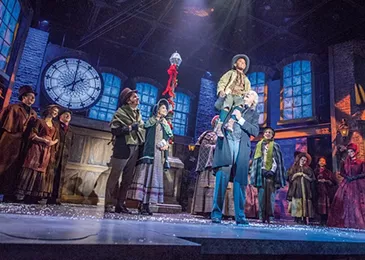 provided
A Christmas Carol is scheduled to run Nov. 23-Dec. 4 at Lyric at the Plaza, 1727 NW 16th St.
Some people — Ebenezer Scrooge, for example — would rather pay to build more prisons than to feed and shelter the hungry and homeless.
"Are there no prisons?" asks Scrooge in response to a charity collector's pleas on behalf of the needy in Charles Dickens' 1843 holiday classic, A Christmas Carol. "They cost enough; and those who are badly off must go there."
"Many would rather die," the charity worker protests.
"If they would rather die," Scrooge replies, "they had better do it and decrease the surplus population."
Dirk Lumbard, cast as Scrooge in the production of A Christmas Carol running Nov. 23-Dec. 24 at Lyric Theatre of Oklahoma's Plaza Theatre, 1727 NW 16th St., said the famous crank whose name has become synonymous with stinginess views the poor and unfortunate as inconveniences to be removed from sight and society, at least when the play begins.
"Scrooge just wants to send them away to the workhouses, where they worked them to death," Lumbard, returning to the annual production for the third time, said. "The boys literally were on treadmills, working nonstop."
In order to offset the costs of their imprisonment, prisoners were often made to turn a stepped wheel in order to grind corn, a form of manual labor often assigned as a punishment in 19th-century England. It's the sort of coldhearted calculation to balance the ledger that Scrooge initially supports.
"At the beginning, he only gives to prisons and workhouses," Lumbard said, "and then, of course, the whole journey is to turn his mindset around, which it does so beautifully."
The idea that an unfeeling and greedy miser can have a complete change of heart gives Dickens' story a timeless appeal.
"The piece is going to be being done; 2,000 years from now, it's still going to be being done," Lumbard said. "It's such a beautifully written piece, and there's so much at heart. The hope and love that is there and needed in the dead of winter. Everything works so beautifully, and everybody sits back and remembers to be thankful and grateful and blessed. … So much of A Christmas Carol is about helping the poor and needy."
While Scrooge's journey can be a helpful reminder that we should be more generous in our own lives, someone that set in his ways will often take more than a play or novel to change their minds. The famous 180-degree turnaround at the end of Dickens' story, for example, requires significant supernatural help.
"It takes Scrooge three ghosts to shake him up," Lumbard said. "Even when the Ghost of Christmas Future is showing him a dead body, he's still in denial that it's him. It's kind of astounding how far he's in denial until they finally show him the grave with his name on it and everything starts sinking in, but I don't think it would work and it wouldn't be as strong if you only had one ghost. It's a tough journey."
KO Rinearson / provided
Myles Currin-Moore as Tiny Tim and Dirk Lumbard as Ebenezer Scrooge
Catching spirit
One of Lumbard's biggest challenges playing the character is to make sure he doesn't make the trip look too easy. He can't begin showing remorse even as he watches his childhood abandonment issues and the dissolution of his first love replayed in front of him.
"The kind of person I am, I've got to be careful not to turn around too quickly," Lumbard said. "I can't turn around when I see my childhood friends and I want to wish them a merry Christmas, and I see me as a boy with nobody to come pick me up, Christmas after Christmas after Christmas being alone. And even Belle, even that, I can't turn around too quickly. I still come back going, 'I won't believe it. It's humbug. I won't believe it,' until the third ghost."
Christmas spirit
Lumbard, who currently lives in North Carolina and often works in New York, said he is looking forward to his own return journey to Oklahoma City, where he's excited to work with a cast he calls "some of the finest actors I've ever worked with."
"It's a special group of people doing a very special piece," Lumbard said. "I can't wait to get back to this family, with these people that I'll be spending my third holiday season with, the cast and crew and everybody. I just get excited around every October that it's coming up."
Though playing Scrooge in the production complicates his holiday schedule, Lumbard said you won't hear a "humbug" out of him.
"It takes my Christmas away a bit," Lumbard said, "but then, but, you know, I have a fantastic pre-lit, prefabbed Christmas tree that I'm going to be putting up tomorrow, and I'll still get a little bit of Christmas here before I leave, and then it will be up when I get back at midnight Christmas Eve, and then I'll be able to continue Christmas again. … Dickensian at Christmastime, what more do you want? How much better does life get?"
Despite his familiarity with the story, Lumbard said he is still finding new inspiration in the script, such as a small moment illustrating the extent of Scrooge's newfound generosity.
"One of the wonderful things that I kind of didn't realize the past two years is when he gets the prized turkey he sends at the end, he says, 'I'll send it to Bob Cratchit, and he shan't know who sent it,' which I think is just absolutely the most wonderful thing, that Scrooge has come so far that he doesn't want to take credit for it even. … That is just a beautiful spirit, and hopefully that is in all of us. Christmas is the time to realize that, to celebrate that," Lumbard said.
Lyric's production features a rotating cast of child actors, colorful sets, elaborate puppetwork and, new this year, local musician and actress Kizzie Ledbetter in the role of Mrs. Cratchit. Audience members will have a chance to exercise their own generosity after the play by donating to Regional Food Bank of Oklahoma.
Portraying Scrooge's resolution that he will "honor Christmas in [his] heart, and try to keep it all the year" has a real-life impact on Lumbard over the holidays.
"Somebody will be ahead of me in the checkout line, a woman with three kids and she's got some groceries and everything, and I'll step up and pay the bill at Christmastime," Lumbard said. "It animates me. It gives me something, and they're stunned. … I just say 'Merry Christmas.'"
Visit lyrictheatreokc.com.