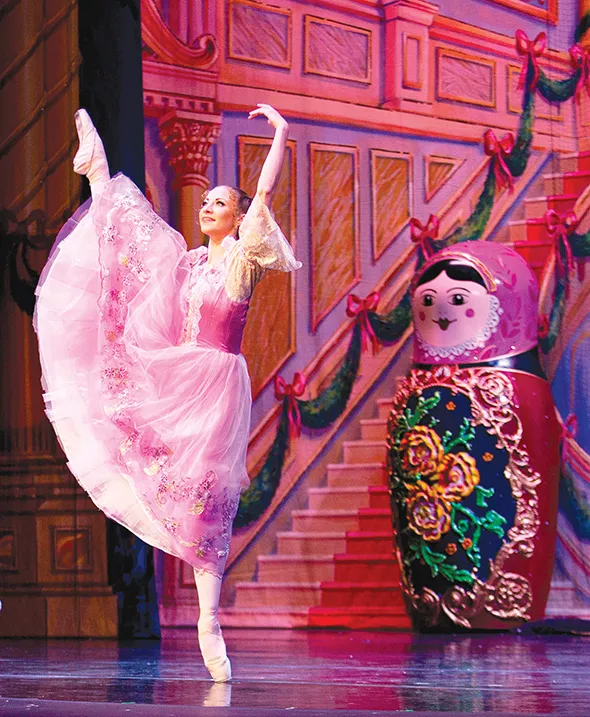 Moscow Ballet / provided
In Great Russian Nutcracker, Masha replaces Clara in the lead role.
The holiday season is often heralded with sugarplums, snowflakes and the familiar score of Pyotr Ilyich Tchaikovsky's ballet, The Nutcracker. Oklahoma City residents will have the opportunity to enjoy this classic performance in early November, when Moscow Ballet arrives on its winter tour.
Moscow Ballet has been performing its version of the ballet, Great Russian Nutcracker, in North America since 1993. Although the tale of princes and magic is well known, Moscow Ballet lends several distinctive spins to the story as it follows lead character Masha through her holiday adventure.
Unique to Moscow Ballet's company is a community outreach program called Dance with Us, which allows dancers age 7-17 to audition for the performance in their local city. Seven audition directors from the company travel to various cities to select these dancers. If chosen, the young hopefuls participate in roles like the children at Masha's party, mice and snowflakes.
One audition director is ballerina Maria Morari. Born in Moldova, she decided to pursue ballet seriously at age 10. She began her career at National Theatre for Ballet and Opera in the capital city of Chișinău and has toured with Moscow Ballet, Saint Petersburg Ballet and Imperial Russian Ballet. She has taught children since age 17.
Her experience in Great Russian Nutcracker spans several years, and she prides herself on knowing all the choreography, even if she is not in every scene. This is because during one performance about three years ago, she said she was in the audience when a dancer was hurt onstage.
"When I entered the backstage, our producer, she was like, 'You have to change!'" Morari said, laughing at the memory.
The injured dancer was meant to appear in Waltz of the Flowers minutes later, but Morari had to take her place. She didn't know the choreography.
"So I went in my dressing room, did my makeup, hair, wore her costume and learned backstage [when] the variations were going on," she said.
Now she brings this dedication and knowledge to the young students she helps select and teach for Great Russian Nutcracker. This year, she began her auditions in August, traveling for three months through 20 cities.
Student dancers need at least one year of experience in ballet to be considered, but Morari also seeks young people with stage presence and a passion for the experience.
In the ballet itself, Morari plays a parent and snow queen. She also serves as a guide to the young, and often overwhelmed, student dancers between sequences.
"The most important is to be backstage with the children and help them to count," she said. "To be like a point, like, 'Come on, come here, come here, I'm here!' because sometimes they are lost."
Morari said the whole experience stays with the young dancers for the rest of their lives and sometimes guides them on to careers in ballet or teaching dance.
"Some of them, maybe they will not [become] ballerinas, but they'll just have good memories about childhood, about being backstage with ballerinas," Morari said.
Morari said the Dance with Us program is important because Great Russian Nutcracker is a ballet for children and the performance should include children, who bring the appropriate sense of innocence and wonder to the stage.
"Especially snowflakes," she said. "I love snowflakes. They are running, and they have nice costumes, and they are so cute. They run so beautifully and do this amazing movement. I think nobody looks at us. Everybody looks at the cute children."
Auditions for the OKC performance took place at Julia's Dance Academy, 1229 W. Lindsey St., in Norman, under the guidance of owner and instructor Yulia Zhmutski. The Russian-method studio opened in 2009 and has partnered with Moscow Ballet since 2014.
"It's a really good experience for younger kids to see where they can be eventually," Zhmutski said of the outreach program. "It's very inspirational for them."
Moscow Ballet audition director Anna Trofimova held the local auditions this year, and 58 student dancers were selected for the OKC performance. These young performers have had two months of rehearsal with Zhmutski. Their dress rehearsal falls on the day of the performance. Zhmutski said this is a great example of the time crunch real ballet companies usually work under.
"On top of physical and emotional and mental work," Zhmutski said, "they also get a discipline, which is a big part of your life these days."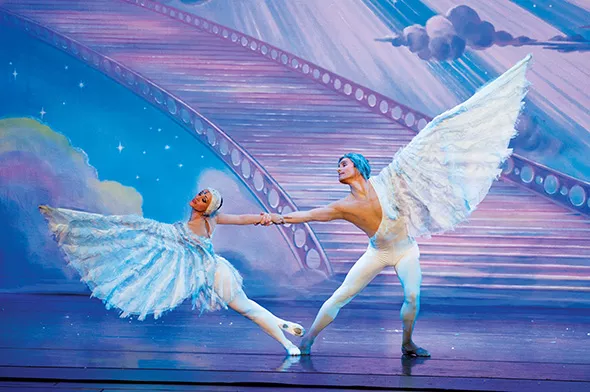 Moscow Ballet / provided
Moscow Ballet's signature Dove of Peace dances in the Land of Peace and Harmony.
Promoting peace
Another element exclusive to Moscow Ballet is a character called the Dove of Peace. Traditionally, act two of the ballet opens with Masha and the Nutcracker Prince arriving in the Land of Sweets. Moscow Ballet's production instead sets the scene in the Land of Peace and Harmony.
Two principal dancers perform an acro-ballet duet, each wearing one white feathered wing, so together their movements form the 20-foot wingspan of the Dove of Peace.
Dancer Stanislav Vlasov, who was the production's first choreographer, helped create the role for a single ballerina in 1993. The dance later evolved into a two-person Dove of Peace, which premiered in 2012.
A message of international harmony has been central to Moscow Ballet since the fall of the Iron Curtain in the 1980s, and the dancers continue their advocacy at a particularly rocky time in world history.
"This is a peace tour, and we promote peace," Morari said. "I think this is a good thing. We need it now."
The act continues with the ballet's traditional musical variations, which feature the dances and cultural elements of several different countries. New 12-foot-tall animal puppets will represent various character strengths, such as a wise Arabian elephant and a daring Spanish bull.
Morari said the company also creates dove origami figures with auditioning students around the country. Photographs of students with their doves have been gathered into a two-volume book that can be purchased through the Moscow Ballet.
Visit nutcracker.com.