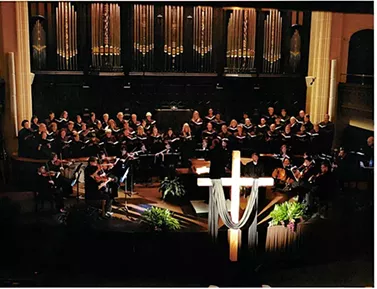 provided
Norman Philharmonic is scheduled to perform selections from Handel's Messiah Dec. 16 at McFarlin Memorial United Methodist Church.
A Christmas tradition since 1750, George Handel's Messiah initially caused some controversy for taking sacred subjects from the church into the concert hall. Though the composition most famous for its exultant "Hallelujah" chorus continues to be performed annually around the world, Richard Zielinski, artistic and music director of Norman Philharmonic and professor at University of Oklahoma, said Handel's oratorio is still most commonly heard in a secular setting.
The philharmonic is scheduled to perform selections from Messiah at 8:30 and 10:55 a.m. Dec. 16 at McFarlin Memorial United Methodist Church, 419 S. University Blvd., where Zielinski, who will conduct, also serves as director of music ministries. The free concert, included as part of McFarlin's Sunday church services, is not how Handel's work is typically heard, Zielinski said, but he believes it's compatible with the composer's original intent.
"You're usually seeing a concert version of it, but this I think brings the message home directly and it's very, very powerful," Zielinski said. "Obviously there's a very special meaning to this piece and so forth, but also I think it wasn't just done for the sake of doing it in a concert hall. It was done to help people, and I think reminding us what inspired it and what Handel wrote it for is special. It really brings out the message in the music."
Messiah premiered in Dublin in 1742 at a concert benefitting a charity hospital and prisoners' debt relief, and it first gained popularity in England with annual performances raising funds for London's Foundling Hospital for orphans. Zielinski said Handel's work, based on Charles Jennens' scripture-based libretto, is meaningful because of its message and intent.
"Handel had written many operas and oratorios before he wrote Messiah," Zielinski said, "and I would say this is one of the greatest stories ever told when you're telling the story of this person named Jesus Christ, so I think he loved this piece and had inspiration from the scripture."
Descriptive notes
Handel, who had previously written Italian operas until they began to fall out of fashion in England, might have also shrewdly selected subject matter he knew would sell.
"He was also a very keen businessman," Zielinski said. "This was also something he probably knew was going to be a topic for a work of art that would relate to people for many, many, many years. It's one of the most popular oratorios."
Staging Messiah as an oratorio, an operatic work relying only on the written libretto and the music to convey the story without an elaborate stage production, allowed Handel to avoid some production costs and the potential controversy that might have arisen from casting a performer as Jesus, but it also required the composer to pack as much meaning as possible into the score.
"There's no scenery and there's no acting," Zielinski said. "So the story is told by the chorus and the orchestra and soloists. … If you think about it from the theatrical side of things, his music had to be very dramatic and very descriptive. He had to paint the picture because there was no scenery; there were no lights; there were no costumes. It's just literally the voice, the music and the text."
The work, beginning with Old Testament prophecies of a coming messiah and stories from the nativity, benefits dramatically from Handel's past experience composing operas.
"Of course the music was inspired by the text," Zielinski said, "but much of the music tells us the emotion of the text because of the way it was written, talking about the shepherds in the fields and angels singing glory to God and flying away, and the birth of Christ in the stable. He set the text beautifully. We call it 'text painting.' The music actually tells us about the text, and there's this great relationship between the two. He was a successful opera director, so he knew the dramatics that music could bring and the emotion that music could bring to a topic, and he did this late in his life, so he was a very skilled composer, promoter and businessman at this point, so he's given us a great gift in this piece."
Between musical selections, McFarlin pastor Linda Harker will give her own reflections on the meaning of the text. Zielinski said presenting the work in this way gives it additional meaning.
"They'll sing about the birth of Christ or sing about his sojourn, his journey on earth and all these different scenes we're painting," Zielinski said, "and then we stop and hear somebody talk about it, and it reminds us to refer to the scripture and hear the message and relate to what we're doing in today's world. Of course the congregation appreciates that as well. … I've been told that a lot of people come to our services that day. A lot of people come to services every Sunday, but that day is really setting us up for this whole Advent Christmas season."

provided
Norman Philharmonic is scheduled to perform selections from Handel's Messiah Dec. 16 at McFarlin Memorial United Methodist Church.
Moving music
Even in the midst of conducting Messiah, Zielinski said he is still moved when he hears it.
"I've done the full or portions of the Messiah for the past 40 years," Zielinski said, "but when you have that combination of the human voices — first of all you have this genius, Handel, writing this music that was inspired by scripture, and then he writes it almost to perfection because he's such a skilled composer — and when you add that to the message, it really heightens the message and the emotion of the moment. Of course, there's times when I can't get too emotional about it because I'm still cueing people, but there's always a sense when all of it starts to work together you create something bigger than all the pieces that are there. Some would call it a spiritual moment, but I think in today's world, it's nice to see people working together and creating beauty."
Seeing this creative cooperation in action makes Zielinski optimistic about the world and its future.
"It adds even more to it that you can see young people in the choir," Zielinski said. "You can see senior citizens in the choir. You can see middle-aged people. You can see white people, black people, all different kinds of races in the choir. It says something when you just look at the choir at McFarlin and you see that it kind of represents us and they're singing about this great message and saving the earth; it's very powerful. … It brings hope, and it helps people believe that we can all get along. We can all live in this world and be different and believe in different things, but we can still get along and be kind to each other."
Admission is free.
Visit normanphil.com.