If you've ever considered dipping your toes in fine dining but have been intimidated by an etiquette faux pas or the cost, Milo is the spot for you.
Oklahoma Gazette was invited to sample Executive Chef Josh Valentine's new seasonal dinner menu at the restaurant, located inside the Ellison Hotel, 6201 N. Western Ave. The hotel and restaurant were both closed in February for extensive renovations after the raging fire at The Canton apartment complex next door. Both are now open for business.
"I want to try and stay seasonal as much as possible as I can versus a typical hotel restaurant where it just kind of has the same menu all year long and then a few specials thrown in there," Valentine said.
A Del City High School wrestler, he started reading Food & Wine magazine as a freshman and cooking for himself to make weight.
"That was about the time that I started cooking for myself at dinners and things like that. After high school, I ended up going to the Cordon Bleu in Minneapolis for culinary school. And then, from there, I just worked around," he said
Berlin Green
Bison tartare
The Coach House, The Metro, The George and Cultivar Mexican Kitchen are just a few of the places he's worked. Also a finalist on the tenth season of Top Chef, Valentine returned home from Dallas during the pandemic where he took over at Milo. "Contemporary Oklahoma cuisine is what I call the food that I cook. I like to celebrate some of the cultures that have migrated here and now call Oklahoma home as well. I want to put an elevated comfort food kind of thing on the map. I feel like Oklahoma kind of gets a bad rap when it comes to food. It's not just chicken fried steak. It's not just steak in general and potatoes. I try to use as much local product and all of that stuff as I can to also keep it Oklahoman … It's not something that's super challenging for people. I'm not trying to be super intellectual with the plating and the concept of a dish or something like that. Usually what I try to do is I take the memory of a dish that I grew up eating or something that has been in Oklahoma forever and then I just tried to update it and tweak it and give it a little chef's perspective," Valentine said.
He said among his personal favorites on the dinner menu are the bison tartare appetizer ($16 — "It's really hot out, so that's a very nice cool, refreshing kind of appetizer to get started") and roasted boudin stuffed quail ($36 — "Boudin sausage is like one of the best things ever, so all those flavor profiles on that dish really, for me, just really pull on the heart").
Berlin Green
Roasted boudin stuffed quail
Grand Cattle Co., Prairie Earth Gardens, Scissortail Farms and WH Yardbirds supply many of the ingredients Milo serves. Valentine said that he is able to purchase large amounts of each to keep costs down, which means a dinner with appetizer, middle, entree, dessert and a couple of cocktails come out to about a Benjamin per person before gratuity.
There is also a poolside menu that is open to the public from 4 p.m. until late Thursday through Saturday.
"My favorite thing that we do upstairs on the pool is the bacon-wrapped Sonoran hot dog. We make a hot dog in house with bison and local Wagyu beef then wrap it all in bacon and deep-fried it and then make a hot dog out of it. It's very good," he said.
Oklahoma is starting to come onto the food scene in its own right. Valentine's television exposure helped usher that in, but accolades from Bon Appetit magazine for Nonesuch and the recent James Beard Foundation nominees and winner (Florence's Restaurant) are definitely increasing exposure, Valentine said.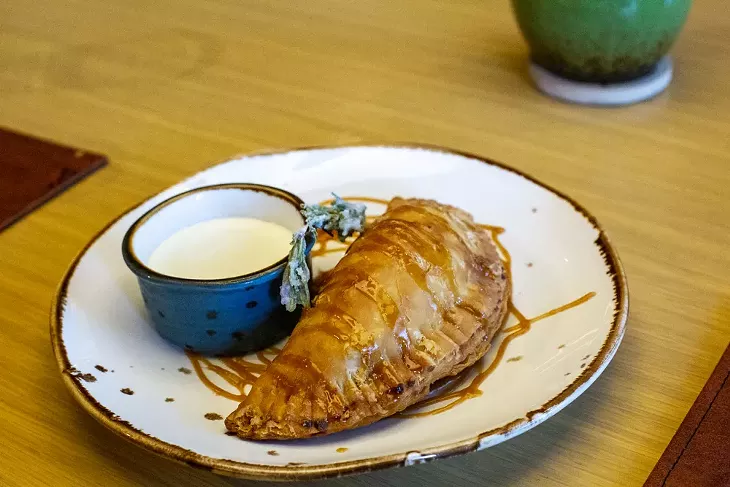 Berlin Green
Fried pie
"I think the more eyes that we can get on the scene here, the better it is for everybody. I've always been a big believer in 'high tides raise all boats.' I don't want to leave anybody behind because I've always celebrated the other chefs in Oklahoma City. I've always tried to go out to those restaurants and support my friends and do those things. To see some of them become successful and get the recognition that I feel like they deserve, I think is cool. Some of me is a little jealous because I haven't gotten nominated myself, but I don't usually stay in one spot long enough," Valentine said.
Milo serves breakfast starting at 6:30 a.m. Monday through Friday with lunch on weekdays beginning at 11 a.m. and ending at 2 p.m. (as well as brunch on Saturdays and Sundays). Dinner at Milo is served from 5 p.m. to 10 p.m. each day of the week.