Jacob Threadgill
Mi Tierra is located at 3043 NW 16th St.
As I'm driving around Oklahoma City, I'm always looking for small and unassuming restaurants because not everyone can afford over-the-top marketing efforts.
I'm just as likely to enjoy a meal in a restaurant connected to a gas station as I am going to one with incessant television advertisements. I can feel a tinge of excitement when I notice a new restaurant, especially when it's offering a type of cuisine not already highlighted in the metro area.
I first noticed Mi Tierra Restaurant Sabor Catracho, 3043 NW 16th St., a few months ago while traveling east along 16th Street after an afternoon of looking for deals at consignment and antique shops.
Since OKC's city limits are so large and I'm still a relatively new resident (I celebrated a year with Oklahoma Gazette in July), I took the scenic route one afternoon.
I enjoyed a long drive along 16th Street mostly because I've heard the tale about the development and gentrification of the Plaza District, so I wanted to get a sense of what the area looked like before it became the hot new spot for developers.
I was intrigued to find that there were patches along the street that felt like I was out in the country. Large yards with big animals and overgrown vegetation around neighborhood churches gave me flashbacks to driving down county roads in Mississippi, but I was still very much in OKC city limits.
As urban sprawl became more apparent, passing through the Royal Oaks neighborhood and advancing closer to the Plaza District, I noticed Mi Tierra at the intersection of 16th Street and N. Drexel Boulevard because it advertised Honduran cuisine.
It must've been serendipity because a few weeks later, a caller to the office implored me to check out the restaurant.
"The food is excellent, and the staff is very friendly," she said. "We've enjoyed everything we've tried."
Located in a small space formerly occupied by Taqueria La Mejor, Mi Tierra is adjacent to a Guatemalan convenience store and the Latin market El Mariachi.
In the weeks since my first visit, the restaurant has played up its Honduran roots by adding the country's flag to the windows because you don't want to be confused for another taqueria. In fact, there are no tacos on the menu at Mi Tierra.
The closest taco analogue is the baleada, which is a street food staple and popular breakfast item in Honduras. It's an oversized flour tortilla stuffed with refried beans, cheese and sour cream to which avocado, eggs and meat can be added.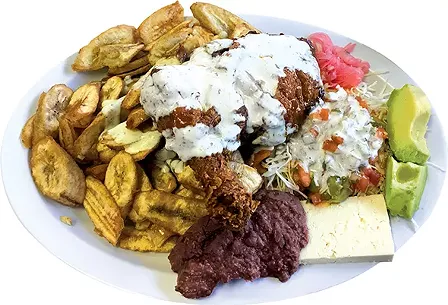 Jacob Threadgill
Pollo con tajadas tops fried green plantains with fried chicken and serves sides of beans, cabbage and pickled onions.
I began my first visit to Mi Tierra with a standard baleada and very much enjoyed the obviously fresh flour tortilla that gave me very strong sense memories of eating fresh tortillas made by my mom, except the baleada is much larger — the size of a tortilla used for an oversized burritos, but instead folded horizontally like a quesadilla.
I could eat a version with eggs for breakfast every day, but unfortunately, Mi Tierra doesn't open until 11 a.m. The restaurant does offer desayuno tipico ($10.50), a large collection of fried sweet plantains with avocado, Honduran cheese, eggs and refried black beans.
Much of Mi Tierra's menu is variations of your choice of meat with fried green plantains, which differ from the yellow variety by being much less sweet and holding firm after being fried instead of becoming mushy.
Customers can pair fried chicken, pork, ground beef, chicharron (fresh pork rinds), yucca root and steak with the green plantains. It offers fried chicken and pork as standard and special varieties for an extra dollar that includes additional sides like cabbage with salsa and the meat covered in a variety of sauces.
For my main entrée, it was very hard to ignore the special fried chicken ($10.75, $11.25 for white meat) because everyone one around me was ordering it. It's a pretty good rule of thumb that if all of the other customers are ordering the same thing, you shouldn't break the trend.
The chicken arrived in less than 20 minutes and was piping-hot. It was covered in a crema-based sauce with a translucent glow of hot sauce underneath, but the freshly fried skin retained its crispy texture under the slightly sour sauce. I liked the marinade on the chicken and had much more depth of flavor than my one previous encounter with pollo con tajadas. I was happy to see the restaurant eschewed a pink sauce that is basically ketchup and mayonnaise in favor of the crema-based one.
The real star was the fried green plantains. Much different than tostones, the green variety was firm and crispy without being sweet. It felt like eating a cross between a potato chip and a french fry.
The restaurant isn't very big, less than 10 tables, and you might have to park in the market across the street, but it's worth seeking out if you're in the mood for something other than Tex-Mex. I'm a sucker for a well-made pupusas and will be back to sample its take on the dish in addition to the sopa de carcoal.