Jacob Threadgill
Fish with onions and peppers served with casamiento, fried yucca and pico de gallo over cabbage and pickled cabbage
Fonda K-Tracha
3001 N. May Ave.
facebook.com/fondaktracha
405-673-7678
What works:
Chimichurri on grilled pork chops is a hearty meal.
What needs work:
The black beans need more flavor.
Tip:
Don't sleep on a breakfast order for dinner.
When I drive down May Avenue, just past Northwest Classen High School, the restaurant Fonda K-Tracha, 3001 N. May Ave., always catches my attention, partly because of its neon blue lettering and partly because it is such an interesting name.
The sign advertises Latin food, but the menu is full of Honduran classics. What Cafe Antigua and Cafe Kacao have done for popularizing Guatemalan cuisine in Oklahoma City Fonda K-Tracha and Mi Tierra Restaurant Sabor Catracho, 3043 NW 16 St., are doing for Honduran cuisine on a much smaller scale. Another restaurant, El Patio Mexican Food, 12000 N. Interstate 35 Service Road, has a hybrid menu of Mexican and Honduran classics that reflect the background of its owners.
I reviewed Mi Tierra last October and found a quaint family-run restaurant that offers excellent fried chicken. Fonda K-Tracha opened last year, and I was told by a waitress that the name roughly translates to "people of Honduras," after I couldn't find an answer on Google.
Open every day — 11 a.m.-9 p.m. Monday-Friday, 10 a.m.-10 p.m. on Saturday and 10 a.m.-7 p.m. on Sunday — Fonda K-Tracha is a restaurant for any occasion, offering all-day breakfast and a full-service bar for liquor and bottled beer. It becomes a karaoke and burlesque performance hotspot a few nights per week.
Breakfast options begin with baleadas, a thick, oversized flour tortilla filled with refried beans and cheese with the option of adding eggs, avocado and chicken or beef, which are a popular street food in Honduras, and it's easy to see why; they're very portable.
It continues with an omelet ($10.99) with peppers, onion, cheese and ham. La Fonda breakfast ($9) is eggs, refried beans, fried plantains, avocado, cheese and cream. The campesine breakfast ($12.99) is beef, eggs, refried beans, fried plantains, corn tortillas, cheese and cream. I saw this brought to the table next to me during my second trip and had an immediate reaction of order envy.
Available appetizers include a dip trio with beans, chorizo with cheese and habanero with cheese. It also offers a fried shrimp basket and crab served in salsa (both $12). I tried the pastelitos maiz ($5), a fried empanada in a corn-based dough. It is filled with ground beef and perfectly cooked rice and served with a thin tomato sauce, orange coleslaw topped with queso fresco and pickle cabbage.
It was a nice appetizer, but I think I prefer flour-based empanada dough, which is basically pie crust with vinegar. Before the appetizer, each meal begins with freshly fried corn tortilla chips with a black bean dip topped with queso fresco.
They are not my favorite black beans — especially in comparison to El Majahual and Cafe Antigua — but I had little problem polishing them off. The Honduran version of queso fresco is olancho, which is quite sour and took a few bites to get accustomed to.
After trying the fried chicken at Mi Tierra, I had a pretty good idea that Fonda K-Tracha offered an excellent one, as well. It appeared to be one of the most popular plates as stuff carried them out to customers. I wanted to branch out on the menu.
On my first trip, I went with the grilled pork chop plate ($14.99) that includes fried green bananas — I am still not sure if they are unripe bananas or plantains; they are awfully big to be bananas but a great side all the same. The pork chop dish is a massive portion with three chops slathered in chimichurri and kissed by the flames on the grill before being covered in the same white and red sauces found on the fried chicken.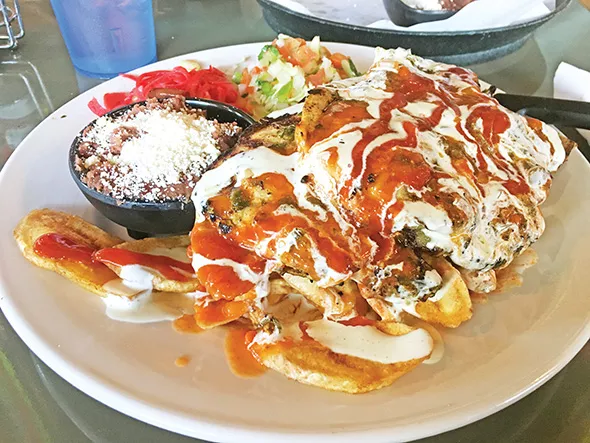 Jacob Threadgill
Three pork chops marinated in chimichurri and covered in sauce atop green bananas
Some of my favorite bites of the two meals came by combining the pickled cabbage and pico de gallo with the grilled pork chops. It has been a while since I have had a pork chop grilled over an open flame, and I forgot how much of a difference it makes. While I prefer a steak cooked in a cast-iron skillet for a perfect sear, I love a grilled pork chop, and Fonda K-Tracha's version is excellent.
Its pineapple drink appeared to be the beverage of choice among other customers, and Yelp has a few negative comments on its horchata, which is surprising.
On a second trip to the restaurant, I ran into a double case of order envy. I ordered the fish fillet ($11.99), which I was hoping would be grilled like the pork chops, but it is instead cooked in a tomato sauce with peppers and onions. It was tasty, and the fish tasted like tilapia, but the person next to me ordered the fried fish ($13.99), which is served whole, with the head still on.
It made me want to order it the next time I wander into the restaurant. The star of my dish was the casamiento, a mixture of red beans, rice and red pepper cooked with coconut milk or oil. It has a unique flavor and is far superior to its refried black beans. I had a lot of fun dipping the fried yucca into the rice and beans. Yelp is full of recommendations for the shrimp brochette, which is also served with casamiento.
I also tried a few bites of my wife's carne asada, which was a little overcooked for my preference but had plenty of the chimichurri, which I liked very much. I would be interested in the restaurant's preparation of the tri-tip ($16.99), which is not a cut of beef I see very often.
If you are with a big group of very, very hungry people, the parrillada is meant for four people and includes chicken, baby back ribs and sausages with sides for $60.
I was a little disappointed to see the restaurant does not offer anything in the way of dessert, but it breaks out three types of soup on the weekend that its Facebook page advertises as a great hangover cure.
While Cafe Kacao has lines out the door, head on over to Fonda K-Tracha for different Central American all-day breakfast and entrée options.