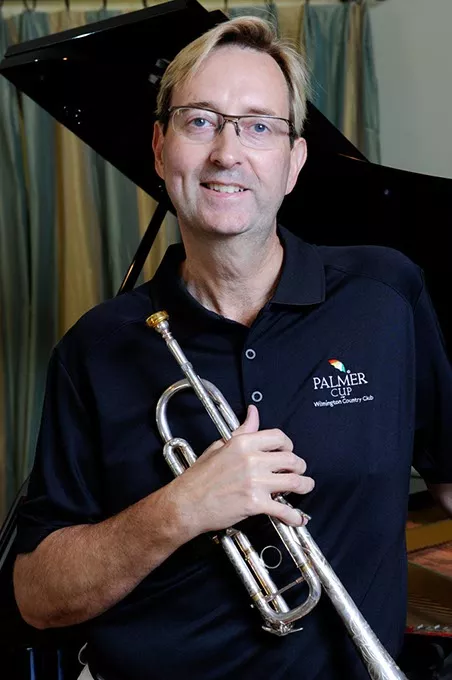 He has been nominated for three Grammy Awards and an Emmy Award and is a world-renowned musician who has played for the pope. Yet David B. Hooten remains one of Oklahoma City's best-kept secrets.
Hooten grew up in Duncan — quite a journey from the Italian countryside where he was born. His father was in the Air Force, and the family lived in various cities throughout Europe before returning home to the United States. His talent for the trumpet started at an early age.
"I wanted to play trumpet since I was born," Hooten said. "I bugged my parents for a trumpet until I finally found one at Bill's Pawn Shop and bought it for $65. I taught myself how to play in the summer after fifth grade."
After playing for a local music store owner who thought he was 16, even though he was only 9, Hooten said he literally won every contest he could find for trumpet and piano. He later studied with legendary teacher Don "Jake" Jacoby when he was 15 and then with Dr. Leonard Candelaria at the University of North Texas.
After receiving a Bachelor of Arts degree in music education, Hooten attended the University of Oklahoma, where he received a master's degree in trumpet performance in 1989. That same year, he recorded his first album, The Trumpet Shall Sound, which included his version of "Amazing Grace." The album sold tens of thousands of copies worldwide, and through the years, he has recorded more than 20 albums of his own and performed on and produced more than 100 albums. He has also performed privately for the world's elite.
"I performed for the royal family of Thailand and was invited to record an album with the princess of Thailand," Hooten said. "Performing for them was amazing. The king is a great jazz clarinet player, and the princess was a young trumpeter. The family has a great appreciation for music."
But the royalty wasn't limited to Thailand. Hooten also traveled to London, where he performed at the 60th birthday celebration of Queen Elizabeth II.
"What can I say? The queen is, of course, the queen," Hooten said. "I also performed at a private audience for Pope John Paul II at the Vatican in Rome. I was humbled to speak to and to be blessed by the Holy Father. Back here in the United States, I performed for Presidents Ronald Reagan and George W. Bush at the White House."
Hooten proposed to his wife Whitney in the China Room at the White House, and they now have three children.
Offbeat encounters
Through the years, Hooten has been versatile in many areas of the entertainment industry, even appearing as a Calvin Klein underwear model during his college days. Today, he is venturing into another business with his kids, one taking him back to his Italian roots.
"My mom owned a restaurant in Duncan called Mama Lucia's," Hooten said. "She started the restaurant in 1972. I played there each Thursday with musicians ranging from Wynton Marsalis to Henry Mancini. I bought the restaurant from her in 1995 but closed it in 2003 so I could be home more and raise my kids."
The matriarch's sauce was the most popular item on the menu, so Hooten and his two oldest kids decided to market the dressing.
"We started the business in our kitchen and initially sold it by the jar at Kamp's Meat Market," he said. "We kept growing and moved manufacturing to a licensed commercial kitchen, and David's Meat Sauce is now in the frozen food section of 15 Homeland stores and will hopefully be in Braum's soon."
In his spare time, Hooten's charitable contributions include serving as president of Children's Music Education Foundation, which he established. He and his wife also established the David and Whitney Hooten Foundation through the Oklahoma City Community Foundation, which helps provide music opportunities for children. He also chaired Red Tie Night, the state's single largest fundraising event benefitting Oklahoma AIDS Care Fund.
Golf is one of Hooten's favorite pastimes, and this weekend, Hooten and his son will attend the prestigious Palmer Cup in Sugar Grove, Illinois.
"I perform all the anthems and will be doing a special performance for Arnold Palmer at a dinner at Rich Harvest Farms," he said. "We will be playing in the college pro-am and will be participating in all the festivities. I am the official trumpeter of the Palmer Cup and compose special music selections for the Golf Channel."
Despite the places he has been and his international success, Hooten prefers to stay grounded close to home.
"People always say, 'You can live anywhere in the world. Why Oklahoma City?'" Hooten asked. "I always tell them because the people are the finest you will find anywhere. Oklahoma is not only my home but my choice."
---
Print headline: Special sauce, David B. Hooten has played for kings and queens, but he thinks his fellow Oklahomans are the jam.