Alexa Ace
Green Hopes, a nonprofit started by CBD Plus USA and Green Hope Wellness Clinic, will provide educational classes and charity services.
Two of Oklahoma City metro's recognizable names in the cannabis business have teamed up to form a charity.
Green Hopes, 4001 SW 119th St., is a joint venture by CBD Plus USA and Green Hope Wellness Clinic. It holds its first event 10 a.m.-4 p.m. Aug. 10.
"It is a 26-acre, 26,000 square-foot facility that's an education slash medical facility," CBD Plus USA CEO Ryan Vicedomini said.
He calls it a "cannabis campus" and thinks it is the largest cannabis education space currently operating in the state.
Vicedomini said that donations and a percentage of proceeds from CBD Plus USA, Lotus Gold Marijuana Dispensary, Green Hope Wellness Clinic and Green Hope RX have provided them with enough funding to get the charity off the ground.
"It's going to be a very comfortable, fun environment. There is no wrong question. We're here to answer it all, as the information is provided to us, and if we don't have the answer, we will help you figure it out," Vicedomini said. "There's so little education on any level for cannabis, especially on the medical side, so we're trying to create an environment where you can get your medical card, follow up with the same doctor that recommended you, go through the dosing in any experience level from infants all the way to hospice. True education meets medical practice.
"Once it fills up, we'll open up a second, third and fourth. We'll have a class every day, potentially, that goes over the endocannabinoid system, goes over why cannabis works, goes over the potential benefits and the science behind why it hits your receptors a certain way. A year and a half ago, I didn't know how cannabis manipulates your system right and why it did. Through just research and listening to other people's research and paying attention to the market, the endocannabinoid system is being fully discovered. I don't think you can cover what cannabis does for us in a two-hour class, so it's going to probably be broken up into five classes."
All classes will be available for free to anyone interested.
Both Vicedomini and Renee Harper of Green Hope Wellness Clinic in Moore have always put a premium on cannabis education and worked together on education programs at other locations in the past, so the joint endeavor is based upon a collaborative spirit that has already formed.
"Ryan invited me to listen to some speakers at the Cox Convention Center a couple of months ago, and it was Mick Cornett and the CEOs of all the big hospitals in Oklahoma City talking about the shitty health care in the state of Oklahoma. We're 48th of 50. So I leaned over to Ryan and I go, 'You know, we have the solution.' And he goes, 'Yeah, I was thinking the same thing,'" Harper said. "There's all these people out here that are kicked off from the [U.S. Department of Veteran Affairs] and different things like that because of cannabis and they don't have anyplace to go. We can take our money and be the bridge between cannabis and the community and health care."
Vicedomini said the documentary Weed the People provided a framework for an idea he already had.
"It made my whole vision come together," he said. "That movie showed six different stories. Kids were given a death sentence, literally a death sentence, and with cannabis, five out of six of them are still alive. I think four out of six are cancer-free. Word has to get out."
Vicedomini said Green Hopes has already partnered with one baby girl and her family and hopes to document her experience through cannabinoid treatment for others who are experiencing the same unfortunate circumstances.
"The parents are going to be so lost," he said. "Easing that experience is the primary goal of the charity."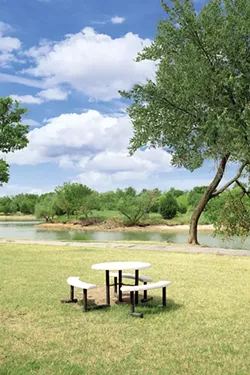 Alexa Ace
Green Hopes is located on 26 acres on SW 119th Street.
Holistic approach
For the opening event, Vicedomini said Green Hopes is going to underwrite as many pediatric cannabis recommendations as it can.
"A discounted price or the charity's paying for it — we're not sure which yet — but it's to let people know we're here, let people know that if they're looking for help in their cannabis journey, that that's what we're here to help them with," he said.
There will also be bounce houses, food trucks and possibly exotic animals at the opening event, which is geared toward an opening celebration for children more than a symposium. Visitors will also be able to walk the path around the campus' 15-acre lake.
The charity is also hoping to team up with other vendors to help give to as many in need as it can.
"We're one player in an industry that's got, I think, 3,500 licensed members, so potentially having one source for people to be able to even donate even leftover product that we can then process and have tested make sure that it's good," Vicedomini said. "We have extraction equipment, and we have our licenses to make it happen."
Pediatrics is just the first foot forward for the charity. Vicedomini expects more programs to develop as the charity gathers momentum. They expect to branch out to nursing homes soon to educate seniors about the benefits of cannabis and helping them get doctor recommendations. Since delivering cannabis to patients directly is not legal under state law, Green Hopes is looking to partner with a company who would instead shuttle them to the dispensary and back. Eventually, the campus is envisioned to be a research hub and also places where people can treat cannabis as part of a holistic approach to health.
"Ryan and I don't do anything very small," Harper said.
"If you could ever think of anything you'd want to do to help people with cannabis and the reason why, that's what this charity is going to stand for. It's just going to start one branch, with pediatrics. But that's why it's Green Hopes, plural. It's not just kids," Vicedomini said.
"My endgame is research, publishing medical journal articles that actually change things so doctors down the road can go, 'Hey, there is something about autism and cannabis right here,'" Harper said. "When I started Green Hope, I thought about how functional medicine is about improving somebody's quality of life. If I get you off opioids, now you're on cannabis therapy. For your movement, you may not be functioning at your optimum, so why not do tai chi classes or stretching or yoga or massage, diet and exercise, different things like that and see if we can get people functioning at the maximum potential for having the best quality of life."
Visit greenhopes.org.