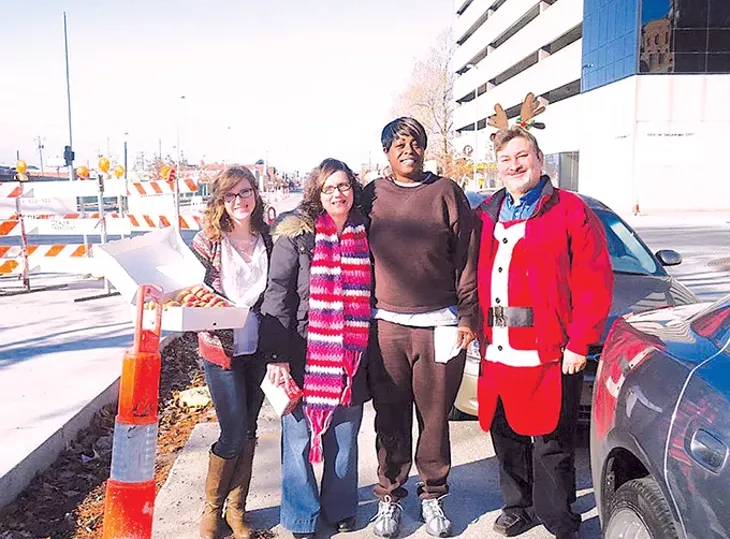 Hotdogs for the Homeless / provided
Founder Rick Swyden has had help from outreach coordinator Beth Solis second from left, her daughter Sarah Nawotka left and former Hotdogs for the Homeless hotdog recipient Sherry Hassell since at least 2011.
Since its inception in 2003, a local nonprofit organization has worked diligently to hand-deliver over 200,000 hotdogs to Oklahoma City's homeless population. In a labor of love, the charity has managed to grow a coordinated network of volunteers committed to feeding hungry mouths in search of their next meal.
It all started when Rick Swyden, founder and director of Hotdogs for the Homeless, traveled to San Antonio with his wife to visit some friends for the upcoming holiday. He had just completed a slideshow project for the funeral service of a lady who had taken great care to provide for the homeless. Thanks to a generous tip from the family, Swyden and his wife Susan, who at the time was undergoing treatment for breast cancer, were able to make the trip to Texas.
Downtown, they passed a homeless man hanging around a set of stairs by the mall.
"It just moved me so much," Swyden said. "I said, 'Man, we need to feed that guy.'"
In spite of a New Year's Eve crowd that had begun to swarm the city, the couple went looking for a place to purchase what might have been the stranger's first proper meal in a long time. But their options were limited.
"[The vendor] said, 'I'm sorry, but all we serve is hotdogs at this location,'" Swyden said. "So it was kind of like my sign that I was supposed to serve a homeless man a hotdog."
Swyden took to the streets of OKC the following Sunday. Despite not having the money to do so, he armed himself with sixteen hotdogs, searching for hungry individuals who had come to consider food a luxury.
The next week, he handed out three packages of hotdogs. It wasn't long before he had what appeared to be a full-fledged charity on his hands.
"The following week, I get home from church and there's 88 hotdogs, 88 buns and 88 bottles of water sitting on my porch," Swyden said. "My neighbors had pitched in and all bought food for the homeless. So then they came over and helped put it all together."
Volunteer service
Although Swyden cares deeply for the homeless, he never anticipated what became of his efforts.
"I didn't start out to do anything. It just kind of happened," Swyden said.
For about four years, volunteers would gather at his residence once a week. Thanks to the kind gesture of a caring citizen, the charity has since been provided with a space of its own.
"Back in those days, we didn't just meet at one spot," said Beth Solis, Hotdogs for the Homeless outreach coordinator. "We've gotten it to a system now where the homeless know where to meet us and we just go to one place and they just go to us."
Solis first met Swyden at a cookout he was hosting for the homeless.
"We had the best time. Everybody was laughing," Solis recalled. "It touched my heart."
Since their initial meeting, Solis has been actively involved in the organization's charitable efforts.
"It became a forever thing. We just kept doing it," she said. "And then we started bringing other people with us."
Solis was regularly accompanied by her daughters and by her late ex-husband. She has since remarried and remains active in supporting the group's mission.
"I can't get out there on Sundays as often," Solis said. "My job is talking with the volunteers and getting more people out there."
In what appears to be a successful effort, the group has managed to attract an abundance of volunteers. Oklahoma Retro Gamers Society and Stephenson Cancer Center are among the organizations critical to the charity's ongoing success, providing an outlet for individuals to become more active in their communities.
"People want to help other people. They just don't know where to go to do it," Swyden said. "If you just give people the opportunity … people just jump on the bandwagon."
People of all ages have shown up over the years to lend a helping hand.
"It's a very family-oriented service ministry that people can do with their kids," Solis said. "It's kind of the best-kept secret."
Since its founding, the nonprofit has worked with Girl Scouts, church groups, families, etc. From preparing the meals to decorating the bags, there's a job for almost anyone who wants to get involved.
Family legacy
Every week, Hotdogs for the Homeless gives away 200 bags at the expense of around $1 each. It even provides a variety of items like toothbrushes and clothes. Residual funds are used to help those in need.
However, those who know Swyden have learned he's not the type to request monetary donations of any kind. He credits the organization's success as the result of a miraculous string of events.
"I've never asked anyone for money," Swyden said. "If people don't support it, it will just stop. And here we are 15 years later."
Unfortunately, Swyden recently suffered a personal blow, losing his good friend Mike Velte, who he referred to as his "right-hand man in business and in hotdogs." Velte worked alongside Swyden for several years.
"They're kind of like my family," Swyden said, referencing the homeless population he regularly serves.
He's grateful for any impact he has had upon their lives, a quality those he works with understand well.
"It's never really about getting them the meal. It's the contact with the people," Solis said. "They know [Rick], and they know he cares about them."
Swyden hopes his legacy goes beyond that of the homeless community. He takes great pleasure from the difference he has made in the lives of his volunteers.
"I get these kids that came out when they were little, and they'll see me and they go, 'Aren't you the hotdog man?' And they'll tell me about the experience and what's happened to them now and how they help people today from that experience from then," Swyden said.
Hotdogs for the Homeless can be found every Sunday at Old School Bagel Cafe, 10946 N. May Ave. Volunteers usually show up around 10:30 a.m. and begin distributing hotdogs around noon.
Visit hotdogsforthehomeless.com.