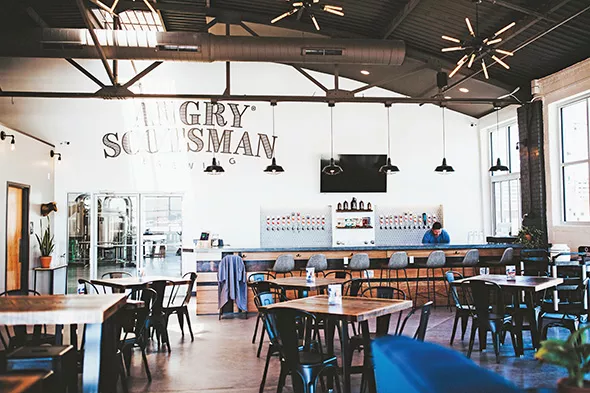 Alexa Ace
Angry Scotsman's new taproom boasts an airy and inviting space and 24 beer taps.
Science is the reason Ross Harper made his way to Oklahoma by way of Scotland, and it is also one of the reasons his brewery is turning out inventive beer at its western downtown brewery and taproom.
Angry Scotsman Brewing, 704 W. Reno Ave., opened its taproom last week that features 24 beer taps, plush couches, a 5,000 square-foot patio with a good view of the city's skyline and a dedicated food truck space.
Co-owners Ross and Stephanie Harper built from Ross' extensive homebrewing background to open Angry Scotsman in the Brewer's Union taproom in late 2017 and moved into the full-sized brewing space at its current location in September 2018.
After months of hosting pop-up taprooms in the brewing facility, the repurposed building that once operated as an auto repair shop is coming back to life in western downtown, a few blocks south of the Film Row district.
"It's the last frontier of [downtown] Oklahoma City," Ross Harper said. "The fact that it's a cool-looking building but that there is still a connection to some of the neighborhood is really cool."
The 1930s-era building features its original walls and trusses, but the 1,800 square-foot taproom is outfitted with modern amenities like USB ports for phone charging at the bar.
"We saw the development in Film Row and this side of town — we saw so much promise — it seemed like the perfect opportunity," Stephanie Harper said.
Ross Harper named the brewery after a nickname he picked up in grad school while in Miami, Florida, which is the result of a misunderstanding of British slang.
"I told my roommates that I was feeling a bit rough that morning because I had a few beers the previous night and got a little pissed," Harper said. "In the British vernacular, that means tipsy, but in the U.S., it means pissed-off angry, so my roommates think I'm some angry drunk, but thankfully the Angry Scotsman nickname picked up and not the angry drunk."
Alexa Ace
Ross Harper parlayed his science background into brewing beer at Angry Scotsman Brewing.
He also recounted his time as a teaching assistant when he told the class to bring a rubber to the test.
"I should've said eraser; there were a few faux pas, to say the least," Ross Harper said with a laugh.
He moved to Oklahoma to work in research and development for FLIR Systems, an Oregon-based technology company with offices in Oklahoma.
"His Ph.D. research was on bomb-sniffing dogs and their olfactory system and abilities," Stephanie said, bragging on her husband. "[FLIR Systems] was interested and used it to make FIDO, which is an explosives detector that was one of the things they used in Iraq to detect IEDs, based off of his research."
Heaven and helles
Ross Harper started to brew beer at home shortly after moving to Oklahoma in 2005 due to the state's lack of a craft beer scene at the time, but he soon began to get creative, building off his culinary and science background.
"He was brewing all of the time and was fantastic about taking requests, and he viewed it as a personal challenge," Stephanie Harper said. "We'd have a commercial beer out at a restaurant, and he'd say that he could make it better, and he always would."
Ross burns the candle at both ends, retaining his day job with FLIR and working with Angry Scotsman, but he has turned over head-brewing duties to Cody Driscoll, formerly of Iron Monk Brewing Company, who recently completed a degree in microbiology and joins forces with Ross Harper, who is a Ph.D. chemist.
"Cody is able to really take the microbiology approach to clean beer, good yeast process," Ross Harper said. "He's convinced me to consider new fermentation approaches or new techniques for sanitation that I might not have tried simply because he knows the science behind it. We're absolutely science-ing the shit out of the beer back there."
Alexa Ace
Angry Scotsman Brewing's expansive patio offers beautiful views of downtown Oklahoma City.
Angry Scotsman's portfolio is built around five core beers, but there are also seasonal choices, rotating IPAs and plenty of small-batch brews pouring from the brewery's remaining taps. Its top-selling beer is the Rusty Kiltpin, a Scottish-style export ale that is similar to the boozy and malty Scottish Ale but different at the same time.
"It is effectively its younger brother," Ross Harper said. "It's a 5 percent session drinker, and it's got a bit of the caramels, vanilla and a little bit of biscotti up front, but it finishes drier and much crisper. It's a dark beer for people that like light beers."
Its other year-round beers include the American rye pale ale Pale Ryder, black IPA Night Terror, porter Left Luggage and German-style helles lager Gateway to Helles, the later of which Ross Harper created after Stephanie went to the store to buy Modelo, even though they typically followed a "no commercial beer in the house" rule.
"Not many people realize that Mexican lagers like Tecate and Modelo all have German heritage," Ross Harper said. "They are German by style and definition. Those are German beers because they were German immigrants who moved to Mexico back in the day. You want a nice patio sipper. It's an industry beer because it's what we drink behind the scenes when we're tired of barrel-aged and quaffing."
Specialty beers on tap include a witbier brewed with gunpowder green tea and lemongrass, a roasted pepper-infused German lager and a seasonal offering with hibiscus and saffron.
"We're super stoked to be at this point where we can open our doors and be part of west downtown," Ross Harper said.
"We just really wanted to make something that we love and that lots of other people would love too," Stephanie Harper said.
Visit angryscotbrew.com.