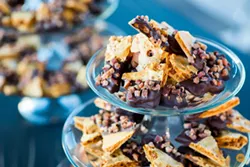 Quit Nguyen
Bacon toffee candy
It's time for 6 Degrees of Bacon.
This has nothing to do with actor
Kevin Bacon, although the name is a hat-tip to the game dealing with him and the possibility that he's the lynchpin of, well, everything.
For Okies, bacon is the center of everything, too. Mr. Bacon, as far as we know, won't be there. But bacon — lots of it — will be.
The wonderful things people do with the fatty cured pork will be on display and for consumption and include everything from cocktails to snacks and desserts.
Nineteen local restaurants will contribute up to three creations that creatively showcase bacon in all its glory.
This year's event promises even more than previous years.
"We have more restaurants, so there are more options, of course," said Cacky Poarch, media liaison for Downtown OKC, Inc. "There's also an open bar provided by [Norman restaurant] Local with a special, bacon-inspired cocktail."
This year's event includes a bacon-tasting competition with bacon provided by Oklahoma Pork Council.
"Volunteers from the Midtown Rotary will be literally frying local bacon right in front of you to taste," Poarch said.
With each entry paid, Poarch said guests get tasting tickets so "every person is guaranteed a bite of every booth." Also, guests are admitted to an after-party at The Blue Garten across the street for a "freshly minted can of free beer."
The event will feature bacon- themed games and a photo booth.
If you attended last year and saw the larger-than-life plush dancing pigs, you know they won't miss this party.
Each year, there are delicious surprises. Last year's surprise was the bacon maple milkshake. The Basement Modern Diner, located in RedPin Restaurant & Bowling Lounge, 200 S. Oklahoma Ave., proved a star of the show last year with its booze-y, bacon-y concoction.
And each guest gets a pink 6 Degrees of Bacon fanny pack.
Now in its third year, 6 Degrees of Bacon is presented by Downtown OKC, Inc. and benefits the Midtown Association, a sponsor of H&8th Night Market. The association promotes the district from within by helping with events and infrastructure.
Tickets sell fast and have sold out in past years. Visit downtownokc.com for more information, and click the 6 Degrees of Bacon link to purchase tickets.
SIDEBAR
Participating restaurants
Picasso Cafe
Kamp's 1910 Café
Local
Elemental Coffee Roasters
Fassler Hall
Dust Bowl Lanes and Lounge
James E. McNellie's Public House
Bricktown Brewery
In the Raw
Knucks Wheelhouse
Coco Flow
1492 New World Latin Cuisine
Packard's New American Kitchen
Kitchen No. 324
Irma's Burger Shack
The Basement Modern Diner
The Garage
Viceroy Grille at The Ambassador Hotel
Pelotón Wine Bar & Cafe
The Wedge Pizzeria Deep Deuce
Print headline: Let there be bacon; Downtown OKC Inc. is back with its wildly successful bacon-themed fundraiser.