If you could combine beer with humanities while getting your Bachelor's degree, chances are the state's college graduation rate would be much higher.
With a mandatory minimum of six hours of credit in the subject, just a few college students find many of the art appreciation classes an insufficient reason to get out of bed in the morning.
Oklahoma Humanities Council (OHC) has found a way to foster interest in the arts by combining adult beverages with a social setting that fosters progressive discussions among the patrons and attendees with the second Think & Drink public forum. This one will cover issues related to gender equality.
Oklahoma Humanities Council is one of 56 congressionally mandated humanities organizations in the states and territories of the U.S. They are federally mandated and federally funded. The various councils work together to create programs that bring the public together to experience the humanities (art, music, literature, architecture, history, philosophy and religion).
Caroline Lowery, program officer for OHC, said one of the programs that have worked well in the Pacific Northwest is Think & Drink. Essentially, it's what used to be called a salon. People come together to discuss important ideas in a safe, nonconfrontational environment.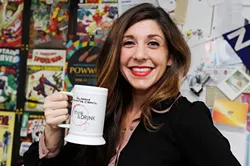 Garett Fisbeck
Caroline Lowery, program officer for Think & Drink, poses for a photo at her office in Oklahoma City, Wednesday, June 17, 2015.
"We are a tight-knit community within the states' councils, so we talk about the programs that work around the country," Lowery said. "Think & Drink has been offered in Washington and Oregon for years, and they have had great success offering a community forum in a low-key, informal setting."
The format is straightforward. Two speakers address a topic from differing perspectives in a seven-minute introductory presentation. Then each speaker is given five minutes to respond. Afterward, the audience is asked to participate via a question-and-answer segment.
Roksana Alavi, assistant professor of interdisciplinary studies at the University of Oklahoma, will take the position that gender equality is still an issue that affects us all. Her areas of study include identity formation, gender, race and stereotyping.
Andrea Mason is a business owner, wife and mother of two. The owner of barre3 locations in OKC, Edmond and Tulsa will take a position counter to that of Alavi, at least from the perspective that gender inequality does not necessarily prevent women from succeeding in our culture.
Lowery will introduce the topic and candidates, and she will serve as the moderator for the evening. After the first Think & Drink, which covered privacy, Lowery polled attendees about which topic they would like to see next. Many of the respondents chose gender equality from a list of several topics.
"We wanted to do these two pilot events first and then gauge audience responses," Lowery said. "We haven't made any definitive plans about more Think & Drinks because we want to see how well the program works."
More than fifty people showed up for the first event, and it is likely that more will show up this time. If so, there will be plenty of space. OHC has rented the semi-private outdoor space at Fassler Hall to accommodate more people. Lowery said RSVPs are not necessary and that the event is free and open to the public.
"The first event was a little heavy on the side of young people," Lowery said. "That makes sense. Oklahoma City is now full of this burgeoning population of young adults who want to make the city a better place, and they are an information-seeking crowd. They will look for information about how to make that happen."
Lowery said drinking starts at 7 p.m. and thinking starts at 7:30 p.m. Because the event is at a bar, guests must be 21 and over to enter.
Print headline: Salon affair, Members of Oklahoma Humanities Council hope to create a social environment that encourages public dialogue.