Biscuit French toast at HunnyBunny Biscuit Co. | Photo Aaron Snow / provided
As the saying goes, great minds think alike. When Urban Management Group Inc. (UMI) co-founder Robert Ross walked into Packard's New American Kitchen one day — one of six restaurants in a group that dates to 1976 — he asked executive chef Chris McKenna what he thought about opening a buttermilk biscuit-themed restaurant.
It turned out that McKenna had been playing with potential menu concepts for the previous six months, ever since returning from a honeymoon trip to Charleston, South Carolina.
About a year after that first conversation, HunnyBunny Biscuit Co. opened at 429 NW 23rd St. the last weekend of February.
"Breakfast is probably the fastest growing area [in the restaurant industry]," McKenna said. "A lot of the younger generation really enjoys breakfast any time of the day."
Biscuit etiquette
In preparation for HunnyBunny, McKenna said he read at least 20 books and articles looking for the perfect recipe. Instead, he found that it's best to build a recipe around personal taste.
Some people use 100 percent shortening; others use a combination of shortening and butter. If you want to get really wild, some people use bacon grease. McKenna opts for a 100 percent butter mixture that is put in the freezer before it is cut into the flour. The colder the butter, the more likely it is to retain its shape as the biscuit is formed.
"The butter is what creates steam within the dough, which causes the rise," McKenna said. "To me, shortening is fluffier, but it doesn't hold as well. If you're going to leave the dough out, even for a little bit, it won't rise the same [with shortening]."
Just as McKenna said that the key to a tender biscuit is not to overwork the dough, he notes that there is a recipe version called a beaten biscuit that places an onus on the chew.
"I spent time in Louisiana, and just like everyone makes crawfish étouffée a little different, everyone has their own taste," he said. "Some people like a crustier, harder outside, and others don't."
McKenna and ownership decided on a biscuit that is slightly brown on the outside and fluffy on the inside for the foundation of the menu. Twelve oversized biscuit sandwiches anchor the menu that also includes a salad, a pot pie, standard biscuits and gravy and a tater tot hash.
Chris McKenna is executive chef at Packard's New American Kitchen and HunnyBunny Biscuit Co. | Photo Aaron Snow / provided
Menu construction
In preparation for the menu, McKenna and staff sent a rough version to 60 or 70 friends and family and had them rank their favorite ten items. The survey has yielded similar results to the restaurant's first few weeks of sales.
The No. 1 most popular item is the Cannonball sandwich ($9), which is fried chicken with cheddar cheese and a fried egg topped with sausage gravy.
"It's an entire breakfast on a sandwich," McKenna said. "You won't be hungry when you leave after ordering."
The biscuit French toast ($10) is another popular menu item, which McKenna said he saw on a few other menus across the country while doing some biscuit research. The biscuit is split, dipped in the same French toast batter McKenna uses at Packard's and then grilled crispy. It is then topped with fresh fruit, candied pecans, whipped cream and real maple syrup.
"If people know you're using real ingredients, it makes for a better experience," McKenna said of the authentic maple syrup, but it's a philosophy that extends across the menu.
McKenna said he wanted to provide biscuit sandwiches that work all day long, and not just for breakfast. All of the meat on the menu, from bacon to the hot link that is paired with jalapeño cream cheese and caramelized onions on the No. 7 sandwich ($6), comes from Ralph's Packing Company in Perkins.
Local roasters Eôté Coffee Company and KLLR Coffee provide coffee service for HunnyBunny.
Each item on the menu has an identifier. There is homage to McKenna's honeymoon with the Charleston sandwich ($8), which is fried chicken with an egg, collard greens and hot sauce. But when it came time to name his kolach-inspired hot link sandwich, McKenna kept coming back to the number 7.
"I loved going to diner where you order by number and hear the cook yelling, 'I need a No. 3,' so I settled on No. 7," McKenna said. "Our operations director said that I should tell everyone that it is my old baseball number. I played a year and wasn't very good."
With a location on 23rd Street next to Tower Theatre, UMI took the smaller dining spaces (56 seats compared to the group's other restaurants that average at least 100, McKenna said) to unveil its first counter-service concept.
"We're trying our best to bridge the gap between full-service and counter-service," McKenna said, noting that servers will clear tables but cautioning that guests should place their order before finding a seat. "With all the buzz right now, on the weekends, it gets busy. If you can wait in line, by the time you make it to the front, there will be a table open."
HunnyBunny Biscuit Co. is open 7 a.m.-3 p.m. every day. Visit hunnybunnybiscuitco.com.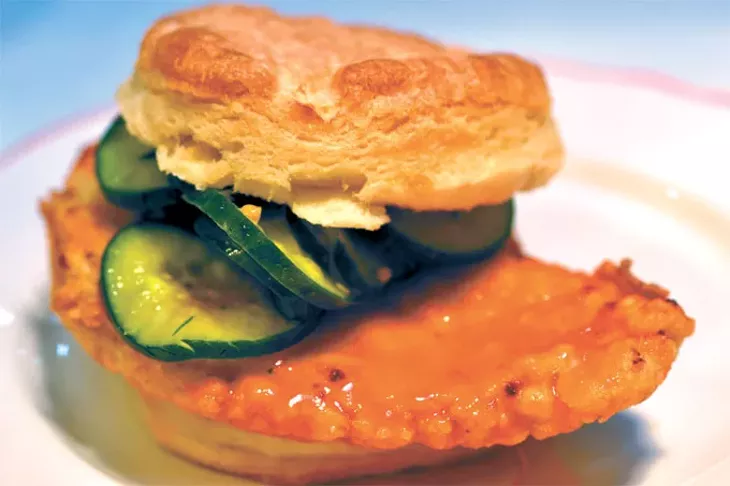 The Nashville sandwich is fried chicken covered in hot sauce and paired with honey mustard and bread-and-butter pickles. | Photo Aaron Snow / provided
Print headline: Biscuit bonanza; HunnyBunny Biscuit Co. is the latest restaurant to open in Uptown 23rd District.