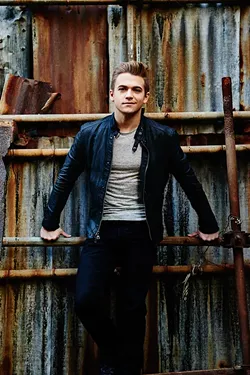 Hunter Hayes believes in the power of the classic album format, but that does not mean he's married to it.
The 24-year-old singer-songwriter best known for country hits such as "Wanted" and "I Want Crazy" decided to challenge the concept of what an album can be last year when he released The 21 Project, a collection of seven songs released in three different versions: acoustic, fully produced and live. The idea was to illustrate how a song evolves from conception to performance.
"The format of a record is changing," said Hayes, who performs June 3 at Frontier City's Starlight Amphitheater, 11501 N. Interstate 35 Service Road. "We've seen it coming and everybody knows it, but we're still kind of afraid of it. I'm very much a big vinyl fan, and I like records and that project feeling. But I'm really interested in seeing where the next thing is going to go."
So Hayes spent much of 2015 tinkering with the accepted norms of releasing and promoting music. Last summer, he released the songs that were later collected for The 21 Project on a biweekly basis, providing his fans access to fresh material through streaming services and download sites. Then Hayes embarked on a groundbreaking tour that fall, working with Spotify to identify college markets where his music was heavily streamed.
"It's hard to really explain what we were going for because we really weren't going for anything," he said. "There wasn't really a concept to it, except to break down the walls of how we've always done it."
Hayes said he takes inspiration from fellow country artist Keith Urban, who began slowly releasing singles from his new album, Ripcord, one year ago and parceled out granular details until its May 6 release. Hayes began to look at The 21 Project as an art experiment rather than a traditional album, and the process revealed ways in which he could showcase songs that otherwise might not find a home on a more conventional release.
"For instance, 'Saint or a Sinner,'" he said. "It might not have seen the light of day had it not been for The 21 Project. It's a ticket to freedom for songs that are created outside a certain window of time for a record. There's a hope for all the crazy stuff we do in the studio to get released, you know?"
This is a good thing, considering that Hayes said he wrote over 100 songs for his next album and now must winnow them down to a manageable number. But the singer's interest in new delivery techniques and social media established a new way for him to measure how his songs resonate with fans.
"What's really cool is they've started requesting songs that we've only played a couple of times," Hayes said. "That blows my mind, and that's a result of exactly what we're talking about. The band will post clips of songs to Facebook or to Instagram, and it's an awesome, open conversation. We're able to listen in a really cool way, and it's a conversation, not just a poll. It's much more in-depth about how they're feeling about a song and why they're feeling that way."
Print headline: Modern methods, With the experimental 21 Project and implantation of digital media, country star Hunter Hayes redefines the album-making process.