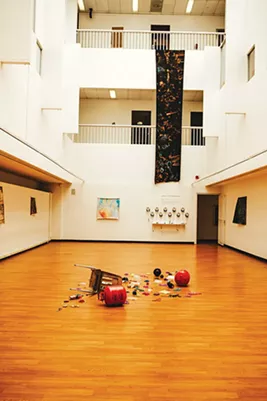 Alexa Ace
The Blind Rooms includes a growing array of found objects placed by University of Oklahoma art students throughout the run of the exhibit.
A cluster of 10 black, cushioned headphones hung at one end of the The Lightwell Gallery underneath a looming, multi-story abstract tapestry. On the other end of the gallery, a squat, top-hatted creature hunched in the corner with a Whataburger cup perched precariously on top, as if being punished by an eccentric and mischievous parent. A small toddler with a massive smile scampered around yet-to-be-hung paintings as his mother and multidisciplinary artist Juliacks attempted to corral the child while also finishing the install of The Blind Rooms ahead of the Oct. 8 opening. The immersive exhibit in University of Oklahoma's School of Visual Art hangs through Nov. 2.
Juliacks conceived of The Blind Rooms as a way to explore how narratives can change the way viewers see art — something she has previously explored in performance installations and graphic novels such as Architecture of an Atom. She began by writing 10 stories as a foray into genre-based writing that she had never attempted before, which led to a series of vibrant and cryptic paintings that purposefully approach but never quite reach tangible imagery. Each set of headphones plays one of the 10 short stories, and the squat sculpture in the corner was the first of a growing array of found objects to be provided by the university's art students as a collaborative reaction to Juliacks' work.
The status of the Whataburger cup was unclear at the time of print.
All these visual and audio elements are meant to alter the viewer's perception of the artwork as they instinctively search for meaning and context within the elusive and dreamy artworks that they might have not found otherwise, meaning and context that Juliacks might have not even intended.
"I like that blurring. I wanted to present an exhibit that was dealing with narrative projection, straightforward storytelling and artwork that you can maybe place within the story or not," Juliacks said just as the happy child toddled across the surface of a painting still lying on the floor, resulting in a wave of audible gasps from the other gallery occupants.
Juliacks just waved it away.
"Luckily, his shoes aren't that dirty," she said.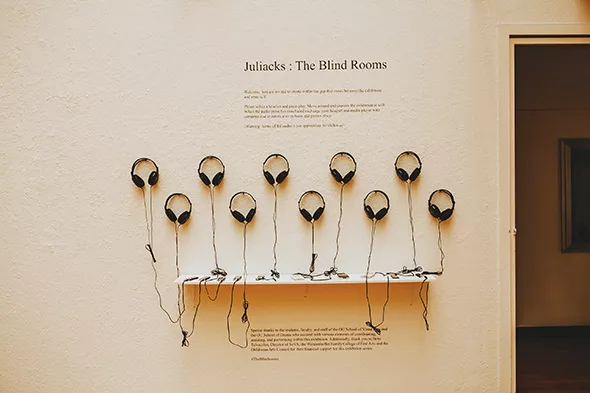 Alexa Ace
The Blind Rooms features works by artist Juliacks accompanied by audio files of stories written by Juliacks and read by OU drama students.
Unfurling stories
That same whatever-goes spirit will permeate the exhibit's run, which incorporates help from the university's art and drama students to enhance the impact on viewer projection. Art does not exist in a perceptual vacuum. Just as the artist drags a lifetime behind them as they approach the canvas to paint, the viewer also gazes at the artwork through the filter of their own individual experience like a pair of magical opera glasses. It is the hazy area between artist intent and viewer perception that Juliacks wants to explore.
"These stories allow the viewer to engage at a higher level," Juliacks said. "What do you see in the narrative?"
And those narratives run the gamut from magical realism and dystopia to somber coming of age. So, if 10 viewers walk through the same exhibit while listening to 10 different narratives, Juliacks believes they will see 10 different exhibits.
Juliacks, who splits her time between the exotic otherworlds of the Netherlands and New Jersey, has explored this concept her entire adult life.
"I went to Carnegie Mellon for my undergrad, and they had a special integrated art degree, so instead of pursuing a degree in humanities and a degree in art separately, they wanted you to integrate it," Juliacks said. "I did creative writing and fine art while also taking some courses at the drama school."
She later attended an Australian art exhibit that utilized numerous peripheral visuals to distract and impact viewer projection, which inspired her to further explore narrative elements in her own art. With The Blind Rooms, Juliacks wanted to recruit students to help with the ambitious exhibition, starting with the stories.
"Freshman-year drama students were the narrators," Juliacks said. "We did a workshop, and I gave them a guide. There are 10 couples in the class, and I assigned them a story to work from. I also said they could do interventions throughout the exhibition as long as they don't, you know, destroy the artwork. I've collaborated with the school of art and the school of drama to find other little ways that the students can actually enlarge the exhibit. There's some students doing performances throughout the exhibition, but it's not at a prescribed time. There should be some activity here every day."
One of the longer stories, , is the first-person account of a narrator from a broken family coming back to her hometown to help her childhood guru, an imaginative older woman named Dorothea.
"Dorothea is being evicted. They have no patience for cat lady madness," the narrator's mother warns, so the narrator returns to the magical playground of Dorothea's house. Like the artwork, Juliacks' storytelling drifts and floats rather than getting mired in concrete detail. She wants to give her readers just as much room to project as they do with her artwork.
"Writing is the hardest part of these projects for me while art is the most pleasurable," Juliacks said. "It's challenging, and I find a lot of meaning in the pursuit of a narrative for a project, and that seems to be guiding me more towards the writing end."
For Juliacks, the balancing act for this exhibit was to ensure that the artwork and the stories don't reference each other too obviously so it pens the viewer into one interpretation. She likes the idea that viewers might find Easter eggs in the paintings that she didn't even intend.
"Though each work is connected to a story for me, I don't know if anyone will get that," Juliacks said. "To me, I can't not see where they came from, but I have noticed that some people who've helped with the exhibit have noticed some of the things I was doing. So did I make it open enough so they don't just see what I see, or did I make it too closed? Let's see what happens."
Visit ou.edu/finearts.