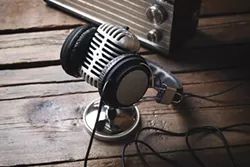 The past meets the present in broad, new comedy Not Worth Shootin', which premieres Friday on Film Row.
This audio play provides a new take on a classic forum. Not Worth Shootin' follows the Baines family, the self-described Kennedys of fictional Scissortail, Oklahoma.
"It has sex, it has alcohol, it has murder," said co-playwright Gaylene Murphy. "It's about greed in a small town and spoiled, ornery people."
The show is 8 p.m. Friday and Saturday at Individual Artists Oklahoma (IAO) Gallery, 706 W. Sheridan Ave.
Not Worth Shootin' stars a cast of 11, including co-playwright Linda McDonald. True to the art form that inspired it, Not Worth Shootin' happens with the cast working around a foley table, where shoes across the boards will announce a character coming or going and an effects board can mimic the sound of closing doors.
"It's a theater for the mind," said McDonald.
Mixing the old and the new, Not Worth Shootin' is set up to be a once-in-a-lifetime experience.
Playwrights Murphy and McDonald became friends in 1989 at the University of Central Oklahoma's masters program in creative writing. Three years later, they began hosting a writing group on the premise of meeting at least once per month to discuss their work.
"Although we've been writing novels lately, we have both written a number of scripts and screenplays," McDonald said. "I retired from that to work on novels."
The women laughed when asked about the inspiration for Not Worth Shootin'.
"It actually started when I would travel with work," Murphy said. "I would listen to those books on tape, and I realized the quality of listening to a story really depended on the narrator."
McDonald replied, "I'm glad you remembered," then laughed. "I couldn't remember exactly how we got started."
When confronted with the realization that the audiobooks did no justice to the old radio programs of previous generations, Murphy went to McDonald with an idea: creating an audio play that was based in the old radio-style program without any of the constraints.
"The old radio programs, they used to be demure family events," Murphy said. "We didn't have to worry about that, so we could have fun."
After three months of off-and-on work, the play that became Not Worth Shootin' was born. Set in a small town, the audio play focuses on the lives of the Baines family, who have long owned and operated the local seed and feed store and bank. On the surface, they appear to be the town's leading citizens, but then the play begins.
"They definitely put the 'fun' in dysfunctional," Murphy said.
Leading characters Darla and Jananne are alienated sisters who, at separate times, were married to the same man, Chad. Now, Chad has divorced Lila (whom he left Jananne for) and is dating Misty, his son's ex-girlfriend and Lila's sister. To add to the excitement, Effie, Darla and Jananne's mother has a reputation for being constantly tipsy.
IAO, the show's producer, is an organization dedicated to sustaining and encouraging local artists in every medium through monthly exhibitions, educational programs and community partnerships.
Tickets are $15 at the door, with no advance tickets being sold. The box office opens at 7 p.m. Local musician Jane Mays also will perform, and a cash bar is available.
"You'll want to leave the kids at home," the playwrights advised.
Print headline: First shot, Two Oklahoma authors try their hands — and voices — at traditional audio play Not Worth Shootin'.