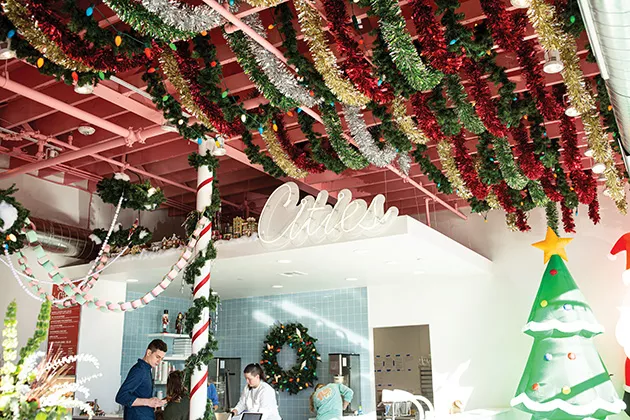 Alexa Ace
Cities Ice Cream is decked out in a Christmas theme for its holiday pop-up.
It might seem counterintuitive to open an ice cream shop just as temperatures dip below freezing, but the owners of Cities Ice Cream, which is an extension of the Capitals brand that opened in Midtown in 2018, are leaning into the holiday season with a Christmas-themed pop-up at its new location in Edmond.
A giant inflatable Santa Claus and Christmas tree, a ceiling lined with garlands and walls decorated like giant gifts greet guests entering the Cities Ice Cream Shop located in Edmond Railyard, 23 W. First St.
"Ice cream and cold weather don't mix that well, so let's make it fun," Capitals Ice Cream CEO Landon Ferguson said. "It's a Christmas extravaganza, and we decked the place out."
The Christmastime in the Cities holiday pop-up runs through the end of the year. The store will close for a few weeks in early January to convert back into Cities Ice Cream that will coincide with the grand opening of Edmond Railyard — a 20,000 square-foot building that will be home to five restaurants, a craft bar and office space.
Special holiday flavors of Cities Ice Cream include Santa's Cookies and Crème made with chocolate chip cookies, Oreos and Cookie Crisps; Okla Ho Ho Homa that features gingerbread cookies, Cinnamon Toast Crunch, icing and gumdrops; and Hippopotamus for Christmas with frosted animal crackers, blueberries and sprinkles all blended together.
Cities and Capitals use a machine they refer simply as "The Swirler." It's a special blending machine that traces its origins to New Zealand, where the country's abundance of fresh fruit made it popular to blend into ice cream. The machine whips all of the mix-ins with vanilla, chocolate or non-dairy coconut milk base supplied by Kaiser's Grateful Bean Cafe and extrudes the creamy concoction into a swirl that looks like soft-serve but without an artificial flavor.
"It's kind of ruined the taste of regular ice cream for me," Ferguson said.
Ferguson, who founded Capitals Ice Cream with his brother Layne, Connor Cox, Ibsen Crespo and Eric Gilbert, said the group was looking to open a second location with a void for ice cream and found it in downtown Edmond.
"There's a charm to downtown Edmond. It's fun to be part of a revitalization of the downtown area and bring something that's cool and different," Ferguson said. "It's different than what we've done in Midtown."
The group founded the company with the brand Capitals with a built-in expansion plan into the name. They hope to one day open a Capitals Ice Cream store in every capital city in the country that will feature ice cream combinations and products from the local area.
It's the group's first business, but it has expanded to add Sincerely Coffee Roasters, which supplies coffee to both stores. Instead of opening up a second location outside the state while the young group is still learning the ropes, they eyed Edmond under the "Cities" brand.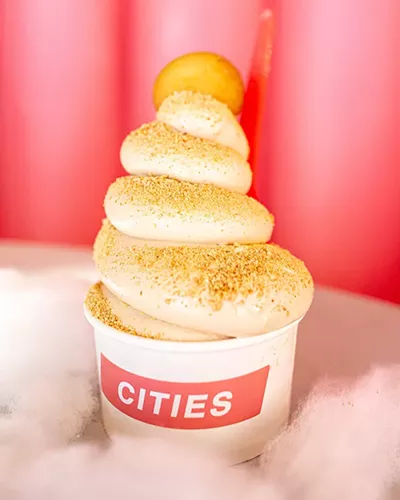 Alexa Ace
The Polar Express is mocha frosting, banana and graham cracker blended into vanilla ice cream.
"Calling it Cities really breathes new life into the Capitals name and gets more people to understand why we called that [in the first place]," Ferguson said. "We want it to feel different, too. We love being part of the downtown growth of Edmond. The demographic is totally different in Edmond than Capitals. We want to be about the city we're in."
At Cities, they've added fresh, in-store baked cookies like salted chocolate chip, peanut butter with mocha chocolate drizzle and Reese's crumbles and a chocolate cookie with white chocolate icing, Rolo candy crumbles and caramel. The Edmond location will also add communal dining options like a cookie log — a giant soft-baked cookie topped with ice cream. It will also have adult milkshakes mixed with liquor. Ferguson said a possible milkshake mixture could be banana-flavored whiskey with Cinnamon Toast Crunch mix-ins.
Currently, Capitals pairs ice cream and craft beer, but Ferguson said the alcoholic milkshakes will be an Edmond exclusive.
The company refers to its employees as "Daymakers," and the store is designed with taking photos of ice cream on social media in mind. After getting their order of ice cream, employees direct customers to perfect locations in the store to frame shots to upload to Instagram and Facebook.
"A big thing we talk about internally is we want to create an experience," Ferguson said. "We're serving ice cream, cookies, beer and coffee. People want to celebrate with them or enjoy after a bad day, and there's nothing that will make you sad when you leave. … We want to take this job seriously, and at the same time, we're here to make people's day and have fun."
For a business model that is all about high volume of sales to make up for its thin profit margins, Ferguson said that adding an additional store nearby is important for their overall growth.
"To make it a sustainable business, it almost makes more sense to keep growing rather than operating one thing," he said. "It sounds almost counterintuitive, but it's almost weird that in our vision, it's easier to have two rather than one."
He said they're eyeing a location in Tulsa before taking the concept out of the state.
"It's rewarding to be part of the city and creating something people enjoy going to in Oklahoma City," Ferguson said. "That's why we wanted Edmond too, and we love being part of the growth of the city. I'd love to be a company from Oklahoma and grow out of state so that we can continue to rep from our flagship store in OKC and keep growing. It could be a long ways down the road, and we're taking it one day at a time and see where it takes us."
Visit capitalsicecream.com.