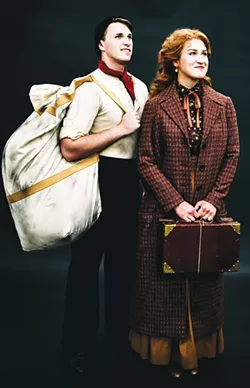 K. Talley Photography / provided
Ian Marcontell as Frederick Barrett and Jessica Anne Martens as Kate Murphy in Lyric Theatre's Titanic: The Musical
Released in 1997, director James Cameron's Titanic won 11 Oscars and made box-office history as the first film to make more than $1 billion worldwide, and its soundtrack featuring the international No. 1 hit "My Heart Will Go On" went platinum 11 times, selling more than 10 million copies. Lyric Theatre of Oklahoma's production of Titanic: The Musical — presented Tuesday-July 28 at Civic Center Music Hall's Thelma Gaylord Performing Arts Theatre, 201 N. Walker Ave. — is not that.
Vince Leseney, who plays Lt. William Murdoch in Lyric's production, said the musical is "not in any way, shape or form" an adaptation of the film, though both are based on the 1912 shipwreck that killed more than 1,500 people.
"I think that a lot of people who come to see the show will think it's an adaptation of the film and be surprised, hopefully pleasantly surprised, by the fact that it's a different way of telling the same story," Leseney said. "But the Celine Dion song is not in the show. That's the most important point. I think we've all heard it enough."
With lyrics and music by Maury Yeston and a book by Peter Stone, Titanic: The Musical also debuted in 1997, but its original Broadway run was less successful than Cameron's film.
Titanic: The Musical
Tuesday-July 28
Thelma Gaylord Performing Arts Theatre
Civic Center Music Hall
201 N. Walker Ave.
lyrictheatreokc.com
405-524-9312
$47-$100
"In musical theater circles, it's kind of this notorious, multimillion-dollar thing that didn't really work on Broadway but recently has been seeing revivals and people trying to do it in a way that works," Leseney said.
A 1997 New York Times article describes "production-freezing technical glitches in previews" and "rumors that the show might not even open."
"Like the builders of the ship that gives the show its name, the talents behind Titanic have worked hard to create something of epic scope and technological wonder," wrote Times critic Ben Brantley, describing tiered sets equipped with sliding panels and LCD monitors before concluding that the production's focus on technical aspects of the legendary maritime disaster comes "at the expense of emotional engagement."
"Unless you're allowed to know the victims of any catastrophe, they will remain statistics," Brantley wrote. "With this Titanic your heart doesn't, as it has to, go down with ship."
Though Leseney said Lyric's production, directed by Michael Baron, features "plenty of technical gadgets," the focus is on the characters and the music.
"Everybody knows the boat sinks," Leseney said. "Everybody knows that's what happens. So we don't really need to show that. We can show what happens to the people on the boat. I think that's much more riveting than sitting there waiting to see if the stage is going to tilt or whatever and risking it not tilting when it's supposed to. I think that people will absolutely be captivated by the music and by the action, the stories on the stage. … We're not going to flood the theater."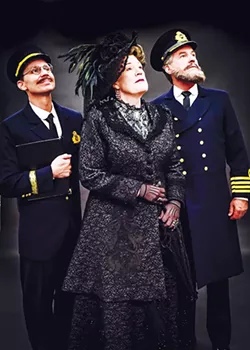 K. Talley Photography / provided
Charlie Monnot as Harold Bride, Barbara Fox DeMaio as Ida Straus and Jeffrey Ambrosini as Captain E.J. Smith in Lyric Theatre's Titanic: The Musical
Full steam
Even without high-tech sets, the production — featuring a cast of 41, a chorus of 58 featuring members of Canterbury Voices and a 22-person orchestra conducted by Oklahoma City Philharmonic music director Alexander Mickelthwate — is an elaborate and demanding theatrical feat.
"We've got 40-plus people in the rehearsal room, and moving people around and making sure that the audience knows which action to focus on is going to be kind of a challenge," Leseney said. "I think Michael realized that the technical aspects of actually sinking the boat get the audience's full attention, and so to take that out of it so that we can focus on the characters and the stories and this ridiculously gorgeous score … we're really, really excited about it, and I hope it's something that for spectacle alone, people who don't normally go to the theater will want to get a ticket because it's going to be something like we've never seen in the Civic Center; I know that for sure."
Many of the characters, based with varying historical accuracy on documented Titanic passengers and crew members, have their own plotlines and arcs.
"You've got the coal stoker [Frederick Barrett, played by Ian Marcontell], who knows that they shouldn't be driving the ship this hard on its first voyage," Leseney said. "He should be the captain. He knows what's going on. He knows that they're making all these mistakes upstairs, but of course they're not going to listen to him. … And then you, of course, have to have two people [Kate McGowan, played by Tatum Grace Ludlam, and Jim Farrell, played by Kellan Harrod] who meet and fall in love on the boat. It wouldn't be a musical if that didn't happen."
Leseney describes his own character Murdoch — the Titanic's first officer, left in charge when the ship struck the iceberg — as "the guy who crashed the boat."
"The character is really interesting because he is second in command, but there's a moment in the play that's very telling when Captain Smith (played by Jeffrey Ambrosini) asks him why he doesn't have his own ship and he says that he's not up to that responsibility," Leseney said. "He actually thinks his place is to be second in command, someone who's reliable but doesn't have the responsibility of holding all of those people's lives in his hands. Then after he crashes the boats, he basically says, 'I told you, you thought too much of me. You thought that I was more than I was, and I have destroyed the boat, and I'm sorry.' I guess that's kind of pathetic, but it's also very honest, you know — 'I don't have my own ship because I'm not that kind of person. I'm a perfectly good second-in-command, but please don't leave me in charge, because bad things can happen.' And they do."
Leseney — who teaches voice at University of Oklahoma's school of musical theater and directed a homecoming production of Titanic featuring a cast of 68 alumni and students at Oklahoma Christian University in 2000 — said he sympathizes with his character.
"Much like Murdoch, I have no business directing a stage show," Leseney said. "I should be on the stage, singing and saying words. I should never be in charge of directing a cast of people. I decided that it would be awesome to have sort of this painter scaffolding, and then offstage, we put a forklift under it. And with each passing moment, we raised the forklift a little bit, and it tilted the scaffolding, which even now talking about it sounds like a brilliant idea, but then act two became about the audience watching the scaffolding tilt and not paying any attention to what was going on with the characters on the stage. So yeah, that was the last musical I ever directed, and it will remain the last musical I ever direct."
Visit lyrictheatreokc.com.