One of the ways I often give myself a mini, one-hour vacation is by visiting ethnic grocery stores and restaurants that make me feel like I've been somewhere. It's my way of relaxing, shopping for exotic ingredients and eating something entirely different. Luckily, the metro is replete with such stores and restaurants, including OK Ko-Mart Oriental Foods, 6000 SE 15th St., in Midwest City.
This Korean market (with a restaurant in the back) has everything you need for creating authentic Asian fare.
Hot, fresh and unique
In the back of OK Ko, tucked away, is Hawaiian BBQ, a tiny, no-frills restaurant. Wait. What's a Hawaiian BBQ restaurant doing in a Korean market?
"I lived in Hawaii for 30 years. That's how I learned to make the Hawaiian barbecue," said Korean-born restaurant owner Hee Kim. "The barbecue has a hint of pineapple in it."
However, the rest of the menu is authentically Korean.
I ordered the Bibimbap ($9.99), a traditional Korean rice dish served in a hot stone bowl. It includes rice, kimchi, spicy hot barbecue sauce, sautéed zucchini, mung bean sprouts (with a kiss of sesame oil), marinated beef strips, stir-fried green beans, sliced cucumber and carrots and is topped with a fried egg. This is seriously good, and quite frankly, for a few days after eating this, I was still craving Korean food — I love the healthy balance of ingredients.
Many Koreans believe this dish also heals the body, gives energy and helps ward off illness during the winter.
It's cliché to say that kimchi is either a love-it-or-hate-it type of food, but by all accounts, it is an acquired taste. However, it's also amazingly healthy. It's a probiotic, fermented cabbage superfood that is believed to enhance digestion. The kimchi here is spicy and fresh and accompanies most of the menu items, which makes me happy.
Beef bulgogi ($9.99), a much-loved Korean dish, is served flawlessly at Hawaiian BBQ. It's barbecued beef served in thin strips with stir-fried and marinated vegetables over rice. The beef was cooked perfectly, with hints of sesame oil and mirin (a type of rice cooking wine) counterbalanced by the addition of sugar in the marinade.
Hawaiian BBQ includes BBQ Short Ribs, pork and beef Bul Go gi, at OK KO-Mart in MWC. mh
The fried dumpling plate ($7.99) is for the true dumpling aficionado, generous with no less than 12 dumplings. These traditional Korean dumplings, called mandoo, are stuffed with pork and thin potato starch noodles, placed on a bed of shredded cabbage and served with a dipping sauce. This is a perfect dish to share with others, perhaps as an appetizer.
Hawaiian BBQ has a steady lunch crowd and features lunchtime specials. Try the mix plate ($7.99), which includes marinated pork, bulgogi and chicken with rice, cucumbers, kimchi and beansprouts. Service is fast, and it's a good deal for a fair amount of food. Also order the spicy tofu soup ($7.99), a meal in itself, or the stir-fried squid plate with rice and vegetables ($10.90).
Spice is nice
Some days, all food needs just a bit of Sriracha, and yes, OK Ko has your Sriracha — actually lots of varieties.
It also sells dozens of varieties of soy sauces, rice vinegars, sesame oils, dipping sauces and sautéing sauces. There are marinades of every type, as well as a wide selection of barbecue sauces and chili garlic sauces. And next to the beloved Sriracha sauces, there are other hot sauces, such as sambal oelek, which is the color of a fire engine and matched in intensity. This chili paste, Javanese (Indonesian) in origin, is made of ground fresh chilies in vinegar and used in Korean cooking.
Dry and pre-cooked meals
There is an entire aisle of noodles. Wheat noodles and sweet potato starch noodles are common in Korean cuisine, along with mung bean noodles. Cellophane and bean thread noodles and buckwheat noodles also play an important role in Korean cooking. Other noodles included frequently in Asian cooking are udon, somen and soba noodles. Somen noodles are often served cold, accompanied by vegetables, soy sauce and sesame oil.
In the freezer section, there is a wide selection of dumplings and a separate freezer section for kimchi, meat, fish and even Korean-style frozen dinners.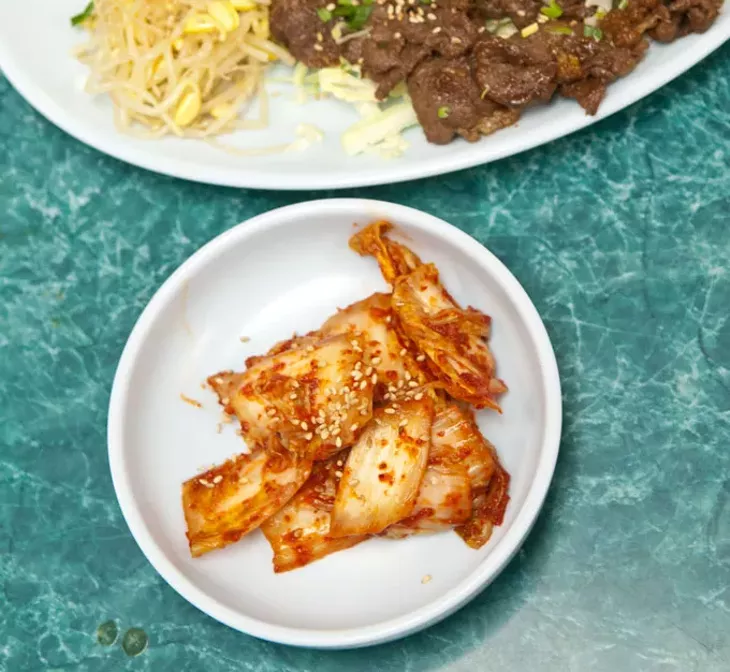 Set the tone
To show off your Korean cuisine cooking skills, OK Ko carries dinnerware as well. Chopsticks — both everyday and fancy gift sets — are on display.
Porcelain serving plates (which would also double as sushi serving plates) and other dishes of every size are on the shelves. Pots, pans and clay pots for braising all give the air of authenticity.
Eat your vegetables
Korean cuisine has an emphasis on vegetables, sautéed, marinated or pickled. Beef — marinated or barbecue — often takes center stage. But there's more. With roots in Taoism, a yin and yang balance of well-being accompanies the creation of each meal. Korean food is based on five tastes and five colors: salty, sweet, sour, bitter and spicy; and red, green, yellow, white and black.
Print headline: Better than OK, If you have a longing for both Korean cuisine and shopping, OK Ko-Mart has it all.