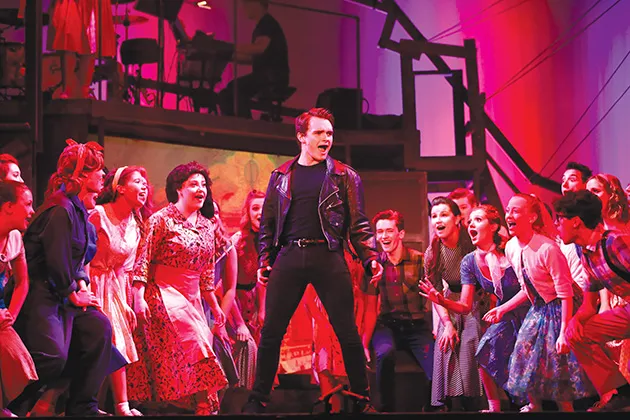 provided
The $100,000 grant allowed Sooner Theatre to buy sound and lighting equipment, relieving about $50,000 from its budget for more scholarships and programs for students with special needs.
Impact Oklahoma distributed almost $250,000 this year to five local organizations. Impact Oklahoma is a network of women who strive for the betterment of Oklahoma and work for the goal through annual grants to local nonprofits.
OKC Metro Alliance and Sooner Theatre were awarded grants of $100,000 each. Putnam City Schools Foundation, Variety Care and Central Oklahoma Humane Society each received $14,000 grants.
Kitchen aid
OKC Metro Alliance is already putting the grant to use, improving and expanding the kitchen at Women's Firstep, a sober living recovery program. Women's Firstep was founded about 30 years ago in a home with a kitchen that could only seat 16 people at a time. So the goal is to provide a state-of-the-art commercial kitchen, appliances and a fully furnished dining room.
"We had a very tiny residential kitchen for 56 women, and so we tore down an old building and we're completely building a new dining room and commercial kitchen," executive director Connie Schlittler said. "I've been out there when they're having their meals, and they're all crowded around three little tables or they're sitting on the floor. They don't have enough space to even eat their meals together."
The new kitchen is expected to be completed near the end of this month. Schlittler said the women are so excited they're already planning what their first meal will be in the new space.
"They've all been voting, and they have it narrowed down to three options," she said. "It's just encouraging for them to see this new construction and all this new equipment and kind of dream about what their meals are going to be like in this new facility."
OKC Metro Alliance also partnered with Oklahoma State University to help women in the program develop products that could be sold out of the new kitchen. Once the kitchen is completed, they will begin to work on products.
"They suggested things like barbecue sauce, jams and jelly. Products like that that have a really good shelf life," Schlittler said.
Not only will the new facility better serve the women in the program and set them up with tools to start businesses or create products, Schlittler said it will also be a positive change for their families and potential donors.
"When their families come out to visit the program, they'll have a really nice area to visit with their children, with their parents," she said. "It'll be a good place for donors to come and see the program. We can do meals and things like that as people are coming out to tour. So we see this as a really good launching place not only for economic development for the women to learn how to start their own business and develop their own products, but also for us to have a better place for people who want to come and learn about the program."
Lighting lives
Sooner Theatre's application for the grant requested funds to buy its own light and sound equipment, which it had to rent for every production, but Nancy Coggins said it was about much more than that.
"It cost us anywhere from $30,000 to $50,000 a year to rent lighting, depending on the shows that we do, and sound," said Coggins, the theater's spokeswoman and development director. "Because Impact Oklahoma is so generous and gave us this grant, we can take that $50,000 and take it out of our budget for the shows and put it into the budgets where we know it needs to be and where our hearts are. And that is in building our special needs program at the studio."
Sooner Theatre already doubled the amount of classes it offers for people with special needs and continued training more instructors on how to better work with them. The theater is also working with several local organizations on a pilot program for children who have undergone trauma.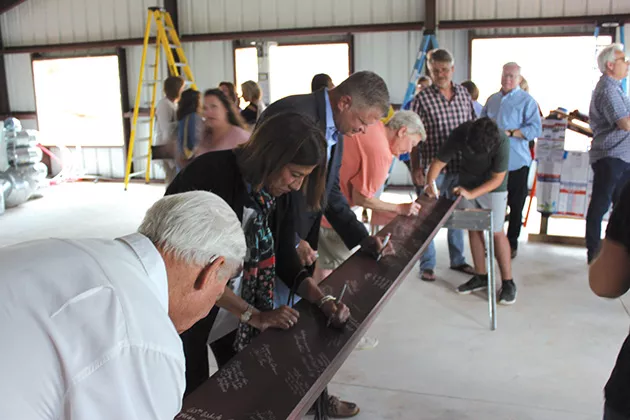 provided
OKC Metro Alliance hosted a beam signing for Women's Firstep's new kitchen and dining room being built with funds from the Impact Oklahoma grant.
"Two troupes of students are going to be doing theater activities and improv games and all kinds of things to help them work through their trauma. It's called Trauma Drama, and we're so very excited about that," Coggins said. "That's a program that we were able to help launch because we had the money in our budget that we didn't before."
The ability to buy lighting and sound equipment relieved so much pressure from its budgets that the theater has also been able to provide more scholarships at larger amounts to students who otherwise wouldn't be able to participate in performing arts.
"We did that to the tune of about $42,000 dollars," Coggins said. "Those are things that we know are critical. Those are the things that we know are making an impact and changing lives in the community for a long amount of time. It's helping kids find their way and find their voice that didn't have that opportunity. … The $100,000 Impact Oklahoma investment is going to equal about a million-dollar impact in our organization and on the lives that we can change over the next 20 or so years — the lifespan of lights and sound. It's phenomenal. It's life-changing."
Grant applications are split into five focus areas: community, culture, education, health and wellness and healthy families. Sooner Theatre is the first organization to receive a top grant in the culture focus area.
"I think that says a lot for not just the programs that we do, but for the women who are part of Impact Oklahoma, who know the impact of what the arts has on a community and the arts can have on an individual," Coggins said. "We are incredibly grateful that they recognize the power of the arts and we could not be more elated."
Local impact
Oklahoma Impact pools membership fees and donations into a grant fund that allows it to provide sizable grants to various organizations annually. The grant process begins in autumn and culminates around April with the group's annual meeting, where finalists make presentations and women vote.
The group hosts a membership mixer 5:30 p.m. Tuesday at Social Capital, 517 S. Hudson Ave., for current or former members or anyone who wants to learn more about the organization.
Impact Oklahoma also hosts Circles of Impact 7 p.m. Oct. 26. It is an event to celebrate and benefit the organization's mission. It features shopping, dinner, drinks, a short program and recognition of Shannon Presti as the 2019 Woman of Influence.
Visit impactok.org.