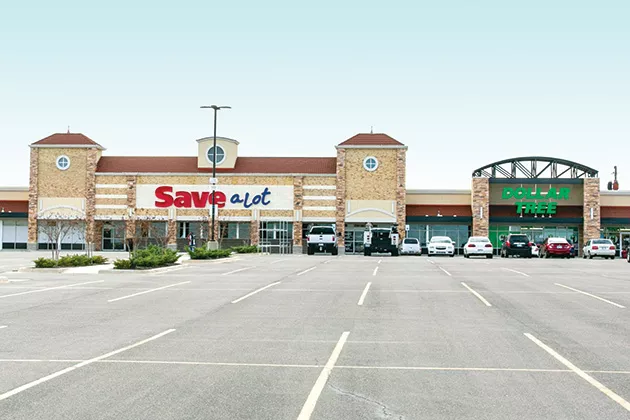 Alexa Ace
The 73111 ZIP code currently has no grocery store and five small-box discount stores that offer no fresh meats, fruits or vegetables.
A potential Healthy Neighborhood Overlay for the 73111 ZIP code is among the first things Oklahoma City Council will decide in 2020.
The ordinance to establish the zoning overlay has made its way through the Planning Commission and is set for public hearing Dec. 17 and final hearing Jan. 7.
The new zoning would provide dispersal requirements for small-box discount stores, a move city leaders hope will improve health outcomes in the ZIP code, which is considered one of the unhealthiest in the state. The area doesn't have a full-size grocery store but does have five small-box discount stores, none of which offer fresh meats, fruits or vegetables.
"We did send the notices out to over 7,000 residents. I know we had this conversation at our Planning Commission meeting, and in my opinion, it seems as if some of our residents might be a little concerned or just unaware of how the Healthy Neighborhood Overlay works," said Ward 7 councilwoman Nikki Nice at the Dec. 3 council meeting. "This is not a permanent overlay district. What we want to do is measure the health outcomes. … As soon as we are able to measure better health outcomes in that particular ZIP code, we will come back to the table and ask for it to be removed because we know once we can improve one ZIP code, we can also improve the city."
Health outcomes
The area is considered a food desert, which the Food, Conservation and Energy Act of 2008 defines as an area "with limited access to affordable and nutritious food, particularly such an area composed of predominantly lower-income neighborhoods and communities."
However, councilwoman Nice wants to move away from the term, which many believe unfavorably labels communities in broad strokes as if there is nothing of value in the area. Instead, she hopes people start using terms like "food security" and "food insecurity."
"After ... understanding what a food desert is described as and how it's defined, it makes it seem as if there is nothing there," she said. "But we do know there are people there, there are residents there, there is life there. So I think 'food security' is a better term as we're trying to ensure we get better food security for this community in northeast Oklahoma City."
According to research gathered by the city, more than 75 percent of the 73111 ZIP code is comprised of low-income census tracts "where more than 100 housing units do not have a vehicle and are more than one-half mile from the nearest supermarket." A study by Lynn Institute found that a majority of residents say they consume less than one serving of fruits and vegetables per day. Additionally, the area has higher negative health outcome rates than the national average.
"There are high rates of cardiovascular disease (85 percent), hypertension (325 percent), stroke (128 percent), heart attack (15 percent) and diabetes (125 percent). Mortality rates are just higher there due to low health outcomes," said Geoffrey Butler, planning director. "The [Oklahoma] City-County Health Department has a health index and this ranks very low — 47 out of the 56 ranked. … So the purpose of the ordinance is to protect the health and general welfare of the residents of Oklahoma City by establishing this overlay."
City documents state regulation of small-box discount store locations and concentration is necessary to "preserve property values, prevent blight and protect the health, safety and general welfare of the residents of Oklahoma City."
"As you can see from the area conditions, this is the reason why we have to have some kind of policy in place to help increase at least healthier access and better access for our communities so they can be able to thrive and give back to not only their community but this great city," Nice said.
According to data from Oklahoma State Department of Health Vital Records from 2013-2015, there's an 18-year gap in life expectancy across different city ZIP codes. The highest life expectancy in the city is 81 years, compared to 73111's life expectancy of roughly 69 years.
Visit 18yeargap.com for an interactive life expectancy map.
Ordinance details
Provided
The Healthy Neighborhood Overlay would require new small-box discount stores to be a mile from other similar stores unless they have a pharmacy or 500 square feet dedicated to fresh meats, fruits and vegetables.
The Healthy Neighborhood Overlay applies to properties that are partially or wholly within the 73111 ZIP code but excludes those under the state's Capitol-Medical Zoning Commission.
Under the ordinance, any new small-box discount stores must be a mile from another similar store unless they have a pharmacy, which Nice said is of dire need in the area, or provide at least 500 square feet of retail space for fresh meats, fruits and vegetables.
"The ordinance itself is fairly short and simple. The purpose is to avoid the concentration of these small-box retail stores and to encourage access and greater diversity of food options," Butler said. "It does not apply to anything that already exists. It applies to new stores that may be proposed to the area after this were to pass."
During the Planning Commission's last meeting about the overlay, some residents were confused about what that meant for businesses and other zonings in the area. The new overlay does not affect existing base zoning of properties in the area. Additionally, businesses are not impacted unless they are considered small-box discount stores.
The ordinance defines these businesses as "a store with the primary purpose of retail sales of a combination of sundry goods, products for personal grooming or personal health, and food or beverages for off-premise consumption, and which has a floor area of less than 12,000 square feet and a majority of items in inventory for sale at a price of less than $10.00 per item."
"[This] is being added to the ordinance as a new definition so that we can be precise about what is being regulated and what is not," Butler said.
The next council meeting, where the ordinance is set for public hearing, is 8:30 p.m. Dec. 17 at City Hall, 200 N. Walker Ave.