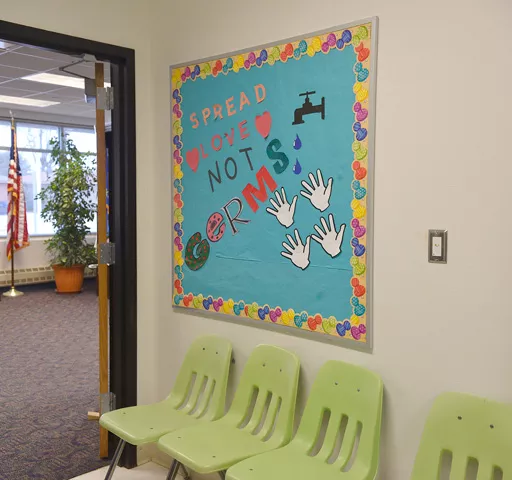 Photo Laura Eastes
No students were waiting to see a nurse in late January at Martin Luther King Elementary School in northeast Oklahoma City.
About two years ago, when the state of Oklahoma declared a revenue failure, meaning a reduction to state agencies and ultimately fewer dollars for the state's school districts, Oklahoma City Public School leaders faced grave challenges as they addressed a $30 million shortfall.
Ultimately, hundreds of staff — teachers, support staff and administrators — were relieved of their job duties before the start of the 2016-17 academic year. The district's school nurses, who are registered nurses with a valid bachelor's degree and two licenses — one from the Oklahoma State Board of Nurse Registration and Nursing Education and another from the Oklahoma State Department of Education — escaped mostly unscathed.
"I looked at the overall picture and thought, 'We can't cut services to kids,'" said Teri Bell, Oklahoma City Public Schools' executive director of student support services. "So that's what I chose to do."
The district's administrator of health services and the administrative assistant of health services were laid off as part of the district's budget reductions; however, not one of the district's 32 nursing positions was cut.
"We have to keep those services for our kids," Bell said. "If you look at the state's health data, we are one of the most unhealthy states."
Indeed, Oklahoma faces unique challenges when it comes to children's health. The Sooner State ranks high in childhood obesity rates, according to The State of Obesity: Better Policies for a Healthy America. Overweight youth face increased risks of high blood pressure, heart disease and type 2 diabetes.
Public health leaders warn that children are coming to school with increasingly complex medical conditions.
Inside Oklahoma City schools are clinics where nurses provide significant medical interventions, everything from distributing medications to investigating students' symptoms and offering health advice. Nurses are also tasked to write health plans for students with specialized needs, conduct hearing and vision screenings, provide health education and training to teachers and respond to life-threatening issues at a moment's notice.
"They work as advocates, they work as counselors, they work as health educators, they work as liaisons between the school and the community and they work as clinicians," said Barbara Smith, school health coordinator at the Oklahoma State Department of Health. "They have a multilevel job. It is no longer sit back and wait for someone to come to the office who needs a Band-Aid."
Nurse shortage
While the state's largest school district has maintained its nursing positions, other school districts haven't been so lucky, explained Elizabeth Vaughan, a registered nurse and president of the School Nurse Organization of Oklahoma.
"We are a dwindling group in Oklahoma right now," said Vaughan, a registered nurse employed by Tulsa Public Schools for the past 19 years. "It's been 10 years of not funding education very well, which has led some school districts to eliminate their school nurses."
From the association's perspective, school nurses are more common in larger districts. While some districts have a school nurse assigned to a school building, other districts adopt roving school nurse models, where the licensed nurse travels between buildings in the district. Some districts, often smaller and rural, have no licensed nurse on their staff, Vaughan said.
Photo Laura Eastes
A flyer encouraging the flu vaccine is displayed on the door of the health clinic at Martin Luther King Elementary School in northeast Oklahoma City.
Vaughan, who serves between 40 and 70 students daily in her clinic at Hale High School, is troubled by the thought of schools cutting back the school nurse program or eliminating it altogether.
At the state Department of Health, Smith provides technical assistance to school nurses and staff in regard to health matters that might arise in schools. For schools without nurses, it falls on other staff to fill the role.
"According to education law, it is up to the administrator to delegate whatever care is needed to a school staff person if there is not a school nurse available," Smith said. "Generally, most of the staff people who are assigned the tasks are trained by the parents to do the procedure."
Some school districts contract with a local public health provider to come in for a couple hours a week to take care of student health needs.
Oklahoma is not alone in its school nurse shortage. Strapped government budgets have led to a shortage of school nurses across the country. According to the National Association of School Nurses, a quarter of the nation's schools are without school nurses. Meanwhile, the American Academy of Pediatrics recommends at least one full-time registered nurse in every school.
Legislative aide
Some public health officials argue that the shortage of school nurses is linked to the lack of legislation mandating school nurses in Oklahoma and other states.
Some states have already taken action. Under Minnesota law, districts with 1,000 students or more are required to employ at least one full-time licensed nurse. Massachusetts requires at least one nurse at each of its public schools. In Iowa, Indiana, Missouri and Georgia, schools are recommended to employee a school nurse for every 750 students, which is what the American Academy of Pediatrics supported prior to a policy revision in 2016.
At the federal level, there is no legislation requiring nurses in public schools; however, there is an effort to increase the nation's number of school nurses. Federal legislation, Nurses for Under-Resourced Schools Everywhere (Nurse) Act introduced by Democratic Sen. Jon Tester of Montana in 2016 calls for the Secretary of Education to award grants to schools that demonstrate a need for new or additional nursing services. The legislation has failed to gain momentum despite support from the National Association of School Nurses.
Vaughan, who leads state advocacy efforts, said Capitol visits concerning the expansion of school nursing services fall on deaf ears with lawmakers.
The association's tactic is supporting legislation that increases funding for education budgets and raises teacher pay. School nurses are on the teacher's salary scale. Like teachers, nurses have long been asking lawmakers to find a way to fund a pay raise.
"When we fully fund education, there will be money to bring back nursing in the schools," Vaughan said. "Would you like your student being taken care of by the secretary at the front office, by a person who might be uncomfortable with what they are being asked to do? That's what it comes down to."
Emotional needs
The role of a school nurse is evolving, explained Bell, who oversees OKCPS' 32 nurses, some of which split their time among four school buildings. School nurses are increasingly playing a critical role in identifying students with mental health disorders and must coordinate with counselors on students' emotional needs, she said.
"I'm doing more training with our nurses about being aware of trauma and what it does to our kids," Bell said. "A child who comes to see you every time you are in the clinic for a Band Aid or for a headache, they just might need one-on-one with someone."
Print headline: Sick days; A look into the school nurse shortage in Oklahoma.