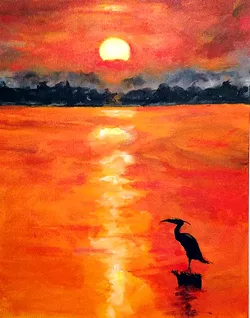 Paseo Arts District's In Your Eye Studio & Gallery hosts Celebrations, works by glass artist Nicki Albright and acrylic painters Sue Hale, Dana Powell and Mary Howard, noon-5 p.m. Thursday, Friday and Saturday.
"We're equal-opportunity artists," Hale, a founding member of the gallery, said about the exhibit's theme. "[The holiday season] is a great time to celebrate."
The exhibit opened with a reception earlier this month, and Hale said it went well.
"We're a really tiny gallery," she said of her location next to Picasso Cafe. "But we got 12 people in there."
Everything about In Your Eye's exhibits — from the name and theme to how many participants there are — is chosen by gallery members.
"Sometimes we do shows alone, and sometimes we do them together," she said. "Dana and I decided we wanted to do a show together, and we invited back a former member, Nicki Albright, and another friend of ours, Mary Howard."
Even though all of these artists know each other, Hale said each artist has a distinct style.
"Nicki is a glass artist; she does mostly fusion," Hale said. "The other three of us are acrylic artists, but we all have very different styles. Dana and Mary mainly do portraits of women, and I do a little bit of everything."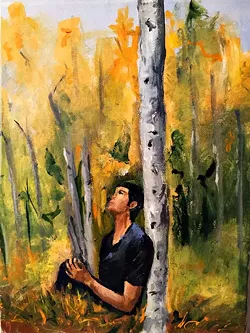 Added to that is a mutual love of color instilled by former gallery owner Kay Orr.
Orr died in 2002 at age 81. She taught both Hale and Powell and is one of the main reasons Hale pursues art full-time today. Hale retired from journalism in 2008, leaving her executive editor role at The Oklahoman to study and create art.
"When she died, her son came to us and asked if we'd like to take over the gallery," Hale said. "I said, 'Yeah, we'll do that.'"
In Your Eye operates on a cooperative model that allows member artists — usually between 9 and 12 — to work as equals with tasks distributed evenly.
Hale said gallery and studio membership includes oil and acrylic painters, two photographers, a jewelry maker who uses recycled gift cards to make her jewelry, a potter and a sculptor.
"It's a family," she said. "Several of us have been there for several years, and we really work together. We do all of our own maintenance on the inside of the gallery; we've painted, we've redone floors. It's definitely a family."
The studio includes a gift shop that sells small prints and mixed media items. Learn more at inyoureyegallery.com.
Print headline: Eye of the beholders, This tiny Paseo Arts District studio and gallery builds community with its cooperative model.