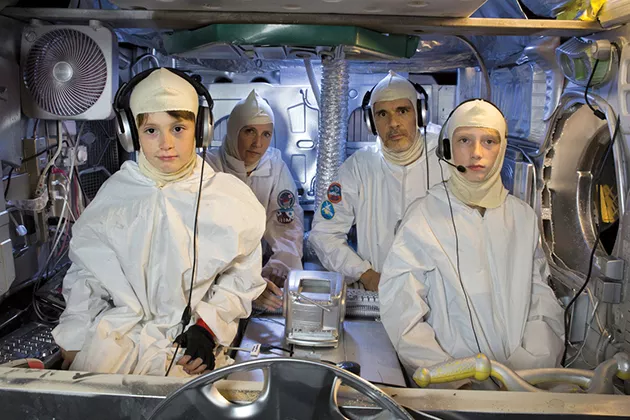 Provided
A still from Stephen Hillerbrand and Mary Magsamen's Higher Ground
Seen/Unseen: A Festival of Experimental Film
May 9-11
Oklahoma Contemporary Arts Center
3000 General Pershing Blvd.
oklahomacontemporary.org
405-951-0000
$15-$40
When Kim Voynar was growing up in Oklahoma City, the chance to see a foreign film felt, well, foreign.
"I distinctly remember in high school when the Will Rogers Theatre was screening Das Boot," Voynar said, "and it was a very big deal that there was this film in German screening in Oklahoma City. 'It has subtitles, you guys.'"
Now based in Seattle, Washington, Voynar — who said she was not exposed to experimental film until she moved away from the city and began working as a professional film critic — is returning to her hometown to curate Seen/Unseen: A Festival of Experimental Film May 9-11 at Oklahoma Contemporary Arts Center, 3000 General Pershing Blvd.
In selecting the programming for the festival's inaugural year, Voynar said she drew inspiration from the Ann Arbor Film Festival she attended more than a decade ago, where she was introduced to a vast array of experimental film and "really got [her] mind blown." By screening influential films by Sara Kathryn Arledge, Maya Deren and Stan Brakhage alongside contemporary works by cutting-edge filmmakers, Voynar hopes to offer the same for budding cinephiles.
"If I was programming a festival like this in Seattle or L.A., my expectation would be that the people coming are already quite familiar with experimental film and are seeking out the festival because they're already experimental film buffs," Voynar said. "My expectation is that for the vast majority of people coming to any of these screenings, this may be the first time they've ever seen any experimental film at all, or even are grasping what that means. … I felt like it was important to have a couple of foundational pieces in the program, which is why we have some Brakhage and we have Maya Deren and Sarah Katherine Arledge in the opening program on Thursday, but I didn't want to have the whole program to just be built on foundational, textbook stuff. I think it's important for the people coming to see that part of the purpose of having a festival like this is the modern, contemporary working artists who are still working on furthering this art form."
Oklahoma Contemporary artistic director Jeremiah Matthew Davis said the festival aligns with two of the art center's objectives: to seek out ways "art can be leveraged to create something new or something creative" and "trying to break down boundaries and make new connections for people to celebrate human creativity in the 21st century."
Provided
A still from Sabine Gruffaut's Amarillo Ramp
"One of our primary roles as a contemporary art center is to expand people's understanding of what art can be and what art can do," Davis said. "While all of us spend a lot of time watching moving images through traditional Hollywood movies — two-hour, three-act structure; famous, beautiful people on the screen in front of us — I don't know that there's a lot of understanding or attention that's been paid to different ways of incorporating moving images and viewing film less as an entertainment vehicle and more as a medium of visual arts. So we're definitely interested in introducing the type of film work that's maybe not available at other spots around town."
Film discovery
Each day of programming has a specific theme: Thursday is Cinematic Disruption and features foundational films such as Brakhage's 1963
Mothlight
, created without a camera by pressing leaves, insects and other found natural objects between two strips of 16mm splicing tape; Friday is Breathing Room and features a variety of films including abstract animation, found footage and Marnie Ellen Hertzler's
Hi I Need to Be Loved
, featuring auditioning actors reading lines from spam emails; Saturday is Animation as Art and features a free family-friendly programming block in the afternoon.
"In my experience, children are much more open than adults to experimental cinema," Voynar said. "You don't really have to tell them, 'Let go of your expectations of what 20 or 30 or 40 years of consuming mainstream media have indoctrinated you to think cinema is. Children tend to be very open to things that are different. I expect that they'll be restless and maybe wanting to move around, and that's fine. I'm a mom of five, so I don't have a problem with kids moving around while they're enjoying art. Hopefully we'll have lots of room out front where the smaller kids will be able to stretch their legs out and wiggle around. It's a short program. It's 45 minutes. The pieces in it are short, and that's by design. It will give them a good exposure from an early age of a broad sampling of experimental cinema."
While the children watch, Voynar said she will be standing in the back, observing their reactions. The films include Black Ice, which Brakhage made in 1994 after slipping on the titular substance and getting a concussion. Voynar described it as an "abstract representation of, basically, what it looks like after you hit your head really hard and the world is spinning and black and weird." But she is most interested to see how young viewers react to Vanessa Renwick's film Britton, South Dakota.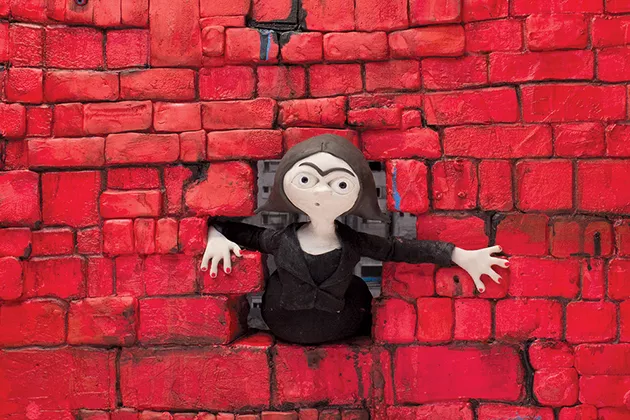 Provided
A still from Ana Nedeljković's Untravel
"It's an eight-minute piece of found footage that was shot in South Dakota during the Great Depression," Voynar said. "There's all these mothers who got their kids dressed up in their Sunday best and stood them inside of a cinema, and the guy shoots 30 seconds or whatever of film of each of them. It's so interesting to me as an adult to watch that; I've probably watched that piece more than anything else of hers. … These children are just, like, staring seriously right into the camera's lens, and this was 1936 when little kids didn't even know what movies were or cinema was, right? So they're staring into this camera's lens just with this honest and genuineness of expression over and over and over again. I'm really curious to see how children respond to seeing that piece, if they will be interested in these young children dressed in old-timey clothes in this old-timey film, or will they be restless and bored? I don't know. … It's an experiment. My hypothesis is that they will like it, but I could be proven wrong."
With a wide variety of offerings, Voynar said she expects to get mixed reactions from the audience, but getting the right reaction from a single viewer would make the experiment worthwhile.
"Part of the fun and beauty of cinema is every piece doesn't have to be for everyone," Voynar said, "but if even one of those kids, if we catch a spark in one of them that a decade or two decades from then makes them want to be an artist, then I feel like we've done more than enough with this program."
The festival will also include discussions between Voynar and featured filmmakers — Renwick on Thursday and Sabine Gruffat on Friday. Saturday will conclude with a screening of Brent Green's A Brief Spark Bookended By Darkness with a live score played by Fugazi drummer Brendan Canty. Tickets are $15-$40. Visit oklahomacontemporary.org.