provided
Red, White, and Boom! begins 8:30 p.m. Tuesday at State Fair Park.
Last week, the US withdrew from the United Nations Human Rights Council while images of refugee children locked in cages were virtually inescapable on every media platform. So packing a picnic and passing out sparklers to commemorate living in the "land of the free" might feel funny this Fourth of July.
But there is this.
"To be an American is to have a shared commitment to an ideal," wrote President Barack Obama recently in a Facebook post, "that all of us are created equal, and all of us deserve the chance to become something better."
Maybe that ideal, that chance to be better, for which so many have fought and died and lived, is still worth celebrating.
So let's do it.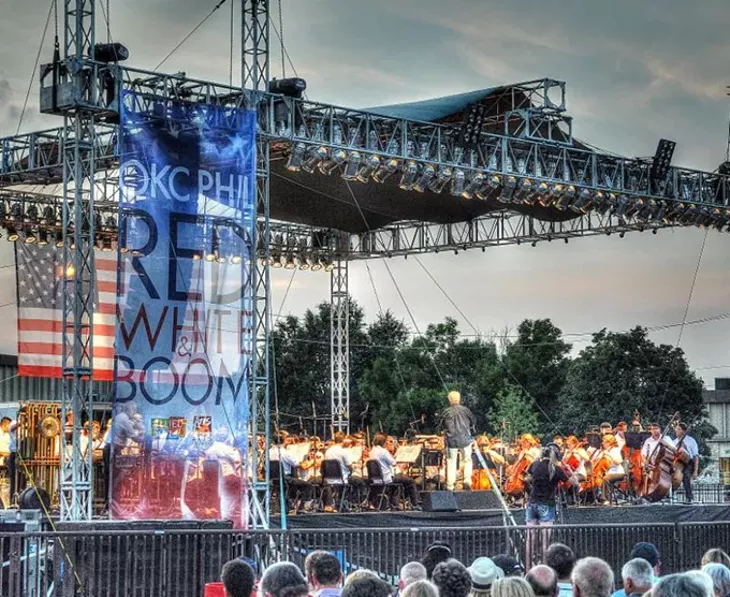 provided
Red, White, and Boom!, a concert by Oklahoma City Philharmonic, begins 8:30 p.m. Tuesday at State Fair Park.
Red, White, and Boom!
Join the Oklahoma City Philharmonic in remembering America's 242nd birthday with fireworks and a concert conducted by Alexander Mickelthwate and featuring the Pops Chorale and Mayor David Holt. Hear "America the Beautiful," "Stars and Stripes Forever" and more. Red, white and blue clothes are recommended, and blankets and chairs are welcome; however, pets, glass bottles and alcohol are not. The concert starts at 8:30 p.m. and the fireworks begin at 10 p.m. Tuesday at State Fair Park, 3001 General Pershing Blvd. Admission is free. Visit okcphil.org.
Liberty & Lasers
For those that like their Independence Day soundtrack with more drop-beats than John Philip Sousa could have ever imagined, Liberty & Lasers features EDM acts BoomBox, Russ Liquid, Artifakts and more. All ages are welcome. The show starts 5:30 p.m. Wednesday at Lost Lakes Amphitheater, 3501 N.E. 10th St. Admission is $25-$35. Visit ticketfly.com.
A Celebration in the Heartland
City of Moore hosts an all-day celebration featuring local food trucks, a volleyball tournament, kids' activities such as face painting and inflatables, and live music, culminating in a large fireworks display. No pets, glass containers or alcoholic beverages are allowed. Festivities begin 10 a.m. Wednesday, and fireworks start at dark (about 9:45 p.m.) at Buck Thomas Park, 1903 NE 12th St., in Moore. Visit cityofmoore.com.
Tribute to Liberty
Bring lawn chairs or a blanket and a picnic dinner — or purchase one from your choice of several food trucks. Listen to live music by Dr. Irv Wagner's Concert Band, and finish the evening watching a City of Midwest City-sponsored fireworks display. The event begins at 6 p.m., and fireworks are scheduled to start at dark (about 9:45 p.m.) at Joe B. Barnes Regional Park, 8700 E. Reno Ave., in Midwest City. Admission is free. Visit midwestcityok.org.
Oklahoma City Dodgers vs. Round Rock Express
Baseball is the only sport American enough to give Mom and apple pie a run for their money, so why not celebrate Independence Day with the Dodgers? A five-game series against Round Rock begins on the Fourth, and the first three nights all end in fireworks, the way Major General Abner Doubleday might well have intended if he had actually invented the sport. The game begins 7:05 p.m. Wednesday at Chickasaw Bricktown Ballpark. 2 S. Mickey Mantle Drive. Tickets are $8-$26. Visit ticketmaster.com.
Norman Day
Live music, pony rides, moon bounces, food trucks and the ever-popular baby races await celebrators at this annual event that bills itself as "Norman's best fireworks show." The festivities begin at 3 p.m., and the fireworks start 9:45 p.m. Wednesday at Reaves Park, 2501 Jenkins Ave., in Norman. Admission is free. Visit normanok.gov.
Bethany Freedom Festival
Now in its 59th year, Bethany's Fourth of July celebration starts with a patriotic parade through downtown followed by a party featuring live music, pop-up shops and food trucks and, of course, ending with a fireworks display. The parade begins 10 a.m. Wednesday near the intersection of NW 39th Street and College Avenue and proceeding to Rockwell Avenue before ending at Eldon Lyon Park at 7400 NW 36th St. in Bethany, where the rest of the festivities take place beginning at 4 p.m. Fireworks start at 9:55 p.m. Admission is free. Visit cityofbethany.org.
Fantasy of Fire Fireworks Show
Spend the day at Frontier City amusement park and brave the Diamondback and Silver Bullet rollercoasters. Put your kids on the Grand Carousel and ride the Tornado and the Grand Centennial Ferris Wheel as a family. Take in a show like The World of Magic, The Wild-West Gunfighter Stunt Show and Two John's Saloon Revue. Then finish out the evening with fireworks. The park opens at 10:30 a.m., and the fireworks begin around 9:30 p.m. Wednesday at Frontier City, 11501 N. Interstate 35 Service Road. Tickets are free-$39.99. Call 405-478-2140 or visit frontiercity.com.

Yukon Freedom Fest
This two-day celebration features two evening fireworks shows, three BMX stunt shows, a hot dog-eating contest, a car show and free ice cream and watermelon. Live musical performances by Hi-Fi Hillbillies, Irv Wagner's Concert Band, Mike Black & The Stingrays, Superfreak and the Oklahoma City Philharmonic provide the party soundtrack. Festivities begin 5 p.m. Tuesday at Chisholm Trail Park, 500 W. Vandament Ave., in Yukon, culminating in a fireworks show beginning at 10 p.m. Festivities continue 11:30 a.m. Wednesday at Yukon City Park, 2200 S. Holly Ave., and then move back to Chisholm Trail Park at 5 p.m., ending in the grand finale fireworks show beginning at 10 p.m. Admission is free. Visit yukonok.gov.
LibertyFest
Named by CNN and USA Today as one of the top 10 Independence Day celebrations in the nation, Edmond's LibertyFest draws more than 100,000 visitors each year and features a car show, a concert, a rodeo, a road rally, a kite festival, a food tasting and a parade in a weeklong schedule of events leading up to a fireworks display synchronized to music played on University of Central Oklahoma's radio station KZUC 99.3. The band concert begins 7:30 p.m. Thursday at UCO, 100 N. University Drive, in Edmond. The rodeo begins 8 p.m. Friday and Saturday at Carl Benne Rodeo Grounds, 300 N. Kelly Ave. Tickets are $5. The car show takes place 8 a.m.-2 p.m. Saturday at Hafer Park, 1034 S. Bryant Ave. Admission is free. The Kite Festival is from 9:30 a.m.-4:30 p.m. Saturday and 9:30 a.m.-4 p.m. Sunday (weather permitting) at Mitch Park, 1501 W. Covell Road. Admission is free. Registration for the Road Rally begins at 10 a.m. Sunday at Earl's Rib Palace, 212 S. Broadway. The entry fee is $10, and helicopter rides will also be available for $40. Taste of Edmond takes place 6:30-8:30 p.m. Sunday at Edmond Festival Market Place, 30 W. First St. Wristbands are $12 from official vendors, $14 online, or $20 at the event. The parade begins 9 a.m. Wednesday, July 4, on a 1.5-mile route through downtown Edmond beginning at the intersection of Ayers Street and University Drive. Admission is free. The fireworks begin 9:30 p.m. Wednesday, July 4, at Hafer Park. Visit libertyfest.org.