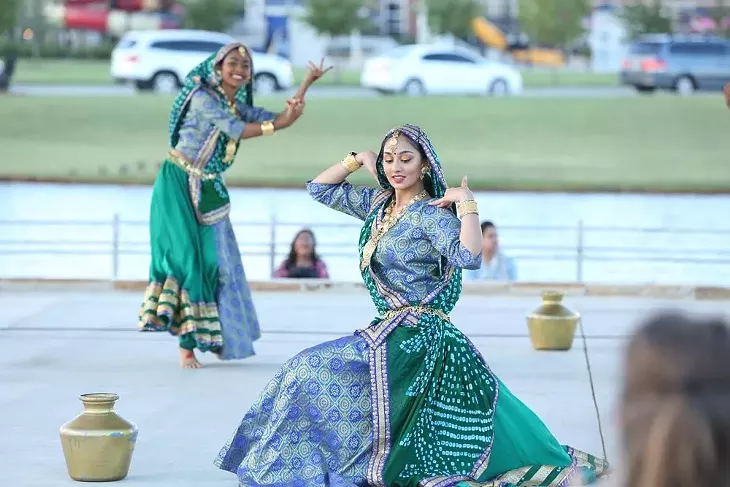 Photo Sarun K Sunny at Sarun Photography
Dancers perform at the 2019 India Food and Arts Festival
India, the vast and culturally diverse South Asia country where religious traditions vary widely and nearly 20,000 dialects are spoken across its 29 states, will be showcased at a rescheduled festival later this month.
The India Association of Oklahoma
(IAOK) will host the India Food and Arts Festival at the Myriad Gardens from 3 p.m. to 6 p.m. on Oct. 24. Admission to the family-friendly immersive cultural event is free.
Every region of the country will be represented at the festival, IAOK spokesperson Angela Oommen said.
The festival will feature a wide variety of experiences including food, jewelry, dance and music performances, art, a fashion show, and workshops
Festival participants will also have opportunities to dress in traditional clothing and play a variety of popular Indian games, including cricket.
The food menu for the festival includes many dishes, including dosa, chicken biryani, chole, mango lassi, and more. India's culinary styles are incredibly flavorful and colorful and include lots of vegetarian-friendly options. Cumin, fennel, cardamom, turmeric, chili pepper, coriander, mustard, and cinnamon are some of the common spices in Indian cuisine, and many dishes contain coconut milk, ghee (clarified butter), and yogurt for richness. Some regional cuisines incorporate lamb, chicken, or fish, and Indian desserts are decadent and beautifully crafted.
The festival schedule includes many dance performances by local Indian dance academies. Indian classical dance is highly athletic, and the dancers' costumes are made of luxurious, colorful fabrics and include lots of jewelry and accessories. Mythic narratives, religious stories, and devotional messages are often woven into the choreography.
The mission of IAOK is for people to enjoy and learn about India and "to let everyone know that we're all one and Oklahomans," Oommen explained. The organization, founded in 1976, is dedicated to promoting Indian culture in Oklahoma and serving in areas of need.
They have served in many ways in the OKC-metro community and in India throughout the pandemic.
At the beginning of the pandemic, when PPE was in very short supply, IAOK coordinated volunteers to hand-stitch 10,000 fabric masks to be distributed around the metro area. In June, IAOK and the Hindu Temple of Oklahoma hosted a COVID vaccination clinic for the community. In July, the organization held a public picnic and bake sale in the Wheeler District to raise funds to send to India through the worst of the Delta variant surge there, among other community efforts.
Further get to know your Indian neighbors and their culture by visiting www.ifafok.com or visit their Facebook page for more information.