Garett Fisbeck
Pork chop dinner with home fries at Aja Bleu Cafe in Oklahoma City, Wednesday, Oct. 19, 2016.
How many James Brown songs apply to the food at Aja Bleu Café? It's an almost embarrassing number.
There's nothing particularly funky about the restaurant, 2222 W. Hefner Road, Suite A, stashed way up in northwest Oklahoma City in a fairly nondescript shopping center. But one look at the menu will have anybody feeling like a "Prisoner of Love." How can anybody be expected to choose among catfish, pork chops and chicken wings? The key, it turns out, is not choosing at all and just getting all three.
First, though, drink a glass of Aja Bleu lemonade ($1.99). The strong, sugary lemonade is infused with strawberry, striking the perfect balance between tart and sweet that makes taste buds want to shout "I Feel Good!"
I was besotted with the pork chop dinner ($11.50, including two sides), which was "Out of Sight." Cooking pork correctly can be a real chore. Harder still is the feat successfully achieved by Aja Bleu, which batters and fries a pair of them in a perfectly seasoned coating that is crisp and flavorful on the outside and juicy inside.
Just thinking about the knife gliding effortlessly through the firm, but tender meat makes me want to break into a "Cold Sweat."
To the embarrassment of my guest, I gnawed the last of the pork chop off the bone. It's that good.
Choosing the right side dishes doesn't require much "Mind Power," because the tender, chewy greens and macaroni and cheese are obvious choices. Greens have a touch of bitterness that helps cut through the richness of the macaroni, which is loaded with cheese. This dish is Sunday dinner goodness every day of the week.
A solo side of macaroni and cheese is $3.50 and itself might be worth making the trip to visit Aja Bleu Café. I encourage people to try a little bit of everything and share with friends, but here, everyone deserves their own serving of macaroni.
Garett Fisbeck
Catfish dinner with greens and fried okra at Aja Bleu Cafe in Oklahoma City, Wednesday, Oct. 19, 2016.
Aja Bleu at least deserves consideration for the title of best catfish in the city. As a catfish dinner ($11.50, including two sides) came closer to the table, I couldn't help but whisper, "I Want You So Bad."
Some restaurants prepare smaller pieces of fish or get caught "Doing It to Death" by over-frying the filet, but not here. Each cornmeal-crusted piece arrives at your table with enough crispy coating to give the catfish body without becoming too hard. The moist interior softens the crunch of the salty, peppery exterior. Add a dash of hot sauce if you must, but this was already just about perfect.
The fried okra is good, but not too different from what you'd find elsewhere. Better are the less-fried vegetable sides. Clearly some work goes into the grilled squash and zucchini medley, which is gently seasoned and bears a touch of caramelization that adds sweetness to the usually bland gourd.
And the home fries taste like "Good, Good Lovin'." The buttery potatoes are cooked long enough that they're tender with a nice crust, and they hold their shape well enough to be speared by a fork.
Take a beat and taste your dishes before adding additional seasoning, because this restaurant isn't shy about using flavorful salt and spice in its recipes.
Wings and waffles ($10, including a side) make for a tasty, filling lunch.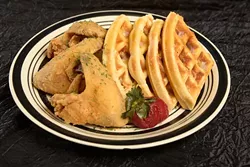 Garett Fisbeck
Wings and waffles at Aja Bleu Cafe in Oklahoma City, Wednesday, Oct. 19, 2016.
Why do chicken and waffles go so well together? Maybe it's the way the savory fried chicken skin balances against the mild sweetness of the waffle. Texturally, the crunchy covering and the moist, but solid meat pair perfectly with the gentle chew of the bread. And those divots in the waffle are excellent at catching any stray chicken, especially when given a steady pour of syrup.
Those a little less inclined to eat meat off the bone might try the chicken chunk basket or the slightly lighter grilled chicken breast dinner ($10.50 each and include two sides). Looking around the restaurant, the only serious faces I saw were the people who were seriously trying to figure out if they could squeeze in one more bite.
The menu is filled with dishes to make diners "Shout and Shimmy," and the service is also wonderful. Everyone who came in received a big smile and a welcoming greeting. Ask all the questions you want, too, because everyone there seems happy to help — even the other customers.
Aja Bleu Café might not be as flamboyant as the King of Soul, but it serves soul food that is definitely "My Thang."
Print headline: Super good, Get up offa that thing, because Aja Bleu Café has soul (food) and it's delicious.