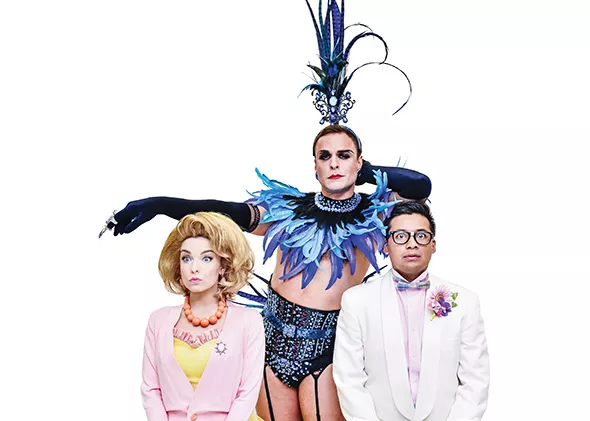 K. Talley Photography / provided
Janet Weiss (Emily J. Pace), Dr. Frank-N-Furter (Eric Ulloa) and Brad Majors (Antonio Rodriguez) form an unconventional triangle in The Rocky Horror Show.
The Rocky Horror Show
Oct. 9-Nov. 2
Lyric at the Plaza
1727 NW 16th St.
lyrictheatreokc.com
405-524-9312
$25-$63
Now best known as a cult-classic midnight movie during which viewers throw toast and yell "asshole" and "slut" at the screen, Richard O'Brien's The Rocky Horror Show first came to life as an experimental musical theater production in London's West End. Critics have compared its themes and plot — which finds newly engaged couple Brad and Janet stranded by car trouble and seeking assistance in a castle occupied by mad scientist Dr. Frank-N-Furter and a sexually adventurous cast of hangers-on and freaks — to the works of William Shakespeare.
"If anyone thinks it's sacrilege to compare Rocky Horror to the Bard," wrote New Line Theatre artistic director Scott Miller in Inside Rocky Horror, "let him not forget that Shakespeare's plays were full of dirty jokes, improbable plots, supernatural events, and lots of drag. … As in many Shakespearean comedies, Rocky Horror uses the devices of gender-bending, surprises at the end, arrogance deflated, and the idea of servants becoming masters. Like Shakespeare's comedies, Rocky blurs the line between sanity and insanity, good and bad, love and lust."
A live stage production of The Rocky Horror Show runs Oct. 9-Nov. 2 at Lyric Theatre, 1727 NW 16th St. Director J. Robert Moore, who has previously played Frank-N-Furter and henchman Riff Raff in other productions, said the theatrical experience offers the audience thrills not replicated by the big-screen version.
"I think the experience is much more exciting onstage because it's happening right there in front of you," Moore said. "The actors are real; we're right in the audience with you. You can almost reach out and touch us at that certain point. Some audience members do, or at least try to. … It still has all of your favorite things from the movie in the stage version. … Get wild, wear your costumes and come have a great time with everybody."
"All your favorite things" includes the raucous audience interactions popularized in late-night movie screenings.
"If you want to yell and scream at us, that's terrific," Moore said. "We'll roll with it. All your favorite things that you yell and scream and call back to the movie, we're ready for it, and we're looking forward to it."
Moore said the audience interactions give the show a singular feel for the cast as well as the audience.
"It adds a very live theater, very almost improv-y type layer to a scripted show, " Moore said. "But I think that, unlike any other show that I know, Rocky Horror really creates a great bond between the audience and the performer, and there's really a very cool community that develops in the theater when we're all in there together and we're all celebrating this sort of liberation and freedom and all of these great rock 'n' roll moments that everybody loves."
Though Moore played Frank-N-Furter in Lyric's 2016 production of the show, he wants actor Eric Ulloa to have the freedom to create his own version of the mad scientist.
"I don't think anybody wants to be told, 'This is the way that I did it,'" Moore said. "Sometimes there's little moments like that, like, 'Hey, watch out for this,' or, 'You might want to think about this at this point because this change can be difficult' … but I'm mostly trying to let them figure this show out for themselves because their versions of these characters are going to be great and totally different than mine."
Haunted story
K. Talley Photography / provided
Janet Weiss (Emily J. Pace) and Brad Majors (Antonio Rodriguez) in a mansion full of sexually adventurous weirdoes in The Rocky Horror Show.
In addition to a new combination of cast members, Lyric's current production features a different aesthetic by set designer Jon Young, which Moore said changes the overall feel.
"This production is also very different than any that you might have seen before, just because it has this really cool kind of New Orleans haunted mansion feeling about it that is unique to our production," Moore said. "I think this show is going to be its own beast, so I'm looking forward to seeing what everybody brings to it. It's going to feel very original. … I think this show has a lot more pizzaz and sparkle and glitz than some other things that that a director might work on, but that's right up my alley."
Without spoiling any big reveals, Moore said the show boasts a debauched Mardi Gras feel and "very cool technical moments that will wow the audience," but he added that the show is always meant to be delivered tongue-in-cheek.
"The script was really written as a spoof of American sci-fi movies, so the campiness is in the script no matter what," Moore said. "It expects to be played for laughs. It's our job to recognize that and just play it for all it's worth. … We're just outwardly funny and looking for the laughs. It's not the kind of show that needs a real subtle touch. I think the audiences really come into Rocky Horror looking for some heavy-handed glitz and glam and some sex and camp comedy."
However, comedy and the truth are not incompatible.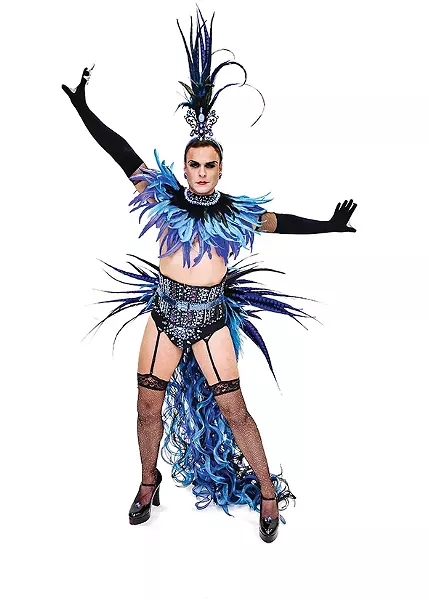 K. Talley Photography / provided
Eric Ulloa plays mad scientist Dr. Frank-N-Furter in The Rocky Horror Show Oct. 9-Nov. 2 at Lyric Theatre.
"The characters have to be based in reality and have to believe the reality of what's going on around them, as crazy as it is, for the show to work," Moore said. "There is a real message in the show. It talks about what happens when society and culture changes. That's what's going on with Brad and Janet, a very stereotypical 1950s male-female couple, that throughout the course of this evening with Dr. Frank-N-Furter, realize that maybe this is not all there is to life and maybe there's something more to be than what you thought the beginning of the show. It really is a journey of self-exploration and kind of a loss of innocence for these two characters, so even though this show has this kind of glossy, glitzy veneer of sex and rock 'n' roll, there really is a pretty impactful story underneath. … As a director, I'm really trying to give the audiences both a story that is told really well and a lot of fun and camp and sex."
As the modern conversation surrounding sexuality and gender becomes more complicated and nuanced, Moore said the show's message continues to resonate with audiences.
"People love to come and celebrate what this show is about — sexual freedom and liberation from traditional roles and traditional mores," Moore said. "I have seen the most conservative people just party like it's 1999 at this show. For some reason, it just really speaks to a wild party animal moment in all of us. I think that's what people come to see over and over again, that celebration of inner self."
Tickets are $25-$63. No one under the age of 13 will be admitted. Visit lyrictheatreokc.com.