Alexa Ace
The Shangri-La beef bowl from Chop Chop: Flavors of Asia
Growing up in Indonesia, Alvin Sutanto was exposed to a diverse background of cuisine. Chinese, Malaysian, Filipino, Singaporean and many more cuisines influenced the offerings and dishes across the many islands of Indonesia.
When Sutanto, who moved to Oklahoma with his family in 2000, decided to open his first restaurant, he wanted to pay homage to his Indonesian roots by showcasing those influences in addition to his fine-dining restaurant background.
Sutanto opened Chop Chop: Flavors of Asia at 409 N. Walker Ave. in late July, which is located on the street level of the Avana Arts District apartments, the same complex that houses Patrono and Hobby's Hoagies.
"People told me I was crazy and that it wasn't the time to open a restaurant," Sutanto said. "This is my dream."
He has been involved in the food industry since arriving in Oklahoma, first working at a McDonald's and then later at Braum's Ice Cream & Dairy Store. He decided to pursue a career path in the kitchen by attending Platt College's culinary arts program in 2006.
Sutanto got a job working in the banquet kitchen at Oklahoma City Golf & Country Club and moved into fine dining with chef Ahmad Alikhani — first with Avanti and later by opening the restaurant attached to the Hilton Garden Inn in Lawton. Sutanto also spent time as executive chef with 809 Sports Grill at the Hilton Garden Inn at 2809 Northwest Expressway.
As he gained skills in all kinds of meal service — from catering and banquets to American fare — Sutanto often wondered what his own restaurant would become.
"At first, I wanted to open fine dining or something in the middle, but it costs too much money to do fine dining," Sutanto said. "I wanted to do a rice bowl concept, but not things you'd find at regular Chinese takeout with Mongolian beef and sweet-and-sour chicken."
Cutting free
With Chop Chop, Sutanto showcases a variety of Asian flavors in rice bowls and steam buns in a casual atmosphere that is heavy on takeout for downtown business workers during lunch, from 10:30 a.m. to 2:30 p.m. The restaurant reopens 5-8 p.m. to serve dinner for the connected apartment complex and surrounding downtown dwellings and hotels.
"The menu has a little bit of Indonesian influence and a little bit Singapore, Filipino and Malaysian," he said. "I put a little Chinese and Vietnamese in there too."
The most popular item has been the Shangri-La beef rice bowl ($9), which can substitute white rice for fried for an extra dollar, that includes mixed vegetables and an in-house pickled cucumber, with fresh wonton chips and vegetable spring rolls made fresh every morning.
The sweet and sour beef showcases Chinese and Hong Kong flavors. The lemongrass chicken ($8) is his nod to Vietnamese food. The shrimp curry ($10) with sautéed onion and sweet peppers in a yellow curry sauce highlights Thai cuisine.
One of his favorites is the pulled pork bowl ($8), which is in the Filipino adobo style, showcasing a marinade of soy, vinegar, garlic, sake and paprika, topped with a plum barbecue sauce.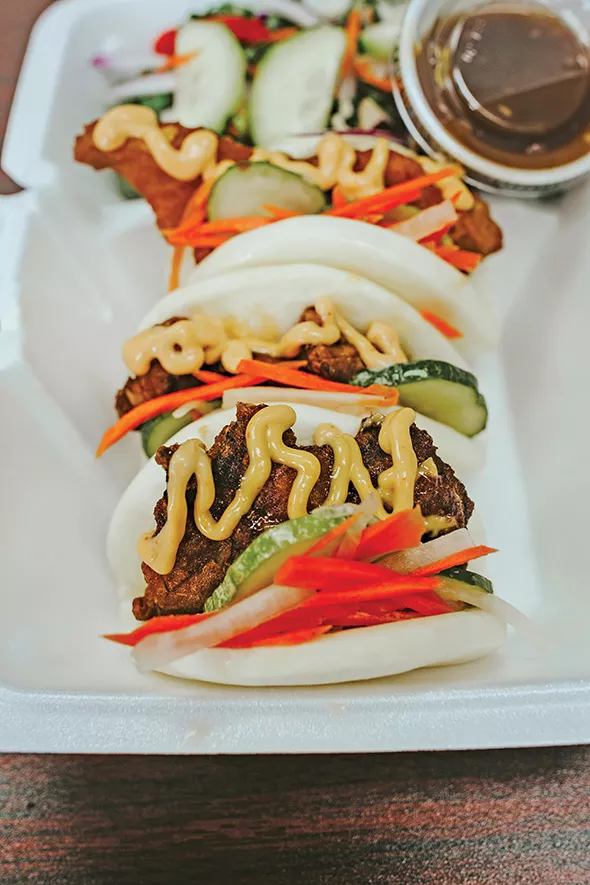 Alexa Ace
Chop Chop offers three kinds of steam buns, including the Japanese-inspired karaage chicken.
The fried tofu bowl ($8) with shallots, chili and a sweet citrus soy glaze pays homage to Java and Sutanto's home of Indonesia.
"I mixed and matched a lot of recipes. Some of them are my mom's, while others have followed and been successful at other restaurants," he said.
The steam buns are $8. The order includes three individual buns with either a side salad or french fries.
"Not everything is authentic," Sutanto said, referring to the french fries. "I wanted to add things for the American palate."
Steam buns come with a choice of fillings: the adobo pulled pork topped with the plum barbecue sauce, Chinese five-spice tofu with sweet chili glaze and Japanese-inspired chicken karaage — marinated chicken thigh in a tempura batter — with Sriracha mayonnaise.
Chop Chop also offers shrimp wonton tostadas ($7), garlic and sambal sweet shrimp with Asian coleslaw and wonton nachos topped with either chicken or pork and the plum barbecue sauce, coleslaw and spicy mayonnaise.
Sutanto works in the kitchen with the help of a front-of-the-house employee. His girlfriend comes in during the morning to make the day's spring rolls. He's still working to build a consistent customer base.
The lunch crowd has been steady and he's hoping to expand dinner, but he only recently expanded to dinner hours. He is offering $2 off any rice bowl order made for dinner Tuesday through Friday.
"This was a taco place beforehand, but it's been vacant for almost two years," he said. "A lot of people don't know that we're here or think the location is still closed. One customer came in recently and asked how long we were open. They were surprised when I said three months."
Orders are available to eat in the restaurant, takeout and through an online delivery service found at chopchopflavorsofasia.com.