Jacob Threadgill
Kafutoh African Food Mart is located at 16600 N. Western Ave. in Edmond
Edmond resident John Yomendan got tired of having to drive nearly two hours just to get a few small items that reminded him of life in his native Togo, so he decided to do something about it.
Yomedan moved to the United States about 15 years ago and Oklahoma 10 years later. After moving to Edmond a few years ago, he couldn't find some of the ingredients he needed for a dish.
"We've been in Edmond about three years, and the closest African store was about 40 minutes away," Yomedan said, noting that nearby University of Central Oklahoma (UCO) has a lot of international students. "There are a lot of international students coming to UCO, and they're craving the African food and the food they grow up with. They can't find it anywhere else, and most of them don't even have a car."
He decided to take the risk and open his first business after finding a location close to UCO, and Kafutoh African Food Mart opened March 1 at 16600 N. Western Ave. to cater to customers from across the continent, not just from the western coast.
"Africa is diverse in cultures, and one of the most beautiful things is food, the music and drum sets," he said. "It was part of my daily life story, and if you are in this part of the world, you kind of crave that stuff and miss a lot of those things. It's a big deal trying to get some of those things."
The store is stocked with spices, flours, herbs and skin-care products including African black soap that is marketed as "nature's cure for all skin problems." There is a section in the store with frozen meat like goat and smoked fish. Items like dried crayfish are important to a variety of African cuisine as a flavor enhancer deep inside stews.
The shelves in the store are also filled with legumes and hard-to-find side dishes like attiéké, which is native to the Ivory Coast. It's made from ground cassava (known as yucca root in the U.S.) that has a texture similar to couscous.
The store also sells a variety of spice blends from across the country. One of its top sellers is suya, which originated in Nigeria.
"If you love grilling, I know Americans love steak a lot, grilled chicken or pork ribs, [suya] is the perfect seasoning for grilling," Yomedan said. "It's not very spicy, but it has a lot of flavor. If you try it once, you'll come back for it."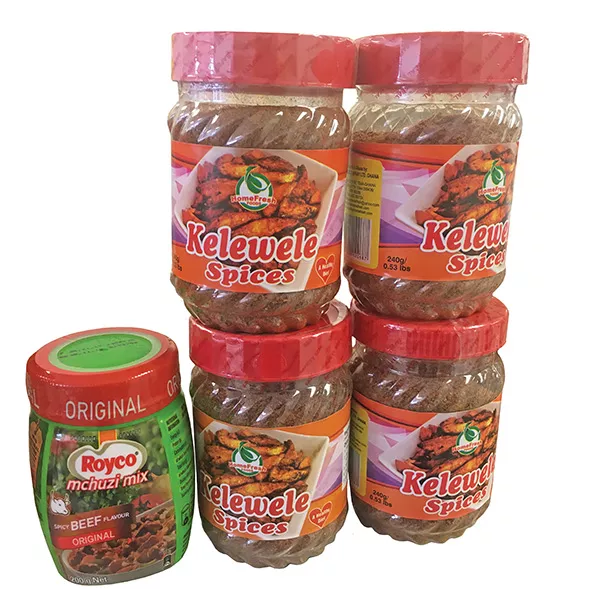 Along with suya, its top-selling spice is the Ghanaian blend kelewele, a version of which is now available at Oklahoma City Thunder games in the Wing'n It chicken wing stand on the MVP wings. Chesapeake Energy Arena executive chef Andrew Murin adapted his version of the spice blend that is traditionally used with fried plantains for the chicken wing after trying it at Yomedan's store.
"I'm amazed at what [chef Murin] did with the spice," Yomedan said. "He's extraordinary. That's the beauty of cooking; you can combine ingredients and have fun with it."
The store also stocks coffee, teas and curries native to Kenya, large yams and plantains. Yomedan said he is committed to stocking the store with as many organic and non-GMO products as possible.
"The store creates curiosity," Yomedan said. "Americans and Mexicans have come in just to see what we're offering. It gives us the privilege to educate them on African food culture."
Yomedan's wife Stella runs the food blog African Freestyle Recipes on blogspot and YouTube, where she shares step-by-step recipes that take advantage of ingredients found at the store.
He said that there are recipes available at the store, and the staff is willing to help customers find the right recipe for them. Business has been growing in recent weeks, and Yomedan said there are new faces in the store almost every day.
"People are getting to know the store, and the word is being spread," he said. "The word is getting out that you don't need to drive to grab some of these major foods you crave."
Visit kafutoh.com.
Yam Porridge
Photo bigstock.com
Fresh yams are available at Kafutoh African Food Mart.
This Nigerian staple is also known as asaro, according to Stella Yomedan, and it is a quick and nutritious dish. All ingredients are available at African Food Mart.
Ingredients
1 medium-sized yam
1/2 cup red palm oil
1 medium onion
1 red bell pepper
1 green bell pepper
1/2 cup ground dried crayfish
3/4 cup fresh/thawed shrimp
4 blended habanero
2 maggi cubes
one bunch of kale
salt to taste


Directions
1. Peel and wash the yam and cut it into cube-sized pieces.
2. Put the washed yam cubes into a pot, add water until it mostly covers the yam and cook it on high heat.
3. Wash the shrimp and set aside.
4. Dice the onion and bell peppers and chop the kale.
5. Add red palm oil to a separate pot and stir-fry the onions and bell peppers. After they are soft and translucent, add the crayfish, blended habanero and maggi cubes to make a sauce.
6. Add the sauce to the yams and simmer with a lid for 10 minutes.
7. Add the shrimp and kale and simmer for 5-10 minutes until cooked.